Coming Together Through Faith
A North Carolina state trooper pulled a car over on a minor traffic stop, then realized one of the passengers, a man named Tony Geddis, was ill from battling cancer.
Upon hearing the news that Tony was sick, the trooper then offered words of support and offered to pray with him. The two strangers even held hands.
Tony's daughter snapped a photo of the two men and is now sharing the incredibly touching story after sadly losing her father just a couple of weeks ago.
Cancer is devastating, but it's these moments that should give us all hope for humanity to come together during difficult times, feel compassion and empathy for others, and like these two men's example, continue to have faith.
As hard as it is to see the tragic news headlines out there on the daily, this story is a reminder that there are still good people out there. A North Carolina state trooper pulled a car over on a minor traffic stop, then realized one of the passengers was ill from battling cancer.
Anthony "Tony" Geddis was on his way back to South Carolina with family members, and had just finished his final chemotherapy treatment, according to a news release by the NC State Highway Patrol. Sadly, the same release also announced that Tony has since passed following the touching moment between the two men.
Read More
Upon hearing the news that Tony was sick and battling cancer, Trooper Doty then offered words of support and offered to pray with him. They even joined hands as they practiced their faith.
Unbeknownst to them, Tony's daughter Ashly, who was driving the vehicle, took a picture of the tender moment between the two strangers.
Faith is important, especially to these two men, and it is what brought them together during a difficult time of unrest in our word.
Tony's daughter wrote a recent tribute on social media to honor her father and shared the story of Doty praying with him during his time of need.
"I'm so grateful for your love, guidance, and example," Ashlye wrote in the moving post. "Heartfelt thanks to this officer who prayed for and with you that day."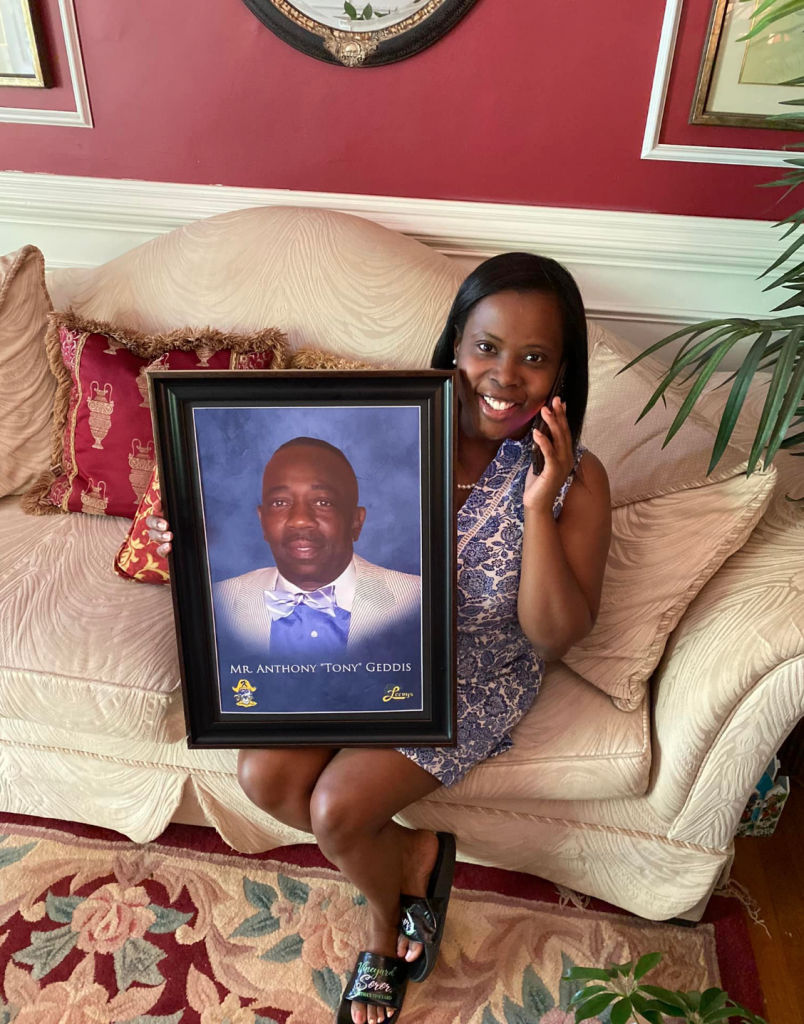 The grieving daughter wrote that she had heard a siren and saw a blue light coming behind them. She hadn't noticed that the speed limit on their route had been reduced.
Her father, she says, "quickly jumped in to my defense. Your voice was low as you were still a little weak from treatment. You shared with him that I was your baby girl and we were returning to SC from your cancer treatments in NC."
Related: How Dick Vitale & Rick Barnes Use Religion to Help One Another; Many People Lean on Faith During Cancer
The officer had nodded and went to his car. When he returned he asked "if he heard correctly" that Tony had cancer. "Once you confirmed, the officer took a deep breath," Ashlye continued in the letter to her late father. "He sighed and said that he too had loved ones who battled cancer as well. He asked if he could pray with you."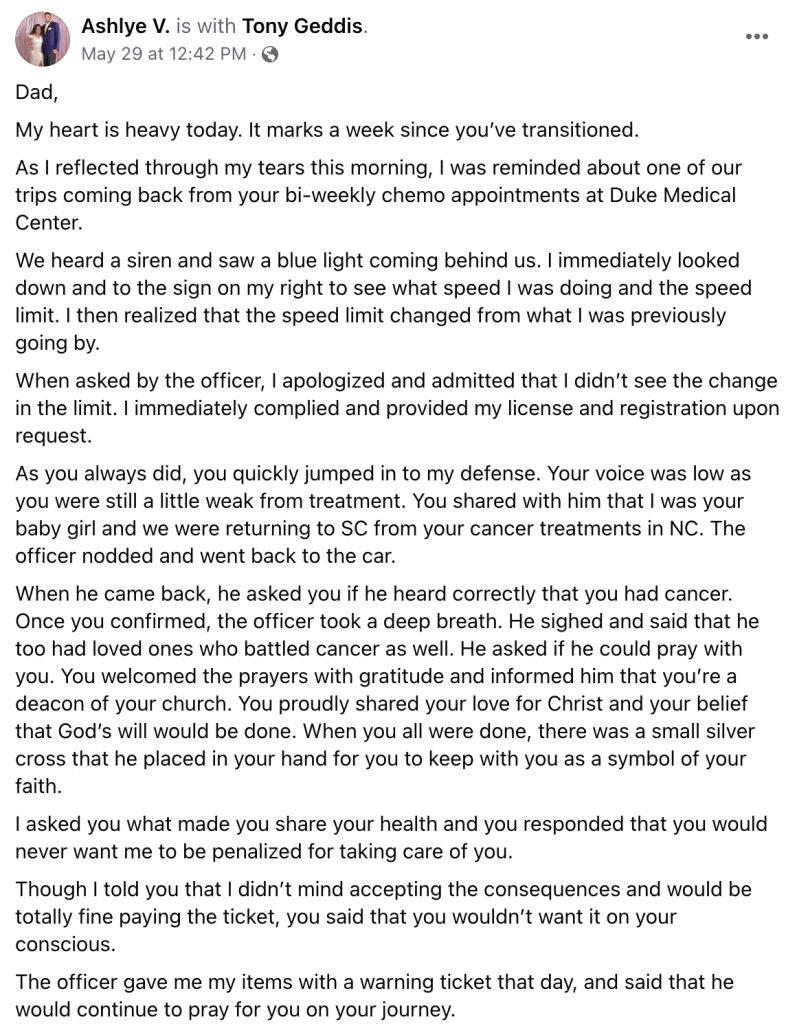 Ashlye said that Tony, who was a deacon of a church, had "welcomed the prayers with gratitude."
"You proudly shared your love for Christ and your belief that God's will would be done."
Cue the tears.
"When you all were done, there was a small silver cross that he placed in your hand for you to keep with you as a symbol of your faith."
Connecting Through Faith
Receiving a cancer diagnosis is difficult. Battling a late stage cancer and coming to terms with death is beyond devastating, and this pressing time for cancer patients has a tendency to make people want to shut down.
However, Tom Evans, pastor of the Brick Presbyterian Church located in the Carnegie Hill neighborhood of New York City, tells SurvivorNet that it's during this time that you should try to do the opposite.
Related: 'GMA' Anchor Robin Roberts Leads Morning Prayer on Instagram, How Cancer Thrivers and Survivors Use Faith to Cope
"It's important to reach out in a simple prayer to God, even if you've never prayed before, you don't know what to say, a heartfelt plea, 'God, help me, be with me,'" Pastor Evans says.
When faced with a health crisis such as a cancer diagnosis, it's important to find ways to cope with the complex web of feelings you may be experiencing.
Faith Perspective Opening Yourself Up to Others After a Cancer Diagnosis
For some, turning to faith can be a great way to keep spirits high when cancer starts taking an emotional and/or physical toll. In fact, a 2015 National Health Interview Survey found that 69% of cancer patients reported praying for their health compared to 45% of the general United States population.
"You can reach out to God and you can reach out to people, your friends and family and say, 'I can't do this on my own. I need you,'" Pastor Evans says. "It's in that willingness to be open and to receive that we can actually find something deeper that we never would've encountered without this hardship."
Pastor Evans says, "This is what is so powerful about times of hardship."
'You Have to Pull Out Every Ounce of Strength That You Have,' Sharon Spencer's Cancer Story
"You think cancer … (is) simply going to be a devastating time," he adds, "but it's in those moments that sometimes you discover how wonderful humanity is. We spend so much time watching the news and we become so disillusioned with people, but it's in hardship, it's in cancer … that suddenly you feel that people are glorious."
RIP to Mr. Anthony Geddis 5-22-22
Learn more about SurvivorNet's rigorous medical review process.