Growing Through It
Good Morning America anchor and breast cancer survivor Robin Roberts, 60, leads another morning prayer on her Instagram, sharing an important message for anyone going through cancer or other hard times.
More than half of Americans reportedly pray daily, and it is even more common for people with cancer to turn to faith for help coping through their illness.
Blood cancer as a secondary diagnosis: What is blood cancer?
The ever-so-graceful Good
Morning America
co-anchor Robin Roberts led another morning prayer from her dressing room this morning, and we can't help but smile. It is common for people with cancer and other illness to turn to faith, but whether you are religious or not, the breast cancer survivor's words will resonate with all of us going through a hard time.
Related: Breast Cancer Survivor & ABC Anchor Robin Roberts, 60, Gives Us a Monday Motivation We All Need Right Now: "At the End of the Rope…Have a New Perspective"
Read More
Roberts, camera-ready wearing a black-and-white print dress, addresses her "Glam Fam" hair and makeup squad with a cheery, "Good Morning!" while leaning up against her vanity, before starting her prayer. "Sometimes we look at the painful times in our lives when we're hurting, we're lonely, we're undergoing medical treatment and we think, 'This can't be a part of God's plan. This cannot be a part of God's plan,'" she says. "You have to trust that even then, God doesn't make any mistakes, he has already designed your life down to the smallest detail."
Related: ABC's Remarkably Brave Robin Roberts Looks Towards A Brighter Future Nine Years After Bone Marrow Transplant: "This Too Shall Pass"
Roberts getting diagnosed with breast cancer in 2007 was not part of the plan. Roberts getting diagnosed with a secondary cancer in 2012, a rare blood cancer called MDS (bone marrow cancer), was definitely not part of the plan. She had to have a lifesaving bone marrow transplant, and still remained positive throughout, opening up about her battles on her show to help others with their struggles.
View this post on Instagram
Roberts continues reading from her phone, while glancing up at the camera and making eye contact with her team during some of her most impactful words. "He didn't promise you that there wouldn't be any pain, suffering, or disappointment. But he did promise that it would all work out for our good. The key is what you do in your time of pain: difficulties, heartache, suffering, they don't leave us the same. If you go through a divorce, a legal battle, or if you have a friend who betrays you, eventually you will get through it. But you will be different. Now, you can come out bitter, or you can come out better.'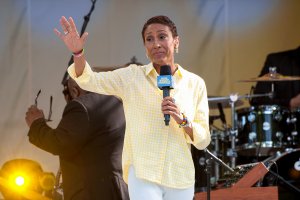 Related: "I Truly Believe In All The Energy And Prayers," Says Pro Golfer Camilo Villegas, Whose 20-Month-Old Daughter Is Battling Cancer
She concludes with the most important message from her prayer. "You can go through it or you can grow throw it, and we choose to grow through it," then adds, "it's been one of those mornings, but it's been a blessed day." Whether we're sick or healthy, feeling up or down, just taking comfort in the fact that we all go through rough mornings, days, weeks … can help pick you up again.
Turning to Prayer
More than half of Americans pray every day, at least according to an earlier 2014 study from the Pew Research Center. Those numbers likely go up with people beating cancer and other illnesses who feel the need to turn to a higher power. Christian singer Carman, 65, asked for prayers while currently battling pneumonia after a 2013 multiple myeloma diagnosis. In December, Maria Menounos asked fans for prayers for her parents back in December who were battling COVID, especially for her mother who is battling advanced stage brain cancer.
Related: Annie Tolentino Credits 'Prayer Warriors' for Helping Her Get Through Ovarian Cancer Treatment
Breast cancer survivor Sharonda Vincent from Philadelphia shared her faith journey in a previous interview with SurvivorNet. "I felt like I was being punished," Vincent had said of learning about her breast cancer diagnosis the day before her 30th birthday. "One night I was just laying there in bed. And I had a talk with God. And I knew that if I just put my faith and trust in God, that I would be OK." Vincent shared advice for others newly diagnosed with breast cancer "to not give up hope, to live every day as if it was their last day, to educate themselves. I would let them know that it's OK to cry. It's OK to have days where they just want to be alone."
"I Had A Talk With God – And I Knew I'd Be Okay"
A Secondary Cancer
There is a risk in developing a secondary cancer after going through cancer treatment like Robin Roberts did with her breast cancer. In a previous interview, Dr. Nina Shah of the UCSF Medical Center explained what blood cancer is and how you can get it. "In general, having a blood cancer means that your bone marrow is not functioning correctly, she said. "And when your bone marrow doesn't function correctly,  it means you can have something happen to you like anemia, or you could have low platelets, which makes it possible for you to bleed easily, or your immune system is not functioning correctly and you can have infections that most people won't have." Getting in for your regular check-ups and blood tests can help you stay ahead of a possible secondary cancer.
What is a Blood Cancer – How is it Different?
Learn more about SurvivorNet's rigorous medical review process.