Throughout Alex Trebek's battle with Stage Four pancreatic cancer, he's stayed positive and spread the word that attitude matters. Now, he's responded with love to a piece of fan mail, requesting that he send a positive message to a devoted grandma and fellow pancreatic cancer patient.
A fan wrote to Trebek say that his grandmother was suffering from pancreatic cancer, just like Trebek– the fan's grandmother loved Trebek, he wrote, and would there be any chance of Trebek writing a note to her, since she had the same disease. The fan posted Trebek's response on Reddit.
Read More
"My grandma was diagnosed with pancreatic cancer last month," the person with the username u/sgtjayp wrote in the post. "Her idol, Alex Trebek, was also recently diagnosed with pancreatic cancer. I wrote to Mr. Trebek asking for some words of encouragement and well wishes. To my complete surprise — he responded! Thank you for taking the time, Mr. Trebek!"
"Karen, Let's you and I decide that we both are going to be cancer survivors. Stay positive! All the best," reads the signed photograph of Alex Trebek in the photo. He signed his name in bold underlined letters, right next to the Jeopardy! logo.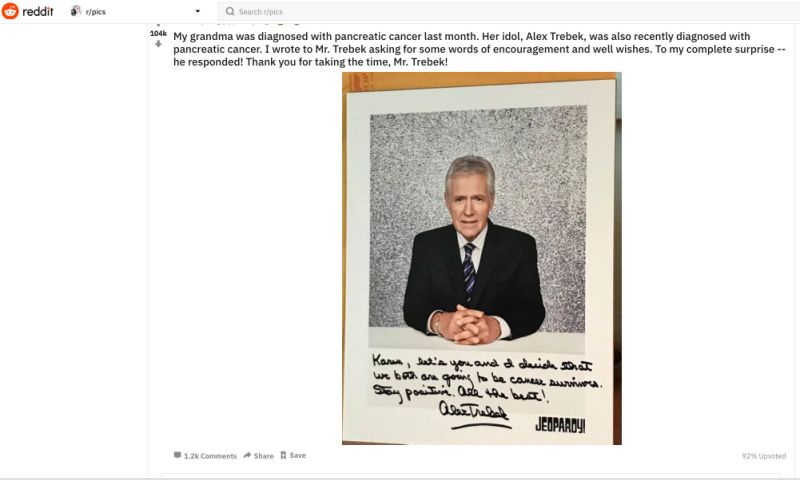 Thousands of people came to the page to write their thoughts about Trebek's message.
"Good luck to Karen (if I read the name right) and Alex, and all good people who have been given the bad news," wrote one fan.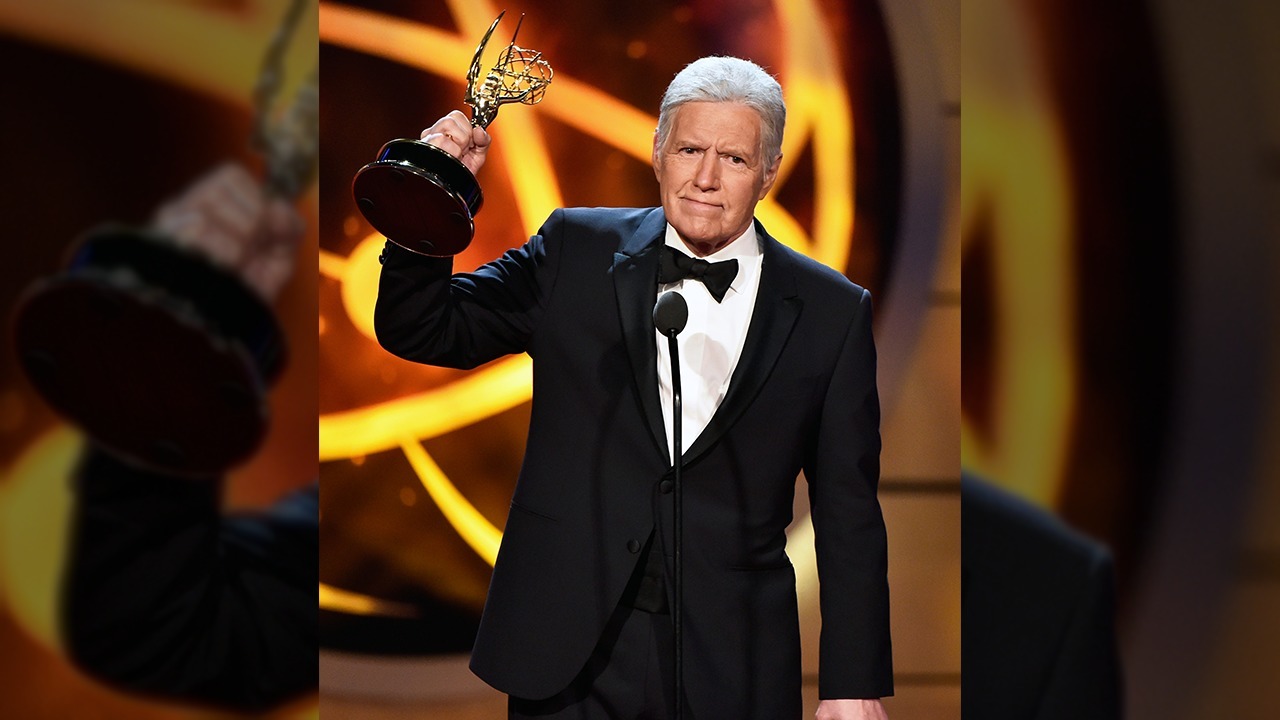 "Seriously- I feel like it's too easy to fall into the trap of trying too hard when writing a response and you get something overly dramatic. His response is bang on perfect," wrote another.
"The positivity in Alex Trebek is amazing," commented a third.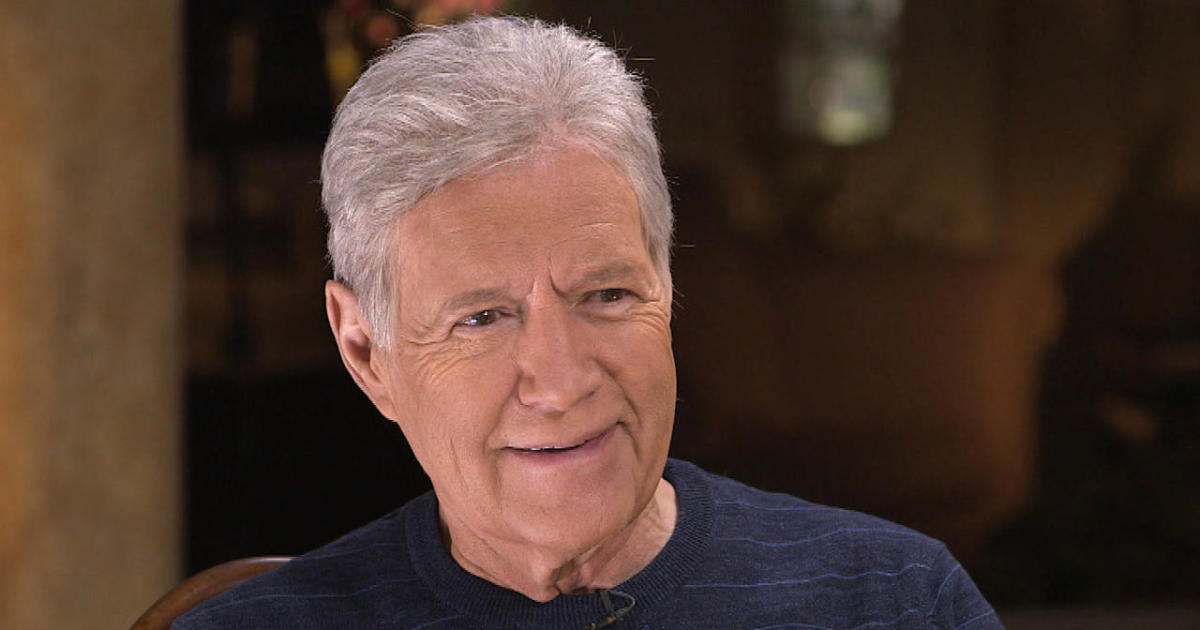 Alex Trebek during an interview with the Canadian news station The National during treatment for stage four pancreatic cancer
This isn't the first time we've seen Trebek's desire to be a comfort for other people with pancreatic cancer.
In a recent interview, Trebek embraced his self-proclaimed role as the chief spokesperson for pancreatic survivors, which he says he's attained due to his longterm fame and visibility as the America's most beloved game show host. "The difference between the other pancreatic cancer victims and myself is I'm in the public eye, and the press has made a big deal out of my diagnosis," Trebek said in his new interview with "People" magazine. "So I've become the de facto current spokesperson for it, if you will."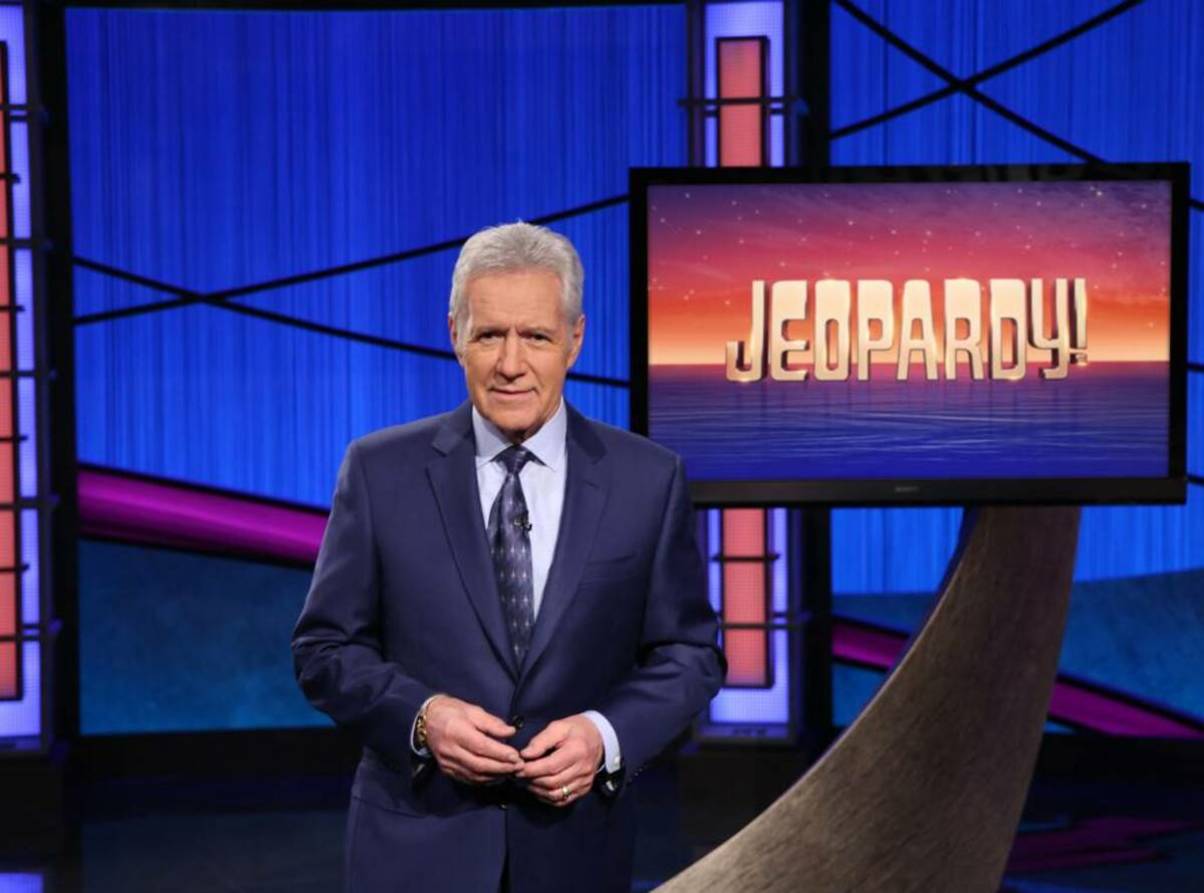 And he also spread some positive thoughts about advances in cancer that give him hope. "Be positive," he continued. "Medicine is constantly coming up with new ways to deal with different kinds of cancer, so my message is to try and be hopeful. There can be a way out of this. It doesn't always have to end in death."
"People" revealed that Trebek told them the surprisingly good news that his tumors are shrinking rapidly due to chemotherapy, and that his treatment overall seems to be going well.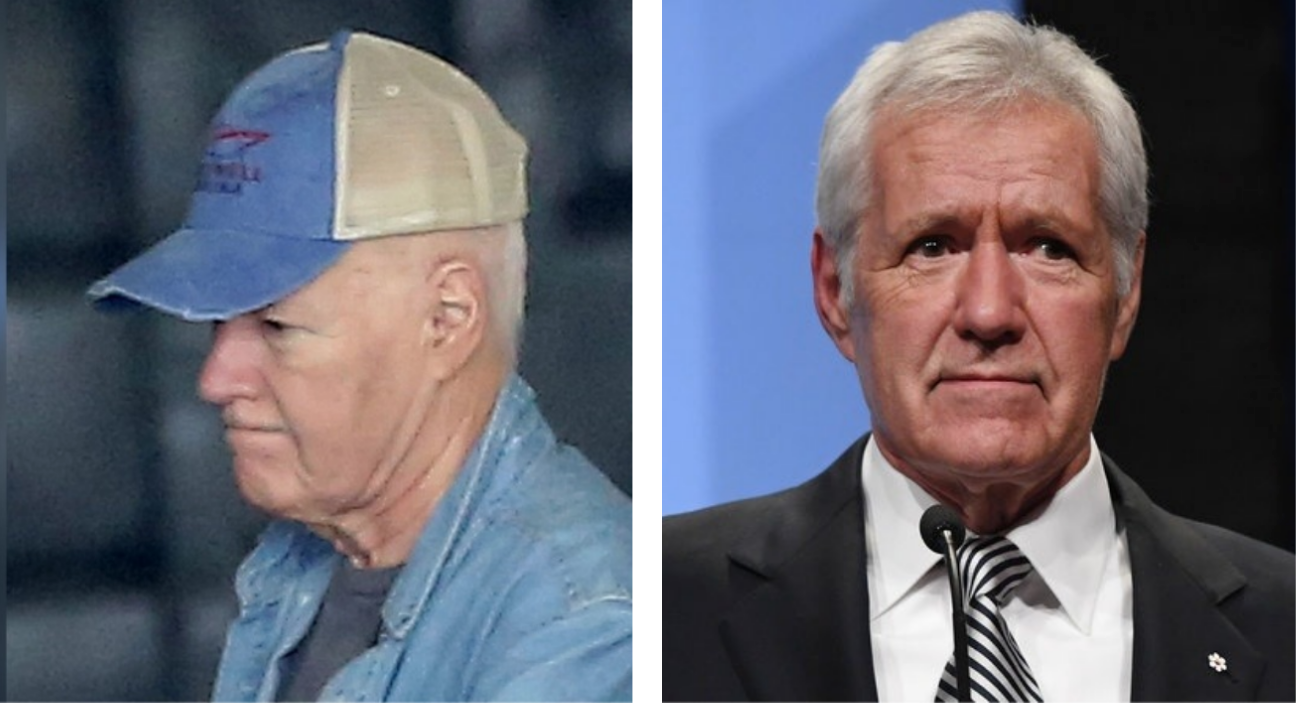 He also said that he's going to have to go through a few more rounds of chemotherapy, but that he's excited about the progress he's made so far, and that there's hope he'll enter into a full remission. "It's kind of mind-boggling," Trebek said. "The doctors said they hadn't seen this kind of positive result in their memory…some of the tumors have already shrunk by more than 50 percent."
Trebek is right that he is seeing an extremely positive results considering his grim diagnosis of Stage 4 pancreatic cancer, since the greatest difficulty with pancreatic cancer is the solid tumors. "It is the solid tumor [pancreatic] cancer that has the worst prognosis. It is right now the third leading cause of cancer death, soon to be the second leading cause of cancer death in the United States," Dr.  Allyson Ocean, Medical Oncologist at Weill Cornell Medical Center, told SurvivorNet in an interview prior to the first announcement of Trebek's diagnosis. "Mortality is rising because it is caught so late and we don't have enough effective medications against the cancer."
And what's called a "stroma" makes it difficult for doctors to get at the tumor itself.  "The cancer cells are surrounded by what is called a stroma, and the stroma serves as a barrier for medications to get in to the cancer to kill it," says Dr. Ocean. Stroma is tissue that surrounds the cancer tumor.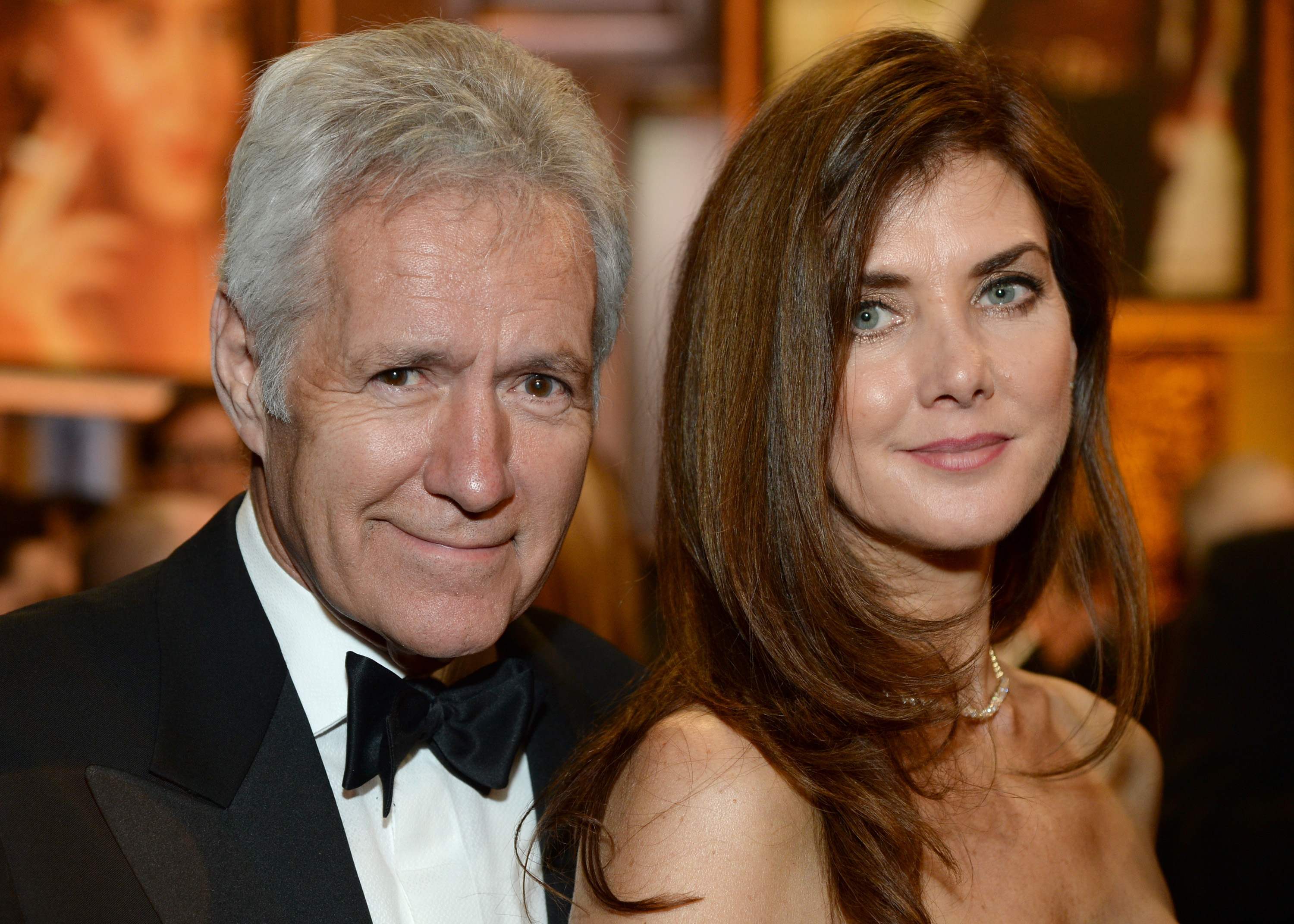 And that usually includes chemotherapy. "So chemotherapies have a hard time getting in, radiation has a hard time penetrating. Think of pancreatic cancer as an oatmeal raisin cookie and the raisins are actually the cancer cells, and the cookie part is actually all the stroma around it. And imagine having to navigate through all that stroma for a treatment to be able to get into a cell to kill it. So that's why the treatments just really aren't good enough to penetrate the cancer. But we're improving, we're getting better treatments."
Trebek gave a speech at the recent PurpleStride march to end pancreatic cancer in Los Angeles, and there he met with fellow patients and survivors who, he says, gave him hope. "There were over 50 pancreatic cancer survivors there, people who had survived 22 years in one case," he says. "The survival rate 20 years ago was 4 percent. Now it's up to 9 percent. We're making progress, so let's be positive!"
He also talked in the interview about the desperate need for more research and funding for pancreatic cancer.
Learn more about SurvivorNet's rigorous medical review process.