A True Survivor and Advocate of Authenticity
Good Morning America anchor Robin Roberts, 61, says she loves being recognized, but not because she wanted to be a "celebrity."
The breast cancer survivor opened up to PEOPLE exclusively for their "Pride" cover, and Roberts feels privileged and honored to share her story as a gay, Black woman, and loves to encourage others to share their own stories.
Robin has experienced breast cancer from both a survivor and caregiver's standpoint, as her partner Amber Laign is currently battling the same disease.
Robin found her tumor by doing her own self-check for an on-air presentation. Experts say that the best time to check your breasts is once a month, right after menstruation. However, self-checks should not take the place of a mammogram; it's important to get screened by medical professionals.
Good Morning America
anchor Robin Roberts, 61, says she loves being recognized, but not because she wanted to be a "celebrity." The breast cancer survivor opened up to PEOPLE exclusively for their "Pride" cover, and Roberts says she
feels privileged and honored
to share her story and help others tell theirs.
"I like being a storyteller. That's the reason why I became a journalist," she told the magazine. "It's what first drew me to the career as a little girl in Mississippi. Of course, back then I didn't see anyone like me on television, a gay Black woman."
Read More
Roberts is also a proud Christian. She wanted to give people like her, and people from all walks of life, a voice. "But I never wanted to become the story. I never thought at all about the 'celebrity' aspect of it."
She understands why there has been a shift in how journalists have become celebrities in their own right.
"The way we were seen somehow changed. I have now been in people's homes for over two decades. How many actors can say that?" Plus, she says people feel like they know her because many have likely watched the show in their underwear.
Related: Robin Roberts Says She Is 'Humbled & Grateful' As She Celebrates Her 20th Anniversary at GMA And Stays Positive As Partner Battles Cancer
The lovable host with the infectious energy is adored by so many fans, but she is particularly revered by the gay community as a role model, breaking barriers.
Robin Roberts on Faith, Love and the Power of Visibility: 'We Can All Be Accidental, Incidental Activists' https://t.co/y20N37eF0r pic.twitter.com/o8S3ZHaS5E

— People (@people) June 8, 2022
"I know the importance of having come out. I had help. I was so inspired by my dear, dear friend, and GMA colleague Sam Champion," she said. "I knew he was gay. He knew I was gay. Our colleagues, our bosses, they all knew. Then in 2012, when Sam [Champion] got married to Rubem [Rubierb], his husband, I was there at the wedding. I was able to see how our bosses at ABC embraced it. They never said, 'Hey, should you rethink this.' And then to see how the public was so supportive, that really opened my eyes."
Related: Robin Roberts, 61, Feels 'Blessed' As Random Stranger Surprises Her And 'Sweet Amber,' 47, With Bouquet Of Tulips While They Eat Breakfast
Now Roberts is likely that person for others. The bestselling author is so warmly received by people of all ages, races, and sexual identities. Likely due to her authenticity.
"I am so encouraged today by so many LGBTQ+ people who are visible in my industry," she shared. "Somewhat ironically, when I came out, it was my industry who kept reporting, 'Gay! She's gay! Oh!' Meanwhile the public was going like, 'Uh, duh! Really? That's your headline?"'
Robin went on to admit that she didn't "necessarily" come out for herself. "I did it because I love [my partner] Amber [Laign]. I was just thanking everybody. I did it via a simple social media post where I thanked my doctors, my parents. But then, was I not going to thank this woman who had been by me through this illness? But people got it. 'Oh, she's just grateful,' they said. 'It's just love.' They didn't make it anything more than me living my life."
 

View this post on Instagram

 
Not only is Roberts a proud voice for the gay community, she also raises immense awareness about cancer.
Roberts' 'Sweet' Amber, as she lovingly calls her, is now battling breast cancer with Roberts standing firmly by her side. After all, Amber, 47, was a caregiver to her when she went through her battles (Roberts had a secondary cancer called MDS, myelodysplastic syndrome, a type of blood cancer). There's no one else who could possibly understand your health journey more than someone else who has gone through it.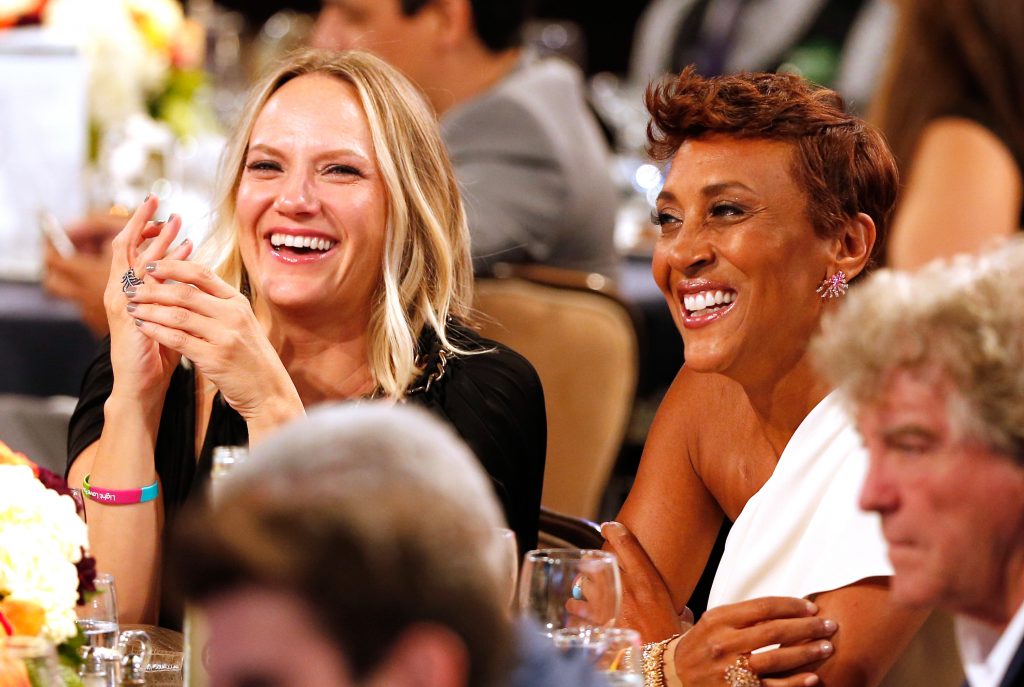 Despite Roberts often viewed as an activist, she humbly insists that she's not (we beg to differ).
"I'm not an activist. I say God bless the activists because what they do is so important," she said. "But I think I've spawned activism in people. I like that. And we can do it without beating our chests and getting on a soapbox and getting in someone's face and yelling at them about how they should be."
Related: Cancer Survivor Robin Roberts Reveals 5 Daily Rituals That Help Keep Her Healthy: 'I Allow Myself to be Vulnerable'
"By being our authentic selves, others can be motivated. They may even rally around it."
Robin and Amber's Cancer Battles
Robin Roberts has been open in saying that her faith got her through both of her cancer battles, and now she is continuing to lean on her faith as she helps Amber through her own journey, after getting diagnosed late last year. Amber is a bit more private in her life, but Roberts, as a public figure, has felt compelled to continually raise awareness for what she has been through.
Related: Robin Roberts, 61, Openly Weeps On 'Ellen' About 47-Year Old Partner Amber Laign's Brave Cancer Battle: 'She is Being So Courageous'
Roberts was diagnosed with breast cancer in 2007 after discovering a lump. Ironically, she made this discovery while prepping for a news segment on performing self-checks, which shows just how important they are to perform at home.
"At first I thought, 'This can't be. I am a young, healthy woman,'" Roberts said, which tends to echo through many women's heads following a diagnosis.
The journalist's early detection was a critical factor in her survival. She treated her breast cancer with surgery, one of several treatment options for this disease, which can also be treated with radiation, chemotherapy, hormone therapy and immunotherapy.
An overview of breast cancer treatment
In addition to battling breast cancer, Roberts had  MDS, which stands for myelodysplastic syndrome—a rare type of blood cancer where abnormal cells form in the body's bone marrow.  Roberts had to undergo a bone marrow transplant.
Related: What's the Standard Treatment for MDS (Myelodysplastic Syndrome)?
Chemotherapy for breast cancer could have likely contributed to Roberts' secondary cancer. Although it is rare, it is one of the risks of treatment. MDS caused by cancer treatment is called "secondary MDS" or "treatment-related MDS."
Although risks and complications can happen with treatment, many patients feel that is is highly better than the alternative—and that the benefits outweigh potential side effect and future outcomes. So, while treatment may feel like your ultimate foe while going through it, just keep reminding yourself that there is light at the end of the tunnel, it is most likely only a temporary situation, and never give up hope.
Self-Checking Your Breasts
Breast self-examination is one of the many areas in breast cancer where a woman needs to decide between what makes sense for her and what the recommended guidelines say. If doing breast self-exams is something that works for you, and your doctor agrees, then you should do it.
Related: 'Anne With An E' Star Miranda McKeon, 20, Describes Finding Cancerous Breast Lump One Year Ago During Wild Party
It's important to note, however, that the American Cancer Society says there's no clear benefit from breast self-examination. Some organizations, including Breastcancer.org, disagree and recommend regular breast examination, although an age to start is not specified.
Getting to know how your breasts look and feel may be one of the best ways to recognize when something is not quite right.
Getting to Know Your Breasts with Self-Exams
While standing straight in front of a mirror, place your hands on your hips and look at your breasts for any swelling, bulging, changes in shape of breast or nipple (inverted), redness, rashes, or any fluid leaking. Then do the same with your arms in the air.
Next, while lying down, use your right hand to examine your left breast and vice versa, while using your first three fingers to apply pressure. Ensure you cover the entire breast area, from your collarbone to below your ribcage and from your armpit to your cleavage area. Do the same self-exam standing or sitting up. Be sure to use light to medium pressure for the middle breast area and firmer pressure when feeling deep breast tissue.
Related: 'Today Is the Perfect Day to Check Your Breasts': Fashion Icon and Cancer Survivor Camilla Franks Encourages Others to Be Vigilant about Self-Exams
It is recommended by experts that you perform a self-exam once a month, after your period. However, it should be emphasized that breast self-examination is NOT a replacement for a mammogram.
If you're not yet getting scanned, discuss with your doctor at what age you should begin. It's important to know and disclose your family history, and genetic testing is also encouraged to see if you carry a gene mutation that could make you at a higher risk for breast cancer, not to mention other types of cancer.
Learn more about SurvivorNet's rigorous medical review process.