"Nice to meet you. I think I've covered wars with fewer people," said Tom Brokaw as our camera crew set up in the living room of his winter home on the Gulf Coast of Florida. Cable news was on the television, and at 79-years-old, six years into cancer, Brokaw's legendary charm is still mixed with a splash of vinegar from the old school newsman.
SurvivorNet went to see the long time NBC News journalist to talk about his experience with cancer and how he's learned to live with it in the years since his diagnosis. Brokaw is currently being treated for a blood cancer called multiple myeloma. He may have slowed down physically, but his journalistic ambition and desire to be part of the national dialogue has not. Brokaw is currently working on a book about Richard Nixon, and volunteers that "politics keep me distracted from cancer."
Read More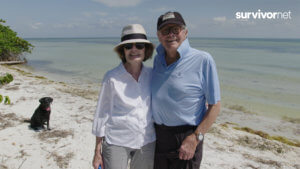 Feeling Good & Taking Medical Marijuana
In our wide-ranging interview, Brokaw said he's on medical marijuana to help with the pain in his back. He has had back issues for years and multiple myeloma attacks the bones, causing pain and loss of height. Though he says getting medical marijuana in the state of Florida is "complicated."
He is a living testament to the extraordinary advances in treatment which are increasingly turning some cancers such as multiple myeloma into chronic diseases.  He's on a drug called Revlimid which, in combination with other therapies, is used to kill myeloma cells. Brokaw is now in what's called the "maintenance phase" of treatment in which lower doses of Revlimid (also known by its molecular name lenalidomide) are used to keep the immune system on high alert against the cancer.
"Lenalidomide prolongs progression free survival, in fact, doubles time without myeloma," one of Brokaw's physicians, Dr Ken Anderson of The Dana Farber Cancer Institute, tells SurvivorNet. The drug works by helping to stimulate the immune system and block the development of abnormal cells.
According to Brokaw, "Revlimid's my bomb, as far as side effects I've been great."
On Drug Prices
Brokaw says he is "keenly aware" that most people with a cancer diagnosis are not as fortunate. When he feels sick, he can pick up the phone and call some of the best cancer doctors in the world, and he can afford the best drugs.
Brokaw says, "I have a blessing of having a great (insurance) program … so the checks that I write for pharmacy are very, very small. Every time I do that, it makes me aware of the people who are not in the same position that I am. How do we deal with this as a culture? We have the ability to do it, we have the greatest resources in the world. Let's figure out how we can make it cost effective, how we can have a true testing program for efficiency and results … and that people will have access to those results."
On The News Media
Brokaw says he is totally engaged in the political life of the nation and how the news media covers it. "My impression is, and the people at NBC know, that I think there's too much duplication," Brokaw said. "There's too much repeating the same thing all day long — a cycle. Tell me something new. Tell my something that takes the story a little farther down the line. Also … get the hell out of Washington and out of New York — and go out there and cover it where it's going on. Find out what's happening there."
The Multiple Myeloma Community
"When I see people with multiple myeloma they stop me and I ask them what they're on? It's sort of like a club," says Brokaw who cares deeply about his fellow travelers on the myeloma journey.  He urges cancer patients to be informed and advocate for themselves, and believes there is a real information gap for people dealing with cancer. Brokaw also thinks there ought to be a central resource for patients and a doctor rating system of some kind to help with decision making.
What's Next?
Thinking about his own mortality is a significant part Brokaw's life, but he says he doesn't let it dominate his days. "I've gotten to the point where a lot of my friends are dying." "I've been incredibly lucky and I want to keep going."
So as his 80th birthday approaches, what does he want to do?  Brokaw says he wants to write, travel, do some TV, work with multiple myeloma organizations… basically, he just wants to keep living his life. He is very grateful.
But his main answer, "I just want to stay vertical."
(Multiple myeloma is not curable but it is treatable. SurvivorNet has collaborated with the world's leading clinicians and researchers to provide extraordinary resources for patients with this cancer and others. You'll find the multiple myeloma section of our website here:  https://www.survivornet.com/journey/multiple-myeloma-initial-treatment/).
Learn more about SurvivorNet's rigorous medical review process.