The Promise Fund Closes Gaps in Cancer Care for Women
When caught early, survival rates in breast and cervical cancer are greater than 90%.
Lack of access to screenings leads to later diagnoses or more advanced cancers.
This young organization provides assistance and guidance to uninsured women in an effort to help better their chances of surviving cancer.
Since her sister Susan G. Komen died of
breast cancer
in 1980, Nancy Brinker has spent the last 40 years building the Susan G. Komen organization, which has launched the careers of hundreds of scientists and spawned numerous technologies and therapies. Brinker has also led White House cancer control initiatives for several presidents. Yet, for all she and her organization have done to advance scientific research around breast cancer, right in Brinker's own backyard in Palm Beach County, Florida, women continue to die of breast and
cervical cancer
at alarming rates.
"This is no longer about learning what we don't know, it's about applying what we do know," Brinker tells SurvivorNet. "It's not about actual medical care. It's about health equity."
Read More
With an early diagnosis, 99 percent of women with breast cancer survive. Ninety-two percent of women with early cervical cancer live. But, in Florida and Palm Beach County, far too many women lack access to the
screenings
that lead to early detection. Some 80,000 women ages 18 to 65 go without health insurance in Palm Beach County. For those who can't pay cash for mammograms and pap smears, few alternatives exist. The state ranks dead last in the nation in providing government resources for women's health care.
Dr. Elizabeth Comen Explains Genetic Testing in Breast Cancer
"This is no longer about learning what we don't know, it's about applying what we do know," Brinker tells SurvivorNet. "It's not about actual medical care. It's about health equity."
Brinker's latest venture, The Promise Fund of Florida, which she founded in 2018 with Laurie Silvers and Julie Fisher Cummings, aims to create health equity for the women of Palm Beach County. The non-profit organization is on a mission to eliminate barriers to quality health care and reduce deaths from late stage breast and cervical cancer for county residents through early detection, diagnosis and treatment.
Related: Too Many Americans Skip Life-Saving Cancer Screenings Due to COVID-19; Make Sure You Aren't One of Them
Breaking Down Barriers to Cancer Care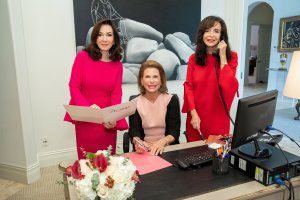 It's not a single barrier that lies between uninsured women and cancer care. It's many.
"We can't just send women for screening and then desert them," Brinker says. "What if they are positive for breast cancer? Now what are you going to do?"
Getting a woman the screening that leads to a breast cancer diagnosis is just the first step on a long road. After that, she'll need numerous health care appointments, which cost money and require transportation – not to mention an understanding of English and the health care system.
Dr. Kimberly Resnick Says Minorities and Underserved Groups May Lack Access to Ovarian Cancer Care
Brinker wants the Promise Fund to close each of those gaps.
The organization's bilingual patient navigators work with women to identify their barriers to getting care. They translate; help women apply for financial assistance and health insurance subsidies; and navigate the health care system with them from screening through diagnosis and treatment to ensure they complete their care without any additional obstacles.
The organization has also partnered with other non-profits and health care providers to offer screenings and health care at affordable rates. Uber Health gets women to their appointments.
In October, the Promise Fund will eliminate one more barrier between uninsured women and breast cancer screenings. The Promise Fund Mammography Screening Center will open inside FoundCare, a federally qualified health center in Palm Beach County. Women will then get mammograms at the same clinic where they receive basic primary care. This will eliminate the need for another appointment at another clinic – appointments that many uninsured women never keep.
Related: What's Next to Move the Needle in Cancer Survival Rates? The Country's Top Experts Talk to SurvivorNet
All Politics and Health Care are Local
After a lifetime promoting cancer research and health policy at the national level, Brinker has no aspirations to take this new initiative nationwide.
"I would just never want to grow a national organization again," she says. "I have determined now after all these years, all politics are local, so is all health care."
But she does want the Promise Fund to be a model for other states. Brinker anticipates that within a year, the organization's many programs will be running smoothly. "We want to make it as perfect as we can," she says.
At that point, she welcomes local health care advocates from any state to come to Palm Beach County and see how it's done so they can replicate the model in their own states.
"We've got to look at everything we've learned and figure out how to apply it to every population in our country," Brinker says. "We cannot leave out a part of our community."
Learn more about SurvivorNet's rigorous medical review process.