Boy Battling Adrenocortical Carcinoma Reunited with Sister
A 2-year-old boy in the UK is battling a rare cancer called adrenocortical carcinoma and he was recently reunited with his younger sister.
Morgan's cancer first presented as unexplained weight gain, which was the result of a tumor on his adrenal gland. He is treating his stage 4 adrenocortical carcinoma with chemotherapy and surgery.
Having family support through cancer is a great way to lift your spirits through a health battle.
A boy in the UK battling adrenocortical carcinoma was reunited with his little sister amid his cancer treatment and is all smiles after seeing her.
Morgan, 2, has been battling adrenocortical carcinoma, a rare type of cancer. He is treating it with chemotherapy.
Read More
Having family support through a cancer battle, and visits from loved ones like little sisters can make the world of a difference, as Morgan shows.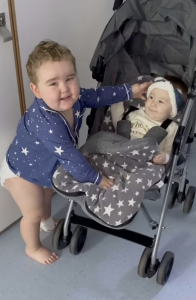 Morgan's Adrenocortical Carcinoma Cancer Battle
The Daily Mail reports how Morgan's mother, Natalie, noticed in April 2021 that her son was rapidly gaining weight. And in October 2021, his unexplained weight gain led to testing, which led to a cancer diagnosis of adrenocortical carcinoma. The tests showed a 13-centimeter tumor on the boy's adrenal gland.
Morgan's tumor was producing cortisol and testosterone, which was the reason for his changing appearance. He is currently battling stage 4 adrenocortical carcinoma and undergoing eight rounds of chemotherapy to treat it. He is also awaiting surgery to remove the tumors from his lungs.
His mom Natalie says, "The tumor was attached to his liver and right kidney, so he needed lose two thirds of his liver and entire kidney. Surgery was very risky and we were told that Morgan had a slim chance of survival. The operation involved opening up his abdomen to remove the tumor."
She continues, "It was hugely complicated because of the levels of steroids this tumor was producing. Surgery took nine hours and thankfully they found the tumour wasn't attached to his liver or kidney, just pressed up tightly against them."
The surgeon was able to remove Morgan's tumor in its entirety, and he spent three days in the ICU following surgery. After the surgery, scans showed two small tumors on the boy's lungs, which meant his cancer had spread to other areas of his body.
Adrenocortical carcinoma is cancer that forms in the outer layer (cortex) of the adrenal glands, explains The Cleveland Clinic. "The adrenal cortex makes hormones — including cortisol, testosterone, aldosterone and estrogen. These hormones control male and female traits and body functions such as blood pressure and response to stress. An adrenocortical carcinoma (ACC) is a cancerous adrenal tumor that forms in the adrenal cortex," says The Cleveland Clinic.
Certain genetic conditions can make a person predisposed to adrenocortical carcinoma. Genetic testing is one way to potentially arm yourself with awareness of a heightened risk of certain cancers.
Genetic Testing What Is It and Why Is It Important?
Family Support Through Cancer
Morgan was reunited with sister Rhiannon, 1, and their mom Natalie captured the beautiful moment on film. Having family support through cancer can make the world of a difference, no matter how old – or young – you are, as Morgan shows us.
In an earlier interview with SurvivorNet, Beverly Reeves, who was diagnosed with ovarian cancer, explained the importance of family and community support through a cancer battle. She says, "If I had one piece of advice for someone who had just been diagnosed with ovarian cancer, it would be to get a strong support group together."
"Get your close friends. If you're connected to a faith community, get your faith community. Get your family. Let them know what's going on and let them help you. And sometimes that's the most difficult thing to do, but just know that they are there. If they love you, they're there to help you."
'Faith, Family, and Friends' Helped Beverly Reeves Get Through Ovarian Cancer Treatment
Learn more about SurvivorNet's rigorous medical review process.