The Dangers of Tanning Beds
Jess-Louise has been warned of the dangers that come with using sun beds and tan-deepening nasal sprays but that hasn't stopped her from maintaining her extremely tanned skin color. "Leave me and my gals to be tanned," the TikTok user told her critics.
Nasal sprays use a synthetic ingredient called Melanotan II, which causes the skin to temporarily darken. However, Melanotan II is illegal to sell in the U.S., U.K., and Australia, according to Cleveland Clinic.
SurvivorNet experts warn against using tanning beds because they increase your risk of skin cancer "exponentially."
Just one indoor tanning session can increase the risk of melanoma by 20%, squamous cell carcinoma by 67% and basal cell carcinoma by 29%.
When you hop into a tanning bed, you are exposing yourself to the very same dangerous rays you expose yourself to outside, but those rays are only 6-8 inches away.
Jess-Louise, who goes by @jl06hul on TikTok, has been warned of the dangers that come with using sun beds and nasal sprays, which use a synthetic ingredient that temporarily darkens skin, but that hasn't stopped her from maintaining her extremely tanned skin color.
The bleached blonde tanning addict, believed to be living in the United Kingdom, took to TikTok a few days ago to urge her followers and fellow TikTok users to "leave me and my gals to be tanned."
Read More
The bronze young woman was responding to critics saying, "You don't understand the health risks of sunbeds and using nasals, you'll regret that when you're older." In the comments section of her most recent TikTok video addressing the warnings, Jess-Louise claims to use "@2btanned nasals and tingle cream every time" she goes into tanning beds, something she does at least once or twice a week.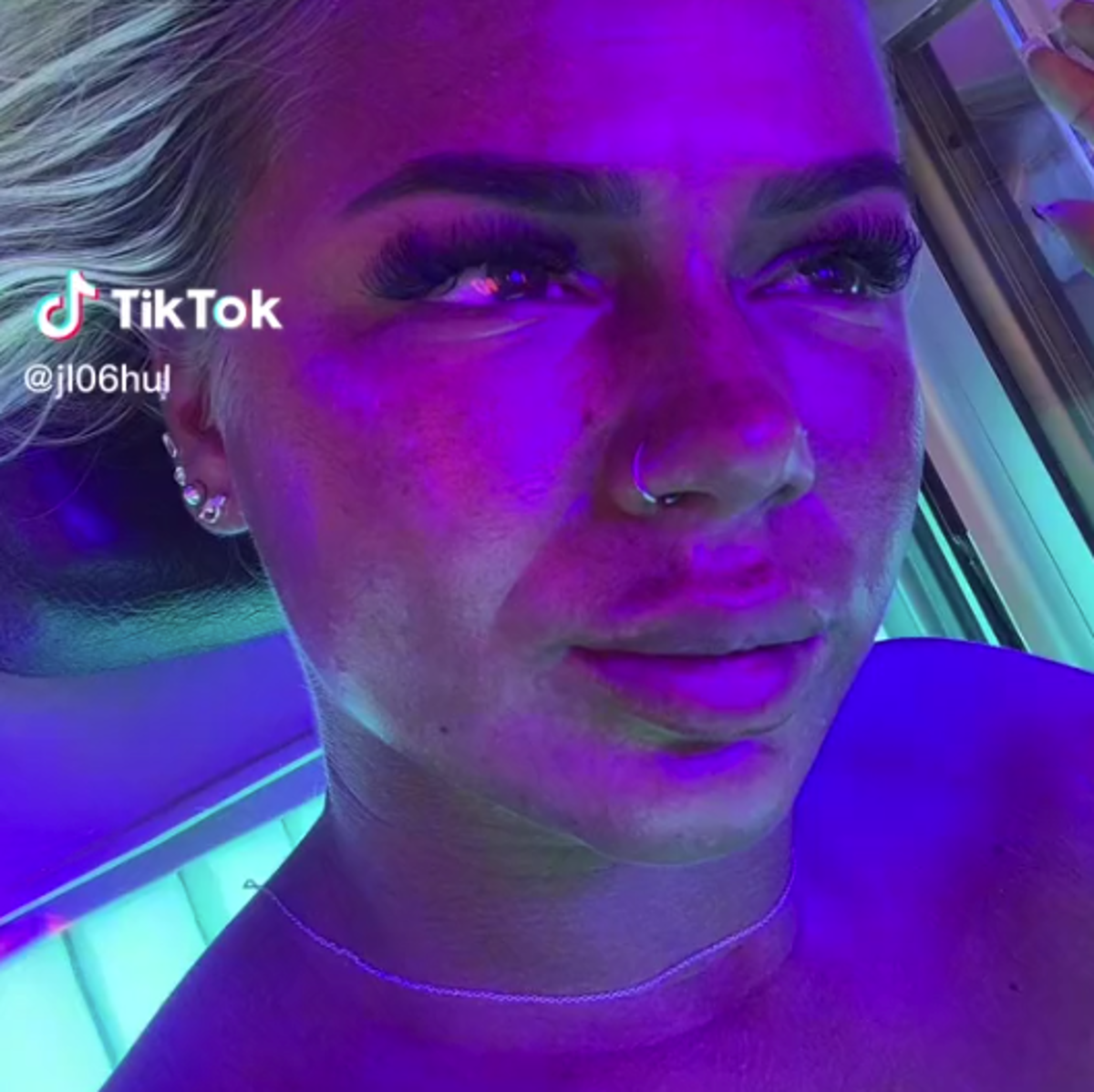 Two years ago, one TikTok user told Jess-Louise, "You should seriously reconsider, I know you don't care about other people's opinion, but people are genuinely concerned for you, and it's dangerous."
However, Jess-Louise replied, "I am more than aware of the risks I'm taking but as I've said, my body my choices."
At the time, the TikToker explained to a tanning bed rookie, "I do 15 mins for three days a week, a laydown, a stand-up and then another laydown, I use bronzing gels and LOTS of after sun xxx."
The UK-bound woman, who noted in her most recent video that each of her tanning bed sessions lasts between 10 and 12 minutes, has also admitted to using "extra strong tanning sprays" and nasal spray during her sun sessions.
According to Cleveland Clinic, nasal tanning spray—which is illegal, made of Melanotan II, and is also called the "Barbie drug"—is used by people looking to preserve or better their tans.
"Nasal tanning sprays are exactly what they sound like: Sprays, which when inhaled, can lead to a temporary darkening of your skin that makes you look tanner. Their key ingredient, Melanotan II, is completely synthetic, meaning it's made in a lab," Cleveland Clinic explains.
"Melanotan II replicates hormones that already exist in your body. And while that might sound harmless enough, Melanotan II is actually so risky that it's illegal to sell it in all 50 U.S. states, as well as in the United Kingdom and Australia."
Melanotan II causes skin color to darken by imitating the body's "natural melanocyte-stimulating hormone, which is responsible for pigmenting your skin," the clinic explains.
When inhaled, the ingredient makes its way into the bloodstream and sparks the body's production of melanin when under UV rays.
In regards to Jess-Louise's love for tanning, Dr. Carol Cooper told The Sun, "Let's be clear about sunbeds. It's not just 'some' experts that say they're bad for your skin. It's almost all of them. All three common skin cancers are linked with excess UV rays. And there's overwhelming evidence that, compared with natural sunlight, sunbeds are far more likely to cause skin cancer."
"Actually, anyone who's ever used a sunbed is at least 20% more likely to develop malignant melanoma, the deadliest skin cancer," Dr. Cooper continued. "UV rays damage the DNA in skin cells, so they're more likely to mutate into cancer. You don't even have to burn for it to happen."
The Dangers of Tanning Beds
If you're considering visiting a tanning bed, we highly suggest you think again. Just one indoor tanning session can increase the risk of skin cancer — melanoma by 20%, squamous cell carcinoma by 67% and basal cell carcinoma by 29%, according to the American Academy of Dermatology.
When you hop into a tanning bed, you are exposing yourself to the very same dangerous rays you expose yourself to outside, but those rays are only 6-8 inches away. And in a study recently published in Cancer, a peer-reviewed journal of the American Cancer Society, researchers suggested that banning tanning beds among minors would prevent thousands of cases of melanoma in adolescents, along with millions of dollars in health care costs.
So, even if the temptation of achieving a nice "glow" seems irresistible, you should note that health experts warn against using tanning beds.
Tanning Salons Pose a Big Risk of Melanoma
Dr. Anna Pavlick, an oncologist specializing in skin cancer at Weill Cornell Medicine, explained to SurvivorNet that tanning beds increase your chances of skin cancer "exponentially."
"We know there is a direct correlation with (melanoma) patients who go to indoor tanning salons," Dr. Pavlick said, noting that the exposure "is about 6 inches from your body."
The sun is millions of miles away when you're on a beach, "so you have to think of the intensity that you're exposing your skin to when you go to a tanning salon," she added
Understanding Melanoma
Ninety percent of melanomas are caused by ultraviolet radiation from the sun.
That means you're at risk if you spent excessive amounts of time in the sun–even as a child. If you ever got scalding sunburns, or were a fan of tanning salons, it's important to get your skin checked.
Related: 'Tan Mom' In Headlines: Her Story Reminds Mothers to Teach Their Teens About Tanning Cancer-Risk
Dr. Pavlick says melanomas are the deadliest type of skin cancer because they have a tendency to spread to other parts of the body.
Most of her patients are those "who have had scalding sunburns as children, patients who have had excessive sun exposure, patients who go to tanning salons because they thought that having a tan was the healthy thing to do."
Related: 'I Would Rather Die Hot Than Be Ugly': Young TikTok Star Warns of Tanning Beds After Skin Cancer Scare
Melanomas can occur, however, in areas that are not sun exposed, such as the sinuses, the back of the eye, the anal/rectal area, and also in areas of your body that were just not exposed to sun.
The Sun is Not Your Friend Most Melanomas are Caused by Sun Exposure
Top 5 Ways to Protect Your Skin From Skin Cancer
Unfortunately, as we know, the sun is not your friend. For most people, there are simple ways to significantly reduce your risk of developing skin cancer. We asked dermatologist Dr. Dendy Engelman to provide the top five ways to protect your skin from skin cancer. Turns out, most of her recommendations are really simple to follow, and could save your life.
Avoid sun during peak hours – This means from 10 a.m. to 2 p.m. It doesn't mean you should never go outside during the middle of the day, but make sure you're protected when you do venture outdoors.
Cover your skin and eyes – A wide brim hat and sun glasses will protect your face, the top of your head, your ears, and the delicate skin around your eyes.
Wear an SPF of 30 or higher – This is easy enough. Plenty of facial moisturizers have SPF built into them. Dr. Engelman also recommends reapplying every few hours, or after excessive sweating or swimming.
Get an annual skin check – You can check your own skin for anything that looks out of the ordinary, but you should still get a yearly check to make sure you didn't miss anything. If you do happen to notice anything out of the ordinary in between checks, schedule an appointment to talk to your doctor about it ASAP — it is always worth it to make sure.
Avoid tanning beds – This one is obvious … but just a reminder, tanning beds can significantly increase your risk of developing melanoma. If you feel like you're just too pale, Dr. Engelman recommends a sunless tanner. "There's absolutely no benefit to going to a tanning bed," Dr. Engelman said.
Top 5 Ways to Protect Your Skin
Dr. Cecilia Larocca, a dermatologist at the Cutaneous (Skin) Cancer Treatment Center at the Dana-Farber Cancer Institute in Boston, Mass., previously told SurvivorNet that something as simple as putting sunscreen on can reduce your chances of getting skin cancer, specially melanoma, by up to 50%.
Choose the Right Sunscreen and Use it Often
"When it comes to squamous cell, basal cell and melanoma, even some rare cancers like Merkel cell carcinoma, protecting ourselves from the sun can reduce that risk," she said. "I love telling my melanoma patients when they come in that that's one thing they can really take control over when they come home."
"When it comes to melanoma, if you use sunscreen, there was this great study that came out of Australia that if patients used sunscreen consistently over a period of ten years, they were actually able to reduce their risk for melanoma by 50 percent," she added.
But no matter how vigilant you are about decreasing your risk for skin cancer, it's important to still prioritize routine check-ups with your dermatologist, and always be on the lookout for any skin changes (like Stella did) in between visits.
Contributing: SurvivorNet Staff
Learn more about SurvivorNet's rigorous medical review process.
---