Martina Navratilova Is Cancer Free
Tennis star Martina Navratilova, 66, was diagnosed with stage one throat cancer in January 2023 after she found a lump in her neck, and further tests revealed the presence of breast cancer. Both of her cancers were detected at an early stage, making them potentially more treatable. Now she is cancer free.
In 2010, the tennis star was diagnosed with ductal carcinoma in situ (DCIS), a noninvasive form of breast cancer; DCIS means abnormal cells can be found in the breast milk duct and have become cancerous but have not yet metastasized – or spread – to other parts of the body. She treated it with a lumpectomy.
Navratilova's cancer journey has put a pause on her and her 50-year-old wife Julia Lemigov's plans for adoption.
Tennis legend Martina Navratilova, 66, has revealed she's now "cancer free" after being diagnosed with throat and breast cancer.
The 18-time Grand Slam singles champion who battled breast cancer back in 2010, is in remission just months after announcing her most recent diagnosis and treatment for stage one breast and throat cancers.
Read More
"As far as they know I'm cancer free," Navratilova said this week in a tearful  interview with the famous British TV host Piers Morgan. Navratilova said she should be "good to go" after continuing additional preventative radiation treatment.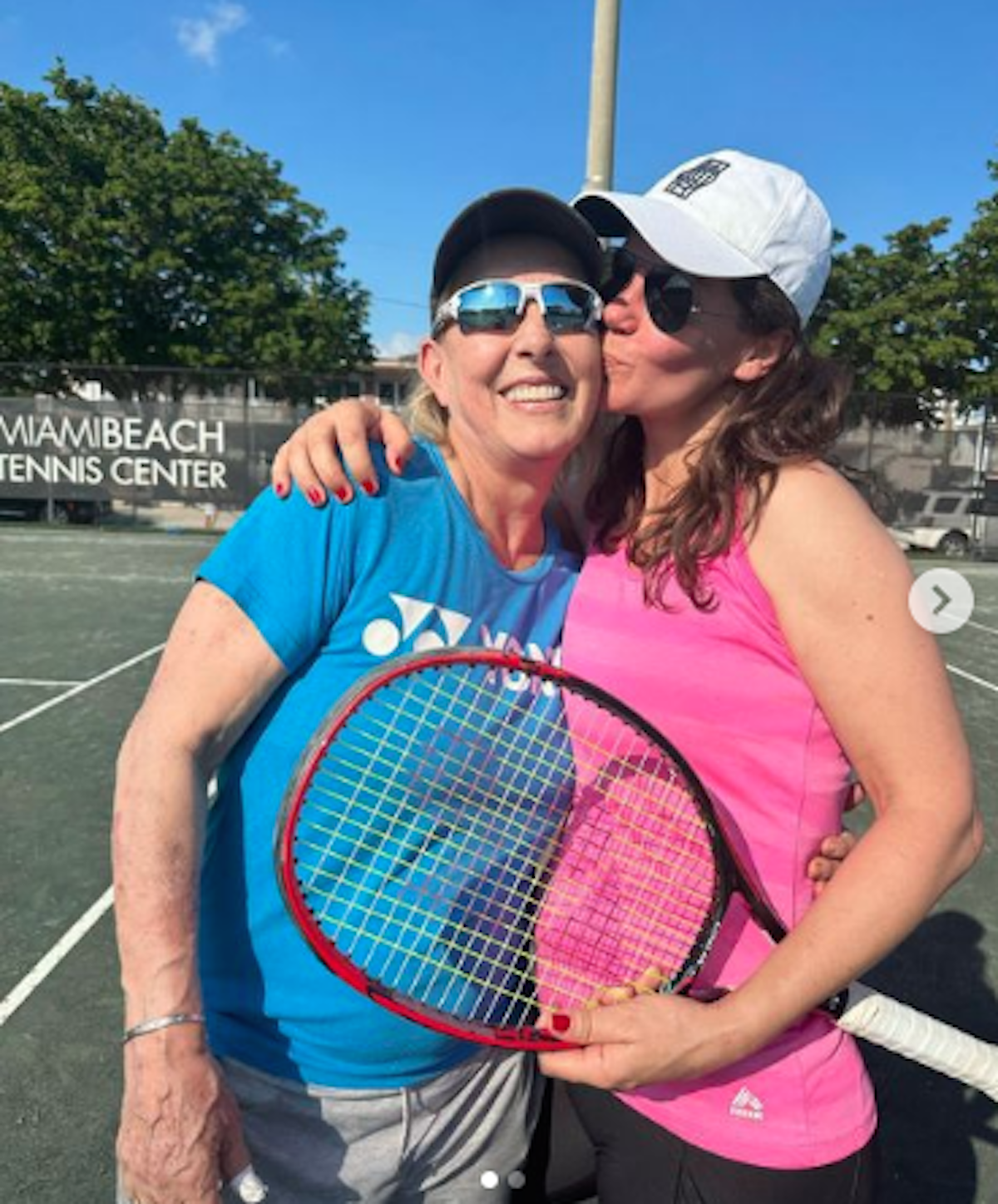 The Czech-American admitted she was in "total panic for three days thinking I may not see next Christmas" when she received her diagnosis, according to
The Guardian
.
"The bucket list came into my mind of all the things I wanted to do. And this may sound really shallow, but I was like, OK, 'which kick-ass car do I really want to drive if I live like a year?'"
Now that the International Tennis Hall of Famer has officially beat cancer a second time, you might be wondering whether the sports star—who is married to 50-year-old Russian former model Julia Lemigova—might be wanting to try for a child again with her wife.
The couple had ultimately decided to put their motherhood plans on hold when Navratilova discovered she had cancer again.
"We were thinking about adopting but that's definitely put on hold, and I don't think it's going to happen," Navratilova told Piers Morgan during the Tuesday interview. "I think it's just too complicated and the energy, I only have so much right now."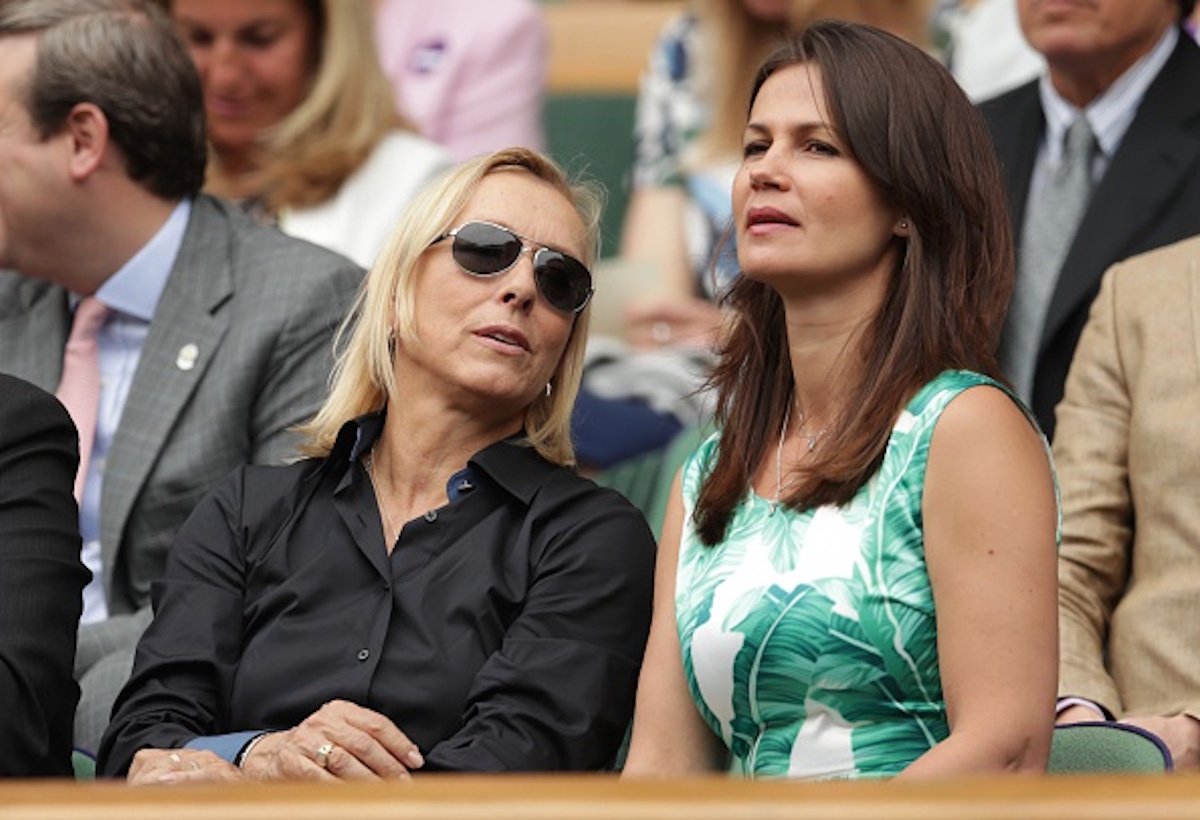 The tennis star, who retired back in 2006, noted the thought of adoption was "nice" but now seems unlikely.
"I'm not really the youngest anymore and I don't want to be the grandmother on the playground," she added, according to the Daily Mail. "Forget that part, there's just not enough space I think for this to happen."
The 59 Grand Slam titles winner Martina Navratilova opens up on her devastating double cancer diagnosis.

"I was never an underachiever, but this is getting ridiculous."

Watch the global EXCLUSIVE from 8pm Tuesday on TalkTV.@piersmorgan | @Martina | @TalkTV | #PMU pic.twitter.com/YpfysVIdmt

— Piers Morgan Uncensored (@PiersUncensored) March 20, 2023
Last week, during a Real Housewives Of Miami reunion, Lemigova also offered an option on their adoption plans.
Speaking to the RHOM cast and host Andy Cohen, Lemigova explained, "When you're adopting a child, it has to be about the child. And, right now, it's everything about Martina, and for her [to be] getting healthy."
"So, we're putting it on hold," Lemigova said, according to Bravo TV. "You know, we were thinking [that at] any moment, the agency would call and give us happy news that we're going to have a baby… Instead, we are fighting two cancers. Like one was not enough."
Martina Navratilova's Cancer Diagnosis
In January 2023, when Navratilova announced that she had stage 1 throat cancer, she wrote, "The prognosis is good and I will start … treatment this month. The cancer type is HPV and this particular type responds really well to treatment."
The statement also noted that the cancer was found after Navratilova noticed an enlarged lymph node on her neck while she was at the WTA finals in Fort Worth. Then, while undergoing testing for her throat, a suspicious lump was detected in her breast, which was "subsequently diagnosed as cancer, completely unrelated to the throat cancer."
Both cancers were diagnosed in early stages and have good prognoses, according to the statement.
This is not the only time Navratilova dealt with cancer. She was first diagnosed with breast cancer back in 2010 — ductal carcinoma in situ (DCIS), a noninvasive form of breast cancer. DCIS means abnormal cells can be found in the breast milk duct and have become cancerous but have not yet metastasized, or spread, to other parts of the body.
Breast surgeon Dr. Sarah Cate explains the difference between a lumpectomy and a mastectomy. 
At the time, she underwent radiation and a lumpectomy treatment, which is when a surgeon removes a portion of cancerous breast tissue.
Throat Cancer Treatment Options
The two main causes of throat cancer are smoking and excessive drinking, but throat cancer can also be caused by the human papillomavirus (HPV).
Dr. Ted Teknos, president and scientific director of the Seidman Cancer Center at University Hospitals Cleveland Medical Center, says in an earlier interview with SurvivorNet, "When I first started training and practicing head and neck surgery, we saw this group of patients that were becoming increasingly more frequent, who were those patients who never smoked, were not drinkers, and were developing head and neck cancer. And in the beginning part of my career in the early '90s and mid-90s, those were rare patients, but then, year by year, those numbers increased dramatically."
"What we know now, through science, is going back and looking, decade by decade, the rates of HPV-related head and neck cancer have increased exponentially," says Dr. Teknos. "If you look at the percentage of patients who developed throat cancer, really, cancer of the tonsils and the base of the tongue, in the '80s compared to the 2010s, if you will, the rate of HPV-related head and neck cancers has gone up by 300%. So there is no myth. HPV causes throat cancer, and it's a sexually transmitted disease. And it's something that is an epidemic in the United States."
Treatment for throat cancer can include surgery, radiation, and chemotherapy.
Head Neck Cancer Surgeon Dr. Ted Teknos On HPV-Linked Cancers
Breast Cancer Treatment Options
Breast cancer treatment options depend greatly upon the stage of the breast at the time of diagnosis.
Surgery is a common path for breast cancer treatment when the disease is caught early on. Surgical treatments for breast cancer include a mastectomy, lumpectomy, tissue expansion, mammaplasty, and lymph node dissection. Other treatments include hormone therapy, chemotherapy, and radiation.
In a previous interview with SurvivorNet, Dr. Elisa Port, the Chief of Breast Surgery at Mount Sinai, explains how the treatment path is determined. Dr. Port says, "Breast cancer is multiple different subtypes. These different subtypes can behave extremely differently, almost like different diseases."
"We know that there's no one size fits all and we customize and tailor treatment, both the treatments that people get and the order that they get them, based on the subtypes of cancer and a variety of different factors," she explains.
"It's very tailored, personalized precision medicine approach, for not only the person, but also the tumor," Dr. Port says of treatment for this disease.
Children After Cancer
Navratilova and Lemigova were originally hoping to adopt a child, however, not all cancer survivors choose adoption as an option for growing their family.
Some survivors hope to conceive children, but it's important to know that cancer treatments could alter a woman's fertility and ability to conceive. Dr. Sarah Cate, a breast surgeon at Mount Sinai, previously told SurvivorNet that the level of chemotherapy and stage of the disease both help determine whether a woman can conceive post-cancer treatment.
"Fertility after a breast cancer diagnosis is fairly complicated. Some patients that need chemotherapy may be able to have children afterward because chemotherapy pauses menopause," Dr. Cate told SurvivorNet.
Women planning to undergo cancer treatment should discuss with their doctor how it will impact their fertility.
For instance, chemotherapy drugs may stop the ovaries from releasing eggs, and radiation can harm nearby reproductive organs, according to the National Cancer Institute. Thankfully, there are options to preserve fertility before starting treatment.
"I always ask patients that either don't have kids or are at an age where they could have kids, do they want more children. Then we talk to them about preserving fertility, meaning typically to either take eggs or to make embryos if they have a significant other," Dr. Cate said.
The preserved eggs or embryos could be used after treatment.
How Does Chemotherapy Affect Fertility?
Fertility and Cancer Treatment
Although infertility can be a side effect of some cancer treatments, it's important to know there are options to consider. Fertility preservation is available to women of childbearing age and options for women include:
Egg and embryo freezing (the most common practice)
Ovarian tissue freezing
Ovarian suppression to prevent the eggs from maturing so that they cannot be damaged during treatment.
Ovarian transposition, for women getting radiation to the pelvis, to move the ovaries out of the line of treatment
No matter what course of action you choose to take, it is crucial that all women feel comfortable talking about their options before starting treatment.
In a previous conversation with SurvivorNet, Dr. Jaime Knopman said time is precious when dealing with fertility preservation for women with cancer. Basically, these important conversations should be held sooner with your doctor.
"The sooner we start, the sooner that patient can then go on and do their treatment," Dr. Knopman said. "A lot of the success comes down to how old you are at the time you froze and the quality of the lab in which your eggs or embryos are frozen in."
When it comes to breast cancer patients specifically, there are some unique challenges for women with the disease. Dr. Elizabeth Comen outlined them for us:
Young women who need chemotherapy could have their fertility significantly affected because many chemotherapy drugs can damage a woman's eggs.
If women are on a medication to stop the hormones which feed their specific kind of breast cancer, they may not be able to get pregnant for several years – in some instances 10 years.
Many stage four breast cancers need estrogen to grow. Pregnancy is a very, very high hormonal state, so it's not recommended in these cases.
Contributing: SurvivorNet Staff
Learn more about SurvivorNet's rigorous medical review process.
---