Pierce Brosnan and his son Dylan made headlines this week after they attended the Once Upon A Time In Hollywood premiere together in Los Angeles. The 66-year-old former James Bond and his son, who is a model and a musician, were applauded by critics for both their fashionable ensembles and how positively delighted they looked to be at the premiere together.
Seeing Brosnan out and about with his children is heartwarming, especially since the actor has not always had the easiest family life. Brosnan is a devoted family-man — that's clear — but his family has been deeply affected by cancer. He lost his first wife Cassandra to ovarian cancer in 1991. Cassandra's daughter Charlotte, whom Brosnan had adopted during their marriage, also passed away from the disease in 2013. Both women were in their early 40s, and likely carried a genetic predisposition to the disease (Cassandra's mother also passed away from it).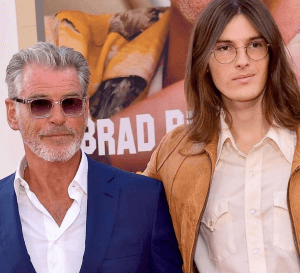 Read More
Brosnan has spoken openly about how deeply he was affected by the loss of his first wife, and how traumatic watching her face the disease really was. "From day one, we really had a fight on our hands. This wasn't a shadow or a small tumor — this had invaded Cassie's being," Brosnan said. The actor said that all he could do was support his wife as she "took her destiny in her own hands."
Cassie was diagnosed in the late 80s and endured four years of treatment — including eight surgeries and more than a year of chemotherapy. During treatment, Brosnan recalled how a new home in Malibu, California, "gave Cassie so much joy." The actress carefully decorated the home for their three children — two children, Charlotte and Christopher, from Cassie's previous marriage, and one son Cassie and Pierce shared, Sean.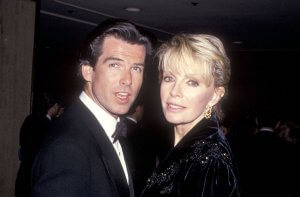 She died on Dec. 28, 1991 at the age of 43. Brosnan later remarried journalist Keely Smith, with whom he had two more sons — Dylan and Paris.
While the Irish-American actor is certainly happy in his life and devoted to his family, the pain of losing Cassandra and Charlotte to cancer, as expected, has taken its toll.
"I don't look at the cup as half full, believe me. The dark, melancholy Irish black dog sits beside me from time to time," Brosnan told Esquire when discussing the cancer in a 2017 interview. 
However, as so many members of the SurvivorNet family have told us, family can make a world of difference when you are grieving — and Brosnan certainly loves spending time with his. He regularly updates his social media accounts to share photos of his children (and granddaughter!) with captions about how proud he is.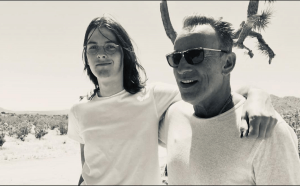 Last month, Brosnan shared a photo of his son's Paris high school graduation with the caption, "Paris Beckett .. the graduate and his very proud dad." A few days later, he posted a photo of Dylan with non other than the Boss himself, Bruce Springsteen. Brosnan captioned the photo, "My darling son Dylan with the Boss, the great one, Bruce Springsteen. Dylan is assistant director #ThomZimmy on the making of various music videos this summer. To say I'm a proud dad is an understatement."
Learn more about SurvivorNet's rigorous medical review process.