The nationally ranked Susquehanna University Women's Volleyball team "adopted" a seven-year-old girl named Bromwyn Keener who is going through cancer — they are giving her love, support, and inviting her to their practices, in order to lift her spirits during her journey.
"We have one goal and it's to win but the cool thing is with Bromwyn is we just all come together on something that is way past athletics," Kasey Bost, one of the volley ball players on the team, told ABC16. The team is ranked 18th in the country in Division Three volleyball.
Read More
The volleyball team adopted Bromwyn through the Friends of Jaclyn Foundation, which helps match cancer patients up with a buddy. Bost knew about the program because of her softball team, which also adopted a cancer patient to come to their games and practices.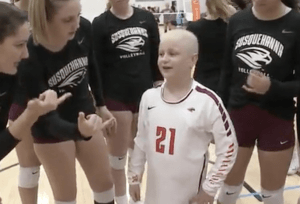 Bromwyn was diagnosed with lymphoblastic leukemia, a rare type of cancer that develops in the blood or bone marrow. "So right now she is on a week of steroids. She will have off a week then she will go on another week and she started new chemotherapy medicine on Monday, and she has a treatment tomorrow. She will get two more chemo treatments tomorrow," said Bromwyn's mom Jennifer Keener.
Tom Kuuipo, coach of the women's volleyball team, said that he sees the new relationship as mutually beneficial — the team can provide support and something really fun to bond over for Bromwyn, and Bromwyn brings a spirit that will be great for the team going forward.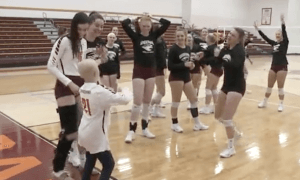 He also said that they plan to be in Bromwyn's life for a really long time, "For us to be able to help out little Bromwyn, from now until forever, is a great thing for her, that she'll have people there for her."
"She loves the girls," said Bromwyn's mom. "Every time [the girls] see her they just swoon."
Information about lymphoblastic leukemia
There are two main types of lymphoblastic leukemia: chronic and acute.
Acute lymphoblastic leukemia (ALL) is a rare cancer that occurs when the bone marrow makes too much of a type of white blood cell called lymphocytes, according to the National Cancer Institute. However, it is the most common type of childhood cancer, and three out every four cases of childhood leukemia are diagnosed as acute, meaning that the leukemia can progress quickly, and if not treated, would probably be fatal within a few months.
Signs of childhood ALL include fever and bruising, and the disease can be detected using tests that examine the blood and bone marrow. Over time, there has been a lot of improvement in treatments for childhood leukemia.
There are several different approaches to treating the disease, and the treatment plan will depend on the type of ALL the child has. Chemotherapy, radiation, chemotherapy with a stem cell transplant, and targeted therapy are all considered standard treatment, according to the American Cancer Society.
Chronic lymphoblastic leukemia is a blood and bone marrow disease that usually gets worse very slowly. Often it is not diagnosed immediately, and treatment isn't always required initially. Treatment options for this disease in include watchful waiting, radiation therapy, chemotherapy, surgery, and targeted therapy.
The importance of support systems during cancer
We know that when someone is diagnosed with cancer, the disease doesn't only affect them, but can have a major effect on their loved ones as well — because during tough times, we all need a support system.
Tracy White is a two-time cervical cancer survivor — and during her interview with SurvivorNet, she took the time to pay tribute to all of the people who helped her get through her diagnosis, treatment, and subsequent recurrence. And there were certainly a lot of names to names when it came to her support system. Like so many survivors, Tracy said that having that support from loved ones made a world of difference and really helped her heal.
Ovarian cancer survivor Tracy White on the importance of her support network during cancer
"I had so many friends that stepped up," Tracy explained. "Two people in particular. One is a nurse … she lives in Ohio, and she came out so many times. Another best friend who is locally here in New Jersey, she would also come and take care of me. She would entertain my son when we needed a rest."
Tracy said that aside from her awesome friends, she also had prayer groups that she was a part of all over the world, parents at her son's school would help her out with meals, and would even watch him on days when Tracy had to go to chemotherapy.
"I couldn't have done it without all of them," Tracy said.
Learn more about SurvivorNet's rigorous medical review process.