Support during a Cancer Journey
Dwayne 'The Rock' Johnson gave Shushan, a Make-A-Wish recipient, his 'the people's champion' award at last night's People's Choice Awards.
Having support through cancer, whether it's from big-time celebrities or your nearest and dearest loved ones, is critical.
There are many people out there for cancer warriors to be vulnerable with, if they'd like. And whether that's through the wonderful Make-A-Wish foundation or social media or simply connecting with your closest family and friends, it's worth it to at least try.
Support during a cancer journey can mean the world – especially to a young cancer warrior. Actor Dwayne 'The Rock' Johnson has done his part to help cancer warriors countless times, but his shout-out at the People's Choice Awards was truly special.
Johnson was nominated for five awards and took home three: the male movie star of 2021, comedy movie star of 2021 and the people's champion award. All were great honors to receive, but the latter held a special place in Johnson's heart. And he made sure to credit one of his heroes during his acceptance speech.
View this post on Instagram
Read More
"For those who may know or for those who may not know, but the original people's champion was the greatest of all time, Muhammad Ali," the former WWE star said in his speech. "I first met Muhammad when I was a little boy, and he was so cool to me. He was so kind, and he was so funny… He was always wonderful to me."
Johnson went on to say that he dubbed himself the "people's champion" for his "bad guy" persona in the WWE, but later got the okay from Ali's wife to continue using the title.
"She said, '[Ali] told me to tell you you are the people's champion, you have earned it, you take that title,'" Johnson said. "Years later, to be standing here with you guys, you voted me the People's Champion, this irony is not lost on me because I realize that what it means to be the People's Champion is so much bigger than me."
That's when he called out another hero of his: Make-A-Wish recipient Shushan. And although she isn't as well-known, he didn't give her any less credit.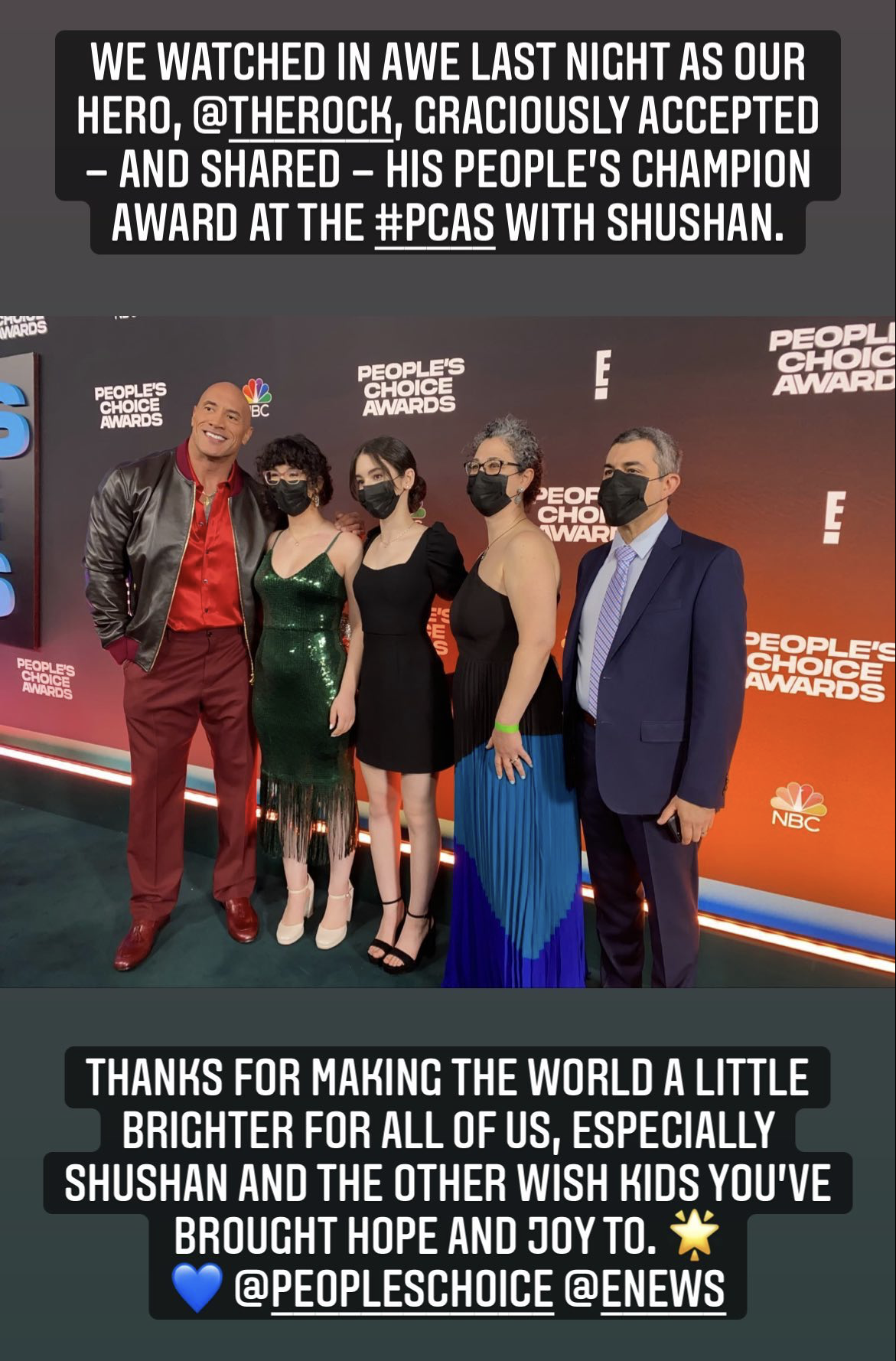 "This is a total surprise, I met her earlier. I told her how inspired I was by her story," he said. "She is a survivor, she has fought literally for her life. She has inspired her family, her friends, now you guys here, now the world that is watching… I want to tell you just how much you've inspired me and everyone around you and certainly everyone here. But I want to give you this [award] because you represent everything that it means to be a people's champion, so this is for you."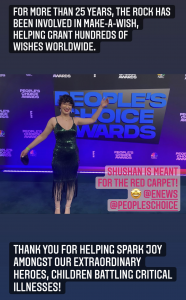 Shushan was shocked and overwhelmed to say the least. Johnson offered her the mic and gave her the time to thank the people that gave her this moment before he handed her the award.
"Thank you for this, I didn't expect this at all," she said. "I just never expected that something this big could happen. This is crazy I never thought just from being sick that it could end up in this… Thank you so much to you and to Make-a-Wish."
And Johnson's prolific dedication to cheering up people with cancer has not gone unnoticed by Make-A-Wish. In a recent post, they gave Johnson a shout-out of his own.
View this post on Instagram
"Today we celebrate @TheRock, one of our heroes, who helps spark joy amongst our extraordinary heroes, children battling critical illnesses," the post reads. "For more than 25 years, The Rock has been involved in Make-A-Wish, helping grant hundreds of wishes worldwide. We watched in awe last night as he graciously accepted – and shared – his People's Champion Award at the #PCAs. Thanks for making the world a little brighter for all of us, especially Shushan and the other wish kids you've brought hope and joy to."
The Rock as a 'Cancer Cheerleader'
Having support through cancer, whether it's from big-time celebrities or your nearest and dearest loved ones, is critical. Johnson is someone who's taken that fact to heart and consistently been a vocal advocate and cheerleader for people diagnosed with cancer.
RELATED: Actor Dwayne 'The Rock' Johnson Shows That Anyone Can Take Two Minutes Out of Their Day to Brighten Someone Else's; Sends Video to Fan Battling Stage 4 Lung Cancer
'You Are a Fighter': Actor Dwayne 'The Rock' Johnson Sends an Inspiring Message to a Fan With Cystic Fibrosis Battling Stage Four Colon Cancer
He regularly sends videos to children fighting cancer, as a way to brighten their day, as he did for a girl diagnosed with leukemia who loves one of his movies, Moana.
RELATED: 'Oh My God It's Maui!' Says 7-Year-Old Leukemia Fighter Holly, As Dwayne 'The Rock' Johnson Sends Her a Video of Support for Her Birthday
The actor and former WWE fighter also used his star power to inspire and spread positivity when he reached out to fan Anna Payne during her stage four colon cancer battle. In a video message to Payne, Johnson says, "I want to tell you to stay strong—keep fighting. The fight never ends. You know that."
View this post on Instagram
And when he heard about 10-year-old Luna Perrone, who was diagnosed with a type of bone cancer called Ewing sarcoma just three weeks before turning 10, he sent her a video of support as well. In the video message, Johnson says, "You are such an inspiration to everyone around you and now to me. I'm pulling for you, the world is now pulling for you too."
View this post on Instagram
Beverly Reeves, who battled ovarian cancer, explained to SurvivorNet in an earlier interview how important community and support are when battling cancer. In fact, it's her first piece of advice to someone diagnosed with cancer: Gather your community; circle the wagons, so to speak. She says, "If I had one piece of advice for someone who had just been diagnosed with ovarian cancer, it would be to get a strong support group together."
'Faith, Family, and Friends' Helped Beverly Reeves Get Through Ovarian Cancer Treatment
"Get your close friends. If you're connected to a faith community, get your faith community. Get your family. Let them know what's going on and let them help you. And sometimes that's the most difficult thing to do, but just know that they are there. If they love you, they're there to help you."
Finding the Support You Need
During a cancer battle, it's important to know that you are not alone. There's a community out there for you to be vulnerable with, if you'd like, and connecting with people as you battle the disease can make a world of difference. Shushana had the wonderful Make-A-Wish Greater Los Angeles chapter to help her see how many people she had in her corner, but there are many other ways to find the support you need.
Kate Hervey is another cancer warrior who received support after sharing her cancer journey. A young college girl, she was shocked to be diagnosed with synovial sarcoma, a rare type of cancer that tends to form near large joints in young adults, after seeing her doctor for tenderness and lumps in one of her legs.
Hervey, a nursing student at Michigan State, had to handle her cancer battle during the COVID-19 pandemic and scale back on her social activities as a high-risk patient. That's when she turned to TikTok as a creative outlet, and inspired thousands.
Inspiring College Student, 20, Builds Community on TikTok Sharing Her Cancer Journey During COVID-19
"One thing that was nice about TikTok that I loved and why I started posting more and more videos is how many people I was able to meet through TikTok and social media that are going through the same things," she says. "I still text with this one girl who is 22. If I'm having a hard time, I will text her because she will understand. As much as my family and friends are supportive, it's hard to vent to someone who doesn't know what it's really like."
Hervey is now cancer-free, and says she couldn't have done it without the love and support of her TikTok followers.
"I feel like I've made an impact on other people and they have made an impact on me through TikTok, which is crazy to say. I can help people go through what I've been going through as well." She has graciously agreed to allow SurvivorNet to use her content in order to help our community.
So while sharing your story to a vast Tik Tok audience or a large non-profit might not be your thing, it's important to consider opening up to others during your cancer battle. Even if it's with a smaller group, you never know how much the support can help you – or help those you share with – unless you try.
Contributing: Anne McCarthy
Learn more about SurvivorNet's rigorous medical review process.