Dwayne Surprises Child Fan Battling Leukemia
Dwayne 'The Rock' Johnson paid a special visit via video to a young cancer fighter in England, Holly Hughes; he wished her happy birthday and sent his support and strength as she fights acute lymphocytic leukemia (ALL).
The 5-year survival rate for children with leukemia is 90%. Leukemia is the most common cancer in children and teens; it accounts for nearly 1 out of 3 cancers.
Treatment effects for blood cancers, such as leukemia, can have long-term effects. Chemotherapy treatments can impact future reproductive abilities.
It's not every day you get a birthday message from one of your all-time heroes, but that's exactly what happened to 7-year-old Holly Hughes, a girl in England battling acute lymphocytic leukemia (ALL).
Related: 'You Are a Fighter': Actor Dwayne 'The Rock' Johnson Sends an Inspiring Message to a Fan With Cystic Fibrosis Battling Stage Four Colon Cancer
Read More
The 5-year survival rate for children like Holly diagnosed with leukemia is 90%. Leukemia is the most common cancer in children and teens; it accounts for nearly 1 out of 3 cancers. ALL accounts for approximately 3 out of 4 leukemias among children and teens.
The actor and former WWE star, Johnson, got wind of the fact that Disney's Moana (in which he lends his voice talents) is one of young Holly's favorite films. So he sent her a special message when he heard – via a note sent by her dad – she'd be spending her birthday in the hospital. Holly's dad enlisted celebrities like Johnson, and Harry Potter actor Oliver Phelps, to help cheer her up on her special day.
Related: 'The World Is Now Pulling for You': Dwayne 'The Rock' Johnson Sends an Inspiring Video to a 10-Year-Old Girl Battling Ewing Sarcoma
In the adorable video message, Johnson speaks directly to Holly, who is clearly in awe of this incredible moment she's been gifted. He sings her a tailored version of the Moana song "You're Welcome," changing the chorus to: "What can I say except happy birthday."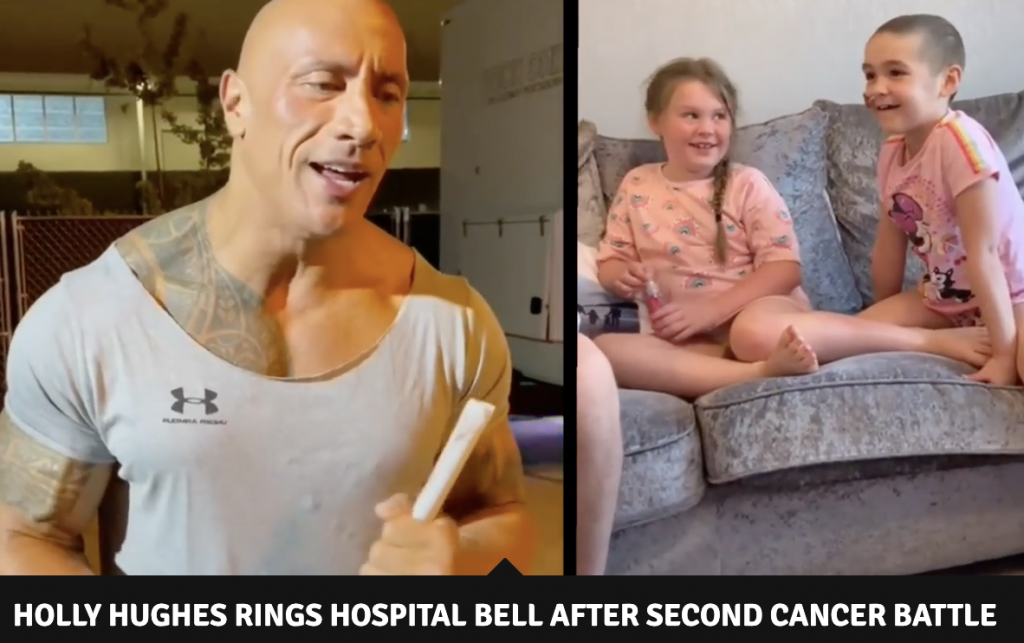 Holly's dad, Chris Hughes, tells The Coventry Telegraph, "Holly is such a strong character, she told us that her birthday was the best ever, even though she was stuck in hospital. Being able to surprise her with this video afterward was just phenomenal and we'd like to thank Dwayne from the bottom of our hearts."
Holly's Battle with Cancer
In February, Holly was diagnosed with leukemia for the second time. (She was first diagnosed with Acute Lymphoblastic Leukemia in 2016.)
Related: What Is Acute Lymphoblastic Leukemia (ALL)?
After the February diagnosis, she spent six months in the hospital undergoing a stem cell transplant, which saved her life. A stem cell transplant wipes out the immune system, leaving a person more vulnerable to infections. As a result, this kind of treatment requires staying away from people and avoiding certain foods that could make you sick.
Related: 'Watch Me, I Will': Hard Working Colorado Teen on Track to Be Valedictorian Despite Battling Leukemia in High School
In a previous interview, Dr. Caitlin Costello, a Hematologist-Oncologist at UC San Diego Health, explains what the recovery for this type of treatment looks like. She says, "Once you get home, you and your caregiver will have been taught how to protect you. Because like a brand new baby, we don't really want you in public."
Related: 'GMA' Host Robin Roberts Celebrates '9 Years Since My Bone Marrow Transplant,' Continues to Serve As Beacon of Hope for Cancer Fighters
"You've lost all immunity to any prior vaccinations you've ever had," she says. "So over the course of the next two months, we'll be pretty strict about what you eat, and who you see, and who you are around, and really limit your public exposure, if you will, to your doctors, and nurses, and caregiver team."
Dr. Costello continues, "You'll be coming in a couple of times a week to your doctor's office to make sure that your stem cells are growing the way we would like them to."
Recovering From A Stem Cell Transplant
Blood Cancer Treatment During Childhood
ALL is a fast-growing, aggressive cancer. Dr. Olalekan Oluwole, a hematologist with Vanderbilt University Medical Center, explains in an earlier interview. He says, "It grows very fast. Within a few weeks, a few months, the person will start to feel very sick. And that's why we will have to give it an equally aggressive type of treatment to break that cycle."
Treatment options for this kind of cancer can include:
Chemotherapy
Targeted therapy
Radiation therapy
Bone marrow transplant
CAR-T cell therapy
Clinical trials
In terms of long-term effects of treatment for childhood cancers, treatments like chemotherapy in children can affect a child's ability for future reproduction. Many people, including young Holly, also lose their hair as a result of chemotherapy.
"It doesn't follow rules, and it doesn't stop," says Dr. Oluwole of this kind of leukemia. "Not only that, because this is part of the immune system, the immune system is sorta like the police of the body. So those abnormal cells that have now become cancer, they have the ability to go to many places. They go into the blood, and they often go into the tissue or the lining around the brain."
Dr. Oluwole says patients typically present with fever or infections.
Blood Cancer is Different From Other Cancers; Some Treatments Are, Too
Learn more about SurvivorNet's rigorous medical review process.