Hitting a High Note
Dr. Steven Eisenberg, a triple-board-certified oncologist based in San Diego, has a unique approach when it comes to cancer care. He prioritizes top-notch treatments, but also swears by the importance of a good patient-doctor relationship.
He co-writes songs with his cancer patients to strengthen his bond with them, and says it's helped him avoid burnout.
He says the world of medicine is shifting towards more patient-centered care because patients are hungry for it. He believes a strong bond between the patient and care provider can allow doctors to feel more connected and patients to receive the best care.
Dr. Steven Eisenberg considers himself a "modern day hippie," and perhaps he's right. Known as the "singing doctor," Eisenberg loves to co-write songs with his cancer patients while providing them with top-notch clinical care.
Read More
The 50-year-old oncologist,
who sees patients in San Diego, is triple-board-certified in internal medicine, medical oncology and hematology. He also co-founded
cCARE
– California's largest medical oncology practice. He also does a podcast, called
The Dr. Steven Show
, and recently published his first book,
Love Is the Strongest Medicine: Notes from a Cancer Doctor on Connection, Creativity, and Compassion.
A Journey to Oncology
Dr. Eisenberg's road to oncology started long before his formal education and training at the Philadelphia College of Osteopathic Medicine.
His story begins in 1983 when a 13-year-old Eisenberg was riding his bike to play tennis with a friend. Suddenly, he was struck by a car and sent hurtling into the windshield. He was rushed to the hospital with serious injuries. He almost didn't survive that first night, but thankfully the doctors got him through. With his whole right leg in a plaster cast and his ability to speak shuddered by expressive aphasia, Eisenberg had an extensive recovery working with physical and speech therapists. It was music that helped him regain his ability to speak.
"The first things that made any real sense were Michael Jackson lyrics, Billie Jean," Eisenberg said. "I was only 13, but I somehow discovered through that whole experience that music was really powerful."
And despite all of his struggle and frustration, he was left with an overwhelming sense of gratitude towards the healthcare workers that helped him get better.
RELATED: It's National Doctors' Day; 4 Doctors Who Have Personally Affected the SurvivorNet Family
"The love I was shown from the plastic surgeon who sewed my face up, to those ICU nurses who brought me back from the brink, to the speech therapists who were not frustrated," Eisenberg said. "All these people were so loving, so giving, so much compassion for me, that I think it was – I know in my heart it was – the first step to saying, 'You know, there's something really beautiful about helping someone who's in so much pain.'"
The Lyrical Life Project
It wasn't until 2007 that Eisenberg began songwriting with his patients, but it couldn't have come at a better time. Burnout – a common problem for many doctors – was starting to set in, and he was losing sight of what he truly wanted to do.
RELATED: Burned Out Doctors Make More Mistakes: It's OK To Talk Openly About This With Them
"Could I still harness the power of creativity and music and laughter and love in and marry it in some way to medicine?" Eisenberg asked himself. "That was my crossroads."
Eisenberg was a singer and a songwriter from a young age. From being in small bands throughout high school and college to experimenting with more unique instruments like the didgeridoo, Eisenberg always tried to make time for music. Unfortunately, his intense schedule as a doctor made it very difficult.
"The vision I had about bringing creativity and all of that and love and compassion that was getting drained out of me by the day-to-day red tape, the day-to-day perfectionism of being the number one most productive, most wonderful, most respected, beating out all the other competition oncologists," he said. "That became a big priority in my life, and my guitar was collecting dust in the corner. It was almost a cry for help to force myself back into the world of creativity."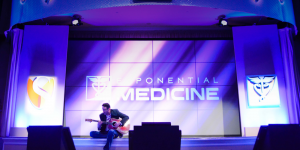 So, one day he decided to bring his guitar into the chemotherapy treatment room. Of the dozen or so patients receiving their chemotherapy, Eisenberg decided to address Anne. He asked her about what she does when she goes home, and spontaneity struck after she told Eisenberg about tending to all of her animals.
"I made up a song like, 'Anne's got a lot of animals now / Anne's got 'em all at home / Anne's going home from here, but don't you know she's not alone / She's got 5 cats…' Like I would just make it up," Eisenberg said. "And she started laughing, and after that I got a few comments like, 'It was really fun,' 'For a few seconds I forgot I was getting chemo,' and that was really cool."
That's when Eisenberg began co-writing songs with patients for his "Lyrical Life Project." At the end of appointments, after all the medical questions had been addressed and treatment plans were clearly communicated, he would simply start asking questions. It was always simple questions like, 'What were you like as a kid?' or 'How did you meet your husband or wife?' but over the course of a few sessions, he got to know his patients on a much deeper level. After a few weeks, he'd look over his notes and create an original song to share with his patients.
"And this is when all of the symptoms of burnout I was experiencing – the tiredness, the bad sleep, the poor digestion, all of it – it started to lift," he said.
Breaking Down the Walls
"Little did I know that it was therapeutic for me as well as the patients," Eisenberg said. "It was this mutual love and respect, we were creating it together."
Eisenberg doctors are taught to put up a wall between themselves and their patients. The separation is meant to prevent doctors from bringing home the emotions from work, but Eisenberg says this is counterproductive based upon his research on studies about compassion.
"The doctors most at risk for burnout are the ones who have the thickest walls built up," Eisenberg said. "And the first way they're finding now to start to relieve the symptoms of burnout and to prevent or even cure, if you will, the symptoms of burnout is to do exactly the opposite of sort of what this wall represents. It's to connect in a deeper way with your patients, and that's what I was doing through the songs."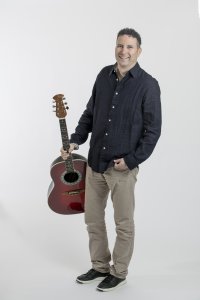 For Eisenberg, his often lighthearted songs brought him back to the "beautiful present moment" he was sharing with his patients. They served as a way to honor what the patients are adding to his life.
"They taught me more than I could ever impart to them," he said. "They taught me how to live, how to be a better human, a better husband, a better father, a better doctor because they're the ones who are struggling for their lives and making every moment count the best they knew how."
Eisenberg has seen the songs have an immense impact on his patients as well. He believes the connection forged and the product produced from these co-creative endeavors reminds his patients that they are much more than just a person with cancer.
"They're a beautiful human soul who's going through some cancer treatment," Eisenberg said. "And, yeah, it's a big, big thing to go through, but it's not the only thing that defines them."
And Eisenberg believes "the world of medicine is catching on."
"I think patients are hungry for it, and patients are demanding it," Eisenberg said. "Patients want more connected, compassionate care."
Love is the Strongest Medicine
Thus came the idea for his new book, Love Is the Strongest Medicine: Notes from a Cancer Doctor on Connection, Creativity, and Compassion. His goal for his first book is to help people understand the importance of compassion in the medical world.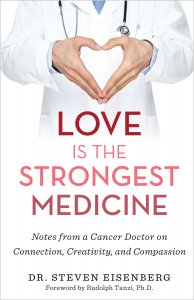 "Love is the strongest medicine is about, in many ways, just slowly, slowly transforming the doctor-patient relationship to one that is completely joyous and workable and loving on both sides," Eisenberg said. "There is no magic word to tell a cancer patient… It's giving them permission to be themselves, fully, and to support them through it by listening, observing, verbalizing and empathizing."
Eisenberg says he's seen many patients utterly annoyed at hearing the all too common 'stay positive.' While positivity is important, he wants cancer patients – and really everyone – to know that it's okay to feel badly. Eisenberg says sometimes patients just need to hear that "it's okay to feel exactly how you're feeling."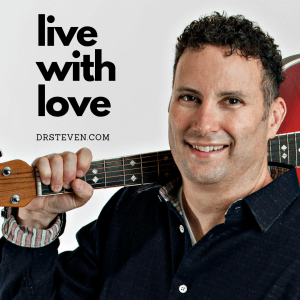 Advice for Cancer Patients and Oncologists
Eisenberg said it's important for cancer patients to give themselves permission to have a bad day. Sometimes all we really need is a good cry or a satisfying shout.
"Allow yourself to be okay with it not being okay, that it really, really sucks in the moment, and when you fully embrace that, when you fully embrace that it's okay to have a bad day, then I truly believe something else opens up on the other side of that."
Dr. Eisenberg also believes that repressing these emotions can cause other symptoms. So, in order to provide the best care, he suggests doctors try to connect with their patients to address exactly how they're feeling.
"What is the thing that is causing you the most physical and mental distress right now, and lets go deep on that," Dr. Eisenberg suggests oncologists ask their patients. "We can bring in other members of the team that all work together on your behalf to slowly come back to the present moment and relieve some of that suffering."
Above all else, Eisenberg stresses the importance of creating a better care provider-patient relationship. And, for him, that means co-creating songs with his patients, but he wants other care providers to know that connection can look entirely different for them. He suggests sharing memories with your patients, trading favorites songs, watching a clip from a funny tv show together – in his eyes, the possibilities are endless.
"It's a shared creation of any kind… Even something simple like, okay there's a billboard and this is your billboard and it's gonna be up there for 6 months. What do you put on that billboard? What 5 words do you put up on there?" he suggested. "And it starts to tell you a lot about who you're sitting across from, and it takes a few minutes, but it doesn't have to derail your entire schedule."
Learn more about SurvivorNet's rigorous medical review process.
---