Moving on Up
Singer-songwriter Andrew Marshall, 21, a contestant on Season 20's The Voice, moved forward in the competition thanks to Blake Shelton after a battle round with fellow contestant Raine Stern on last night's show.
Marshall is a leukemia survivor who was diagnosed with the disease in high school at age 16. He used music to get him through darker days, which steered him closer to his dream than he ever knew at the time.
Marshall talked to SurvivorNet about the treatment phases of leukemia, and how special it was to meet John Mayer during a one-on-one jam session organized by the Make-A-Wish Foundation.
The Voice
contestant Andrew Marshall is moving on to a battle that's a LOT more fun than his last one.
Marshall received shocking news in high school at age 16: He had leukemia. Fast forward five years and country star Blake Shelton is stealing him from a potential save by pop star Nick Jonas on one of TV's most successful music shows.
Read More
"Crazy, so so crazy," Marshall tells SurvivorNet of the show's defining moment. "When I was watching it back last night, I was like 'I didn't know I did a 360 spin. That was a black out moment."
The 21-year-old initially impressed judges with his debut on The Voice in early March, singing Gravity by his music idol John Mayer, advancing him to the next round of the competition, "The Battles Part 3," which aired last night, and now after a surprising twist, he's heading into "The Knockouts" on Team Blake.
Related: 'The Voice' Contestant Andrew Marshall, 21, who Battled Cancer Since 16, Wows Singer and Coach Nick Jonas with His John Mayer Cover
Although Marshall clearly won the battle round against contestant Raine Stern with all of the coaches in agreement, Jonas wound up choosing Stern because of what she has shown overall on the show thus far. "I believe in her," he said, but acknowledged that this wasn't her strongest performance. Marshall had a chance to appeal to his coach to save him, and Shelton immediately swooped in with the steal.
View this post on Instagram
Shelton, who is engaged to singer and former Voice coach Gwen Stefani, had explained his choice of nabbing Marshall and why he believes in him.
"I stole Andrew because he won the battle," Shelton said. "The thing that I love about Andrew's voice is that it cuts through. He's got great pitch, he's got a ton of energy, I think there are a lot of things that he can accomplish, I think he's a great addition to Team Blake."
Marshall wasn't overly confident that Shelton would use his last "save" on him. "I felt proud no matter matter," Marshall says, "but I think I put myself in the best possible position to get stolen, but there are so many contestants and artists on the show, so I was like 'who knows.'" I was like, 'Blake's a cowboy, I don't know if he's going to want me.'"
Jonas selected "Adore You" by Harry Styles for Marshall and Stern, saying they were both "born to perform."
"That song is hard for me," Marshall admits. "It was a challenge for me, which is a testament to what Nick taught me. Just trying to get that upper register strong enough. I've never sung like that before in my life. It was really high for me."
View this post on Instagram
Despite being presented with the challenge of a song that he wouldn't typically sing, Marshall credits weeks of practice to being able to nail it. "I felt really good about my performance after that … and all those really nice comments from the coaches, that felt really good to me, and so I was like pretty content with that, whatever happens happens," he says.
In the battle rounds, pairs of contestants must perform their chosen song together, and ultimately the coaches choose which person has the best performance, and they move on to "The Knockouts." However, the coaches are then able to "steal" or "save" contestants to shake things up a bit, as Shelton did with Marshall … yet another angel looking out for him.
View this post on Instagram
"Unbelievable, I couldn't be happier," Marshall said on the show of the save; and he deserves it. The rising star came out grooving with some newfound swagger, projecting confidence throughout his effortless performance. Jonas spoke of the magic that Marshall brought to the blind auditions and his performance. "There is a magic that surrounds you in general like a magnet." There is something truly special about the cancer warrior, regardless of his health struggle.
"I had so much fun working with Raine and I am SO excited for y'all to hear what we put together," Marshall posted ahead of Monday's final battle round episode with a clip showing the contestants' battle pairing announcement via Zoom. "Let's go … let's go!" Marshall cheered from a hotel room with a huge smile, clapping at the reveal of his friendly competition. 22-year-old Raine Stern, from Madison, Wisconsin, raised her arms in excitement over the news as well.
View this post on Instagram
Team Nick was in for an even bigger treat when their advisor for the the battle round was revealed: Actor and singer Darren Criss, 34, who kicked off his career playing Blaine Anderson on Ryan Murphy's hit musical show Glee, which aired from 2009-2015 on FOX.
"I was a big Glee fan, me and my sisters would always watch it," Marshall tells Criss, who said in the package that "Andrew has this really warm tone and a really great range."
View this post on Instagram
Marshall then shared the other battle that dominated most of his teenage years.
"When I was diagnosed with leukemia, there were just so many months where I couldn't sing," Marshall said in an interview clip, talking to the camera. "Every night when I was in the hospital, I would just put some headphones on, and listen to music, breathe, and just feel the lyrics." The Massachusetts native struggled as he went through his illness while other kids got to do "normal things," but doesn't regret what he had to endure, because it led him to pursuing his dream of becoming a singer-songwriter.
View this post on Instagram
An average high schooler usually does not have the opportunity to meet their all time favorite idol like Marshall did; he actually got to meet John Mayer, a dream come true made possible by the Make-A-Wish Foundation, and had a one-on-one jam session with the Dead & Company singer.
Related: 'The Voice' Contestant Andrew Marshall, 21, On His Leukemia Battle at 16 and How Meeting John Mayer Got Him Through Dark Times
"It was amazing. It was so validating," Marshall told SurvivorNet of meeting Mayer. " … he had genuine reactions to my music, and he genuinely was like, 'That's a really good lyric,' or he's like, 'You know what you're doing. You're a genius, man.' I really felt like we both had a really good connection that day, and it was really, really cool."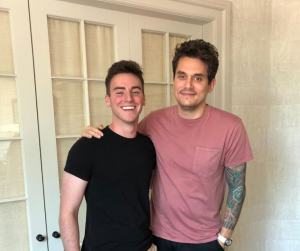 The Treatment Phases of Leukemia
According to the American Cancer Society, the main treatment for children with ALL is chemotherapy, which is usually given in three main phases:
Induction
Consolidation (also called intensification)
Maintenance
"The first phase is really short, like a month, which is lovely," Marshall explained to SurvivorNet. "In consolidation, that's where you do a lot of the more intense chemotherapy treatments, where you get a little weak and stuff like that. You lose your hair. The whole nine yards."
After that, Marshall did maintenance treatment, which is a once-a-month infusion, and pills in the morning and night. "And once a month, I'd go on a steroid type of treatment too, and methotrexate stuff," he said. And that lasted for two and a half years. I have lumbar punctures, all that. All the good stuff." A lumbar puncture (or spinal tap) can be used to analyze fluid in the spinal cord to check to see if the cancer has spread to the central nervous system.
Music In Healing
Music has helped so many people get through various obstacles in their lives: Mental health issues, addiction, breakups, deaths of loved ones, and certainly cancer. Andrew Marshall keeping at his craft while going through leukemia has led him to a once-in-a-lifetime opportunity, and just shows to never give up on your dreams no matter what life throws at you. His budding success story is an uplifting reminder to anyone pursuing art or music while going through cancer.
Related: "The Beatles" Paul McCartney Recalls Cancer Survivors Thanking Him: 'Your Music Really Helped Me Get Through'
Cancer survivor Joel Nafterberg tells SurvivorNet about the power of music in his own cancer battle. "I have found music and rock and roll to be transformational," he said, adding that it "lets us dance on our problems for at least an hour or two." Nafterberg also said that he feels very "blessed" to have had some of his favorite artists as friends. "The people that were my heroes in entertainment and rock and roll have been my friends and have been some of the most supportive people that I've had in my life," he said.
Music and Reflecting on Your Cancer Journey
Learn more about SurvivorNet's rigorous medical review process.