Humor is Healing
Scottish stand-up comedian Janey Godley, 61, has been getting through ovarian cancer the only way she knows how: with her hilarious personality.
Dealing with a cancer battle is tough, so the last thing anyone needs is downer energy. Janie has also recently been sassing back to trolls, leading with light-hearted humor and rising above, inspiring fans along the way.
Ovarian cancer symptoms can often go overlooked. Experts urge that women know their own bodies better than anyone. So if you feel like something just isn't right it's a good idea to see your primary care physician, especially if you have any lingering symptoms such as a bloated belly or feeliay.ng full easily.
Scottish stand-up comedian Janey Godley, 61, is getting through her ovarian cancer battle the only way she knows how: with humor.
Dealing with a cancer battle is tough, and even if you're not a professional funny-person like Janey cracking jokes along the way, you may find  that humor can be healing along with the tears.
Read More
The hilarious voiceover artist has been inspiring fans with her posts as of late, which range from honest updates about her health, to calling out all the Megan Markle haters around the world.
"I love the 'Meghan doesn't interest me at all' accounts who spend their whole day talking her down and speaking about her," she quipped in a recent post.
The cancer warrior has also been getting her kicks off of people parodying some of her comedic work on socials, saying she "can't stop laughing."
This video has gone stratospheric on @tiktok and I can't stop laughing at people parodying it pic.twitter.com/c3oEOVAWdG

— Janey Godley (@JaneyGodley) September 16, 2022
But the times spent on socials haven't always been supportive.
Janey said that she initially cut her long hair into a pixie cut during chemotherapy. Then, predictably, she lost more hair as many cancer patients do, making her nearly bald.
She has even clued fans in on what has been going on with her not-so-nice followers.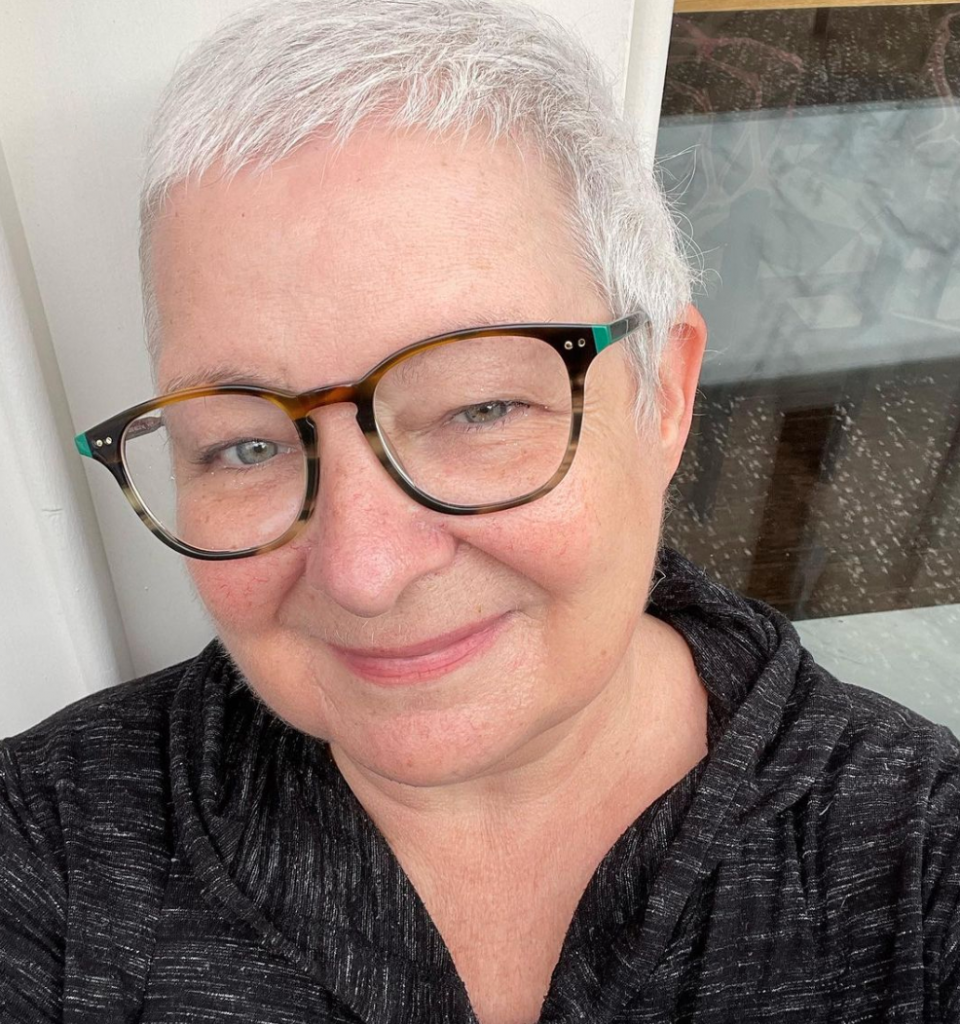 "Over the last few days I had been slagged off and trolled by Scottish unionists on twitter for having a bald head and or just short white hair, apparently am either gay or collecting cats," she wrote.
Related: Actress Lena Dunham, 35, Has Some Choice Words About Body Image For Internet Trolls; How to Achieve Body Positivity After Cancer
"… the reason I am telling you this is so many women shared with me their photos of their heads and hair during cancer treatment that it became an outpouring of love and support on twitter and I couldn't be anymore joyful."
"Incidentally there's nothing wrong with being gay and having cats!" she quipped at the end.
Yes, Janey! Fortunately, the comic is not afraid to hit back, and can hopefully inspire many others, cancer survivors or not, to stand up for themselves.
Related: Superstar Bollywood Actress Chhavi Mittal, 41, Slams Trolls for Insulting Her Body Post-Breast Cancer Surgery
One fan of the best-selling author responded saying, "to make rude remarks about cancer suffers or cancer survivors is absolutely abhorrent. Well done Janey, you are a survivor and a great inspiration to all."
While another supporter weighed in: "Some people are vile! It's shocking that you have to put up with this!"
Yes, indeed. But she puts up with it with a wisecrack and a smile—a life lesson for all of us to brush off negative energy.
"They do spend an awful lot of time telling me I am ugly and all the time I smile," she wrote in another post.
Janey's Ovarian Cancer Battle
For Janey's ovarian cancer treatment, she also had to undergo a hysterectomy, a surgical procedure that removes the uterus. In addition to the physical loss of the womb, the emotional repercussions can sometimes also be extensive.
Related:  Woman Has Hysterectomy At Age 22 After Her 'Irritable Bowel Syndrome' Turned Out to be Ovarian Cancer
Janey's cancer was stage 3, so she needed to start treatment right away, but eventually had to have that mandatory surgery as well. What matters, however, is that she found her cancer in time, as ovarian cancer is often difficult to diagnose.
Ovarian Cancer: The Cancer That Whispers
Initially, Janey was suffering from a bloated stomach, back and stomach pain, frequent urination, and lack of appetite.
"A patient can feel relatively normal and suddenly wake up with abdominal distension and symptoms that are related to ovarian cancer," Dr. Jeanne M. Schilder, a gynecologic oncologist at Indiana University Medical Center, tells SurvivorNet.
A good rule of thumb is to go get checked out for any lingering symptoms that don't get better over the course of a couple of weeks.
What are the Symptoms of Ovarian Cancer?
"Women know their own bodies better than anyone. So if you feel like something just isn't right it's a good idea to see your primary care physician, at least to start. Your doctor should get your medical history and the symptoms you're concerned about, and do a physical exam."
As with any type of cancer, the earlier that you can get a diagnosis, the better off you will be.
Thankfully, Janie got the "all clear" this summer, and her locks have been growing into a short, white 'do.
Learn more about SurvivorNet's rigorous medical review process.