Learning about Retinoblastoma: A Type of Eye Cancer
Gina Hickson, 29, noticed a white glow in her toddler's eye after playing in the snow— something she dismissed as ice in her eye. When the cloudiness in her daughter's eye remained, Gina took her daughter to the doctor. After Darcey-Rose was referred to a specialist, Gina soon discovered that she had a type of eye cancer called retinoblastoma.
Retinoblastoma is the most common type of eye cancer found in children, but it is rare. Only about 200-300 children will be diagnosed with it in the U.S. each year.
Here at SurvivorNet, we're always encouraging people to advocate for themselves when it comes to cancer and, more generally, health care. But when it comes to a child, the parent must become the advocate and make sure any possible signs of cancer are fully and expeditiously addressed.
A 29-year-old mom noticed something unusual in her toddler's left eye — a white glow in her pupil. After initially thinking the cloudiness in her two-year-old daughter's eye was ice from a snowball fight, she took her to the doctor, which led to a devastating retinoblastoma diagnosis.
As soon as Gina Hickson, of Kent, England, realized the white glow in Darcey-Rose's eye wasn't simply just a piece of ice, she suspected her daughter needed glasses and took her to the general practitioner in February 2021.
Read More
"We just saw a mass, like a cloud, in
Darcey-Rose's eye
. It would change shape depending on where her eye was directed. Initially, we thought it was ice in her eye from a snowball fight," she told South West News Service (SWNS). "I Googled it and it took me to the Childhood Eye Cancer Trust's website — which I instantly dismissed. I was still concerned so I got Darcey-Rose to pose for a picture and sent it to the GP straight away."
Before learning of her daughter's diagnosis, Gina admitted she kept her worries to herself and thought a "slight lazy eye" could have been the issue. "I was genuinely concerned she would need glasses, which is so, so silly. I definitely had my head in the sand," she said. Darcey-Rose was eventually referred to a specialist and had to undergo vision screening and scans to figure out what was wrong.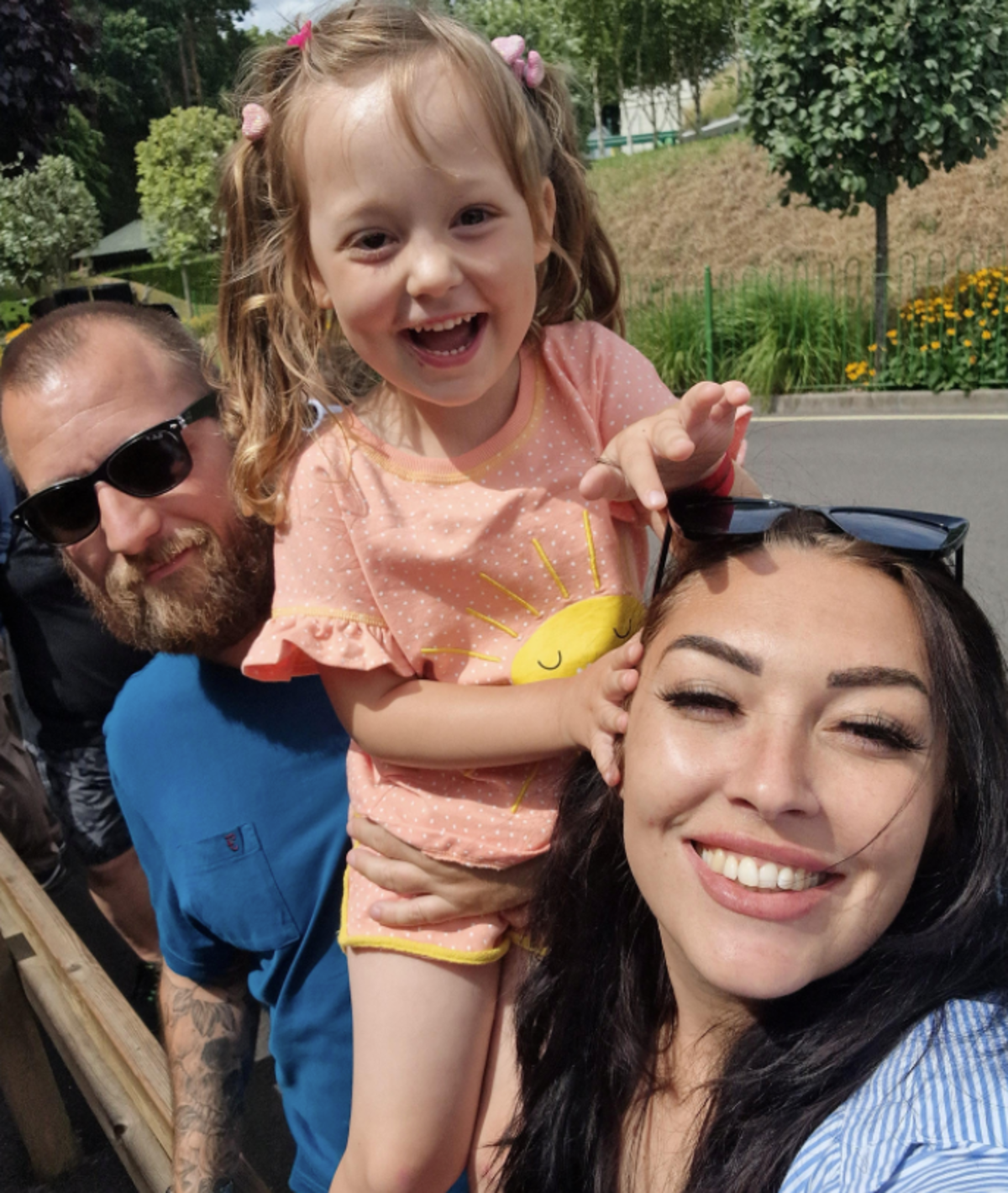 "When she then had a scan, in the room there were posters on the wall with visuals on what to look out for, and how different eye conditions are seen on the screen – I found the cancer image and just held my breath. The right eye on the scan was clear and the left eye had a huge black mass," Gina recounted, noting that was the moment she realized her daughter might have cancer.
It was then she and her 34-year-old partner Michael were informed that Darcey-Rose had a rare eye cancer called retinoblastoma, which usually occurs in children under the age of six. Darcey-Rose started the first of her six rounds of chemotherapy in March 2021 at Great Ormond Street Hospital in London, before going into remission. However, doctors eventually found more cancer in the toddler's eye.
Related: 2-Year-Old Boy Diagnosed With Retinoblastoma After His Mother Noticed His Eyes Were Changing Colors; When Parents Should be Concerned
Following the worrying news, Gina and Michael were offered two options, for Darcey-Rose to receive chemo injections in her eye, or have her eye removed. They decided their daughter should undergo more chemotherapy, but the tumor had spread around her retina and she needed her eye removed in June 2022.
"When they said they were going to have to remove her eye, and the choice was taken, I felt pure fear. But the operation went really well," Darcey-Rose's mom said. She said her daughter was fitted with a prosthetic eye and is aware she has a "special eye because of her poorly one."
Despite undergoing chemotherapy, an operation, and losing her left eye, Darcey-Rose, now three years old, continues to have a "sheer zest for life," Gina said. She explained how her daughter "is just the funniest, sass pot I've ever met. She makes me laugh every day."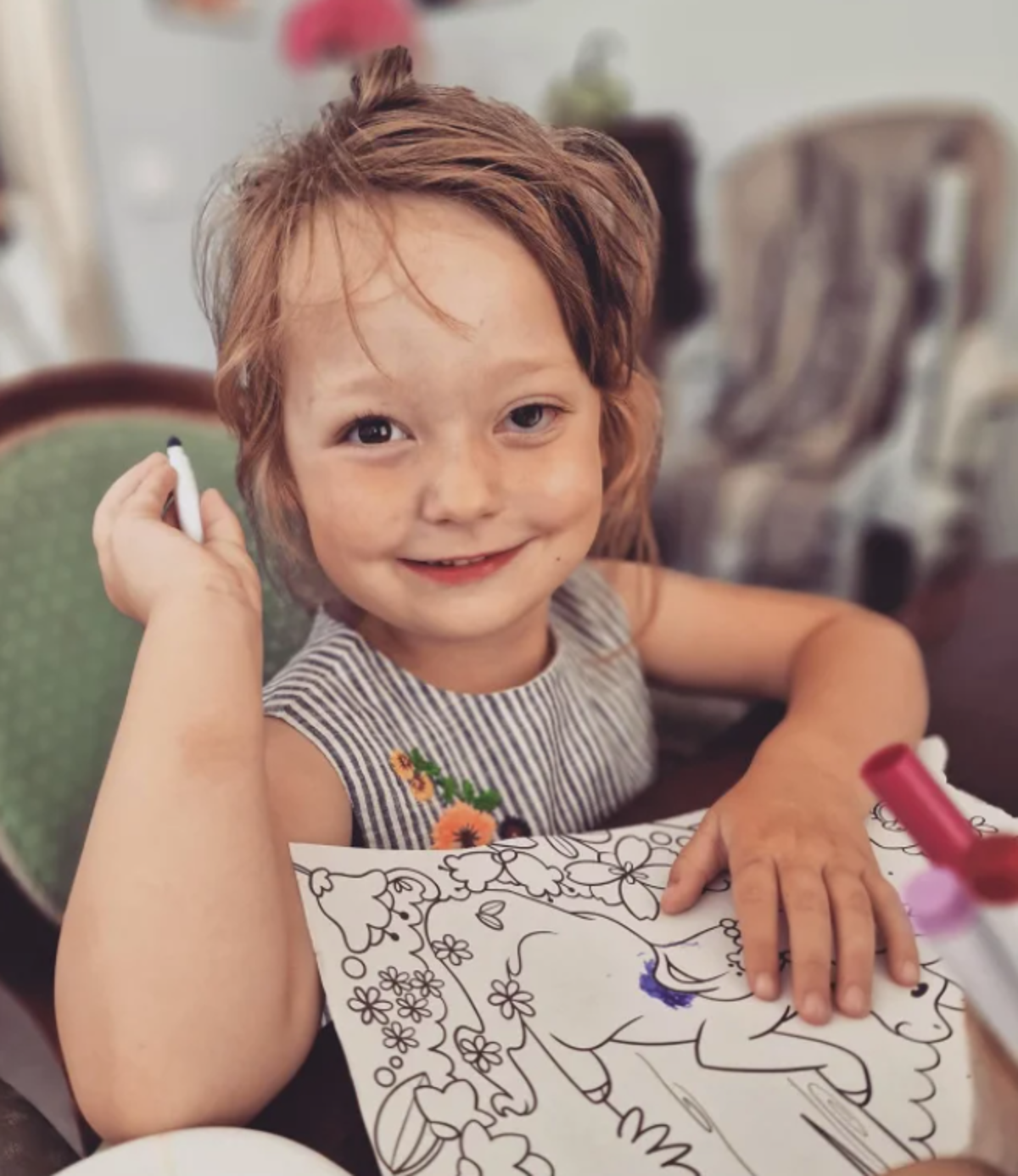 Gina is set to run the London Marathon in October raising money for a UK charity called the Childhood Eye Cancer Trust, which has been "amazing support throughout all of this time," she added. The mom has also set up a GoFundMe in honor of the charity, which researches retinoblastoma and raises awareness.
"It's been an emotionally difficult year, to say the least, but luckily for us as a family, we've had on going support from the childhood eye cancer Trust," Gina wrote on the fundraising page. "CHECT is a small charity that helps 100% of the families affected by retinoblastoma in an infinite amount of ways."
Related: Mom, Three Young Sons ALL Beat Eye Cancer: How Her Vigilance May Have Saved Her Boys' Lives
Understanding Darcey-Rose's Type of Eye Cancer
The term eye cancer can refer to any cancer that originates in the eye. Melanoma is the most common type of eye cancer, but the kind Darcey-Rose has – retinoblastoma – happens to be the most common type of eye cancer in children.
This cancer most often develops in infants and very young children, and it rarely occurs in children older than 6. Overall, retinoblastoma is rare, but it accounts for about two percent of all childhood cancers with about 200 to 300 children being diagnosed with the disease each year in the United States. About 75 percent of children with retinoblastoma have a tumor present in only one eye (making it unilateral retinoblastoma), but another 25 percent will have both eyes affected (making it bilateral retinoblastoma). And, thankfully, more than nine out of 10 children in the United States with retinoblastoma are cured.
Related: Worried Mom, 21, Noticed Her Baby Was 'Slightly Squinting:' It Turned Out To Be Cancer And The Tot Needs SIX ROUNDS Of Chemo!
Retinoblastoma can also be inherited. Most children with retinoblastoma do not have a family history of the disease – regardless of whether theirs is heritable or non-heritable – but children with the heritable form have a 50 percent chance of eventually passing on the RB1 gene change that causes the tumor to their children. Children with the non-heritable form of retinoblastoma do not pass on an increased risk for developing the disease.
The Impact of a Childhood Cancer Diagnosis on the Whole Family
Retinoblastoma is most often diagnosed after a parent or doctor notices something unusual about a child's eye. Two of the more common signs and symptoms include:
White pupillary reflex (leukocoria) – the pupil appears white or pink instead of red when you shine a light in the eye
Lazy eye (strabismus) – the eyes don't appear to look in the same direction
Other less common signs and symptoms can be:
Vision problems
Eye pain
Redness of the white part of the eye
Bleeding in the front part of the eye
Bulging of the eye
A pupil that doesn't get smaller when exposed to bright light
A different color in each iris (the colored part of the eye)
And if the cancer spreads outside the eye, symptoms can vary depending on where the cancer currently is. Symptoms for these scenarios can include:
Loss of appetite and weight loss
Headache
Vomiting
Lumps under the skin in the neck
It's important to note, however, that many of these signs and symptoms are more likely to be caused by something other than retinoblastoma. Even still, you should always bring up any of these symptoms to your child's doctor should they occur because the outlook for retinoblastoma patients is not as good if the cancer has had time to spread outside of the eye.
Advocating for Your Child
Here at SurvivorNet, we always encourage people to advocate for themselves when it comes to cancer and, more generally, health care. When it comes to a child, the parent must become the advocate – just as we saw in the case above.
Related: Bullied Barmaid, 25, With One 'Dead Eye' Gets a Badass, 'Sparkly' Gold Eye and Learns to Love Herself After Cancer Battle
And even if you're called "pushy" or people dismiss the concerns you have for your child, it's important to remember that you never know when speaking up about a seemingly unproblematic issue can lead to a very important diagnosis – cancer or otherwise.
Be Pushy, Be Your Own Advocate… Don't Settle
Figuring out whether or not you have – or your child has– cancer, based on possible symptoms, is critical because early detection may help with treatment and outcomes.
Seeking multiple opinions is one way to make sure you or your child is getting the proper care and attention. You should also try to remember that not all doctors are in agreement. Recommendations for further testing or treatment options can vary, and sometimes it's essential to talk with multiple medical professionals.
"Every appointment you leave as a patient, there should be a plan for what the doc is going to do for you, and if that doesn't work, what the next plan is," Dr. Zuri Murell, director of the Cedars-Sinai Colorectal Cancer Center, told SurvivorNet in a previous interview. "And I think that that's totally fair. And me as a health professional – that's what I do for all of my patients."
Contributing: SurvivorNet Staff
Learn more about SurvivorNet's rigorous medical review process.
---