Olympians draw on strength from all different aspects of life. Some even use a connection to cancer to motivate them to be their best, and the following collection of athletes headed to the Tokyo Olympics proves this to be true. We hope you'll enjoy their inspiring stories as we at SurvivorNet cheer them on as they pursue the highest of athletic achievements.
Brody Malone, 21, Gymnastics
Brody Malone is a hunter, fisher, rodeo-rider and management science and engineering major at Stanford University. On top of all that, he's an artistic gymnast who won the all-around title at the U.S. Olympic Trials by a staggering three points. He'll be America's top men's all-around gymnast heading to the his first Olympic Games this summer.
Read More
But ask the humble gymnast why he wants go to the Olympics, and he'll say his late mother, Tracy, who died of breast cancer in 2012. She was only 37, and Malone was just a month shy of his 13th birthday at the time.
"I want to do it for her," he told The Mercury News. "This has been a goal of mine for as long as I can remember."
And he makes sure a part of her joins him at every gymnastics competition by tying a pink bandana with paisley swirls to his backpack. The same one his mother wore after losing her hair post-chemotherapy during her four-and-a-half-year battle with breast cancer.
Unfortunately, she's not the only loved one Malone has lost. His stepmother, Lynn Johnson, died in 2019 after suffering a brain aneurysm. But through it all, Malone has moved forward and pushed himself to be the best.
"It helped me realize no matter what happens in your life, you can always move on from it," he told CBS station Fox59. "Not in a way that you forget the past, but that you can always move on and do better. Life goes on whether you like it or not."
Jake Gibb, 45, Beach Volleyball
Jake Spiker Gibb – yes his real middle name is Spiker – is a beach volleyball player headed for his fourth Olympic appearance. In previous years, he was twice a quarter-finalist with Sean Rosenthal at both Beijing 2008 and London 2012, but didn't make it out of the pool stage at Rio 2016 with Casey Patterson. The 45-year-old American is also set to become the oldest Olympic beach volleyball player in history after qualifying for the Tokyo Olympics with his 29-year-old partner Taylor Crabb.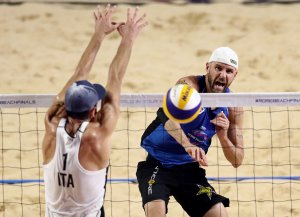 But Gibb's inspiring story doesn't stop there. He is also a two-time cancer survivor. His first battle with cancer came in 2004 with a skin cancer diagnosis when he had to have melanoma removed from his right shoulder.
"It changed the way I train at the beach," Gibb said in a previous interview with Coping with Cancer. "I wear long-sleeved t-shirts and really heavy sunblock."
But Gibb's "scarier" encounter with cancer came at the end of 2010 after visiting the doctor because of a failed routine drug test suggesting steroid use. Gibb was floored when he got the call from the U.S. Anti-Doping Agency and immediately looked up reasons as to why he might have abnormally high levels of alpha-fetoprotein and human chorionic gonadotropin (beta-HGC) in his system. Pregnancy and steroid-use were the first explanations he found, but Gibb knew those reasons weren't applicable to him.
"At the very bottom of this article I read, there was one line that said, 'Also found in men with testicular cancer,'" he told Coping with Cancer. "And my heart just dropped."
A visit with his doctor proved his suspicions true, and his doping suspension was lifted. Luckily, surgery was enough to rid his body of the cancer, and he didn't need chemotherapy. Still, Gibb struggled to get back to where he wanted to be athletically.
"In 2011, I had the worst year of my career," Gibb said in an exclusive for the official website of the Olympic Games. "I didn't win an event. At the time, I didn't recognize what was going on. This was post-surgery, everything, so I was healthy but not mentally."
But Gibb got through and now says his cancer journey gave him "perspective."
"It's simple: I play the same game, I work as hard, all of that is the same," Gibb said. "But the difference for me is that I take it in a little bit more. And I just enjoy what I do. I've always enjoyed it, but I allow myself to take that in more during those moments."
Kevin McDowell, 28, Triathlon
Kevin McDowell is a triathlete with big dreams and a can't-stop attitude. He's been crushing competitions since competing in USA Triathlon's youth and junior elite triathlon circuit when he was a kid, and now he's made his way onto the Olympic triathlon team after finishing 11th in the senior World Series level in Yokohama, Japan, last month.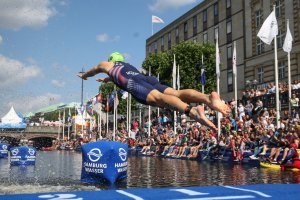 But all these years of competing haven't always gone according to plan. He won a bronze medal at the 2011 Junior World Championships, but was hit with a curveball later that year when he was diagnosed with Hodgkin's lymphoma. In a 2019 interview with WGN Radio, McDowell explained how his diagnosis came to be.
"There was a lump in my neck, and my mom's a nurse," McDowell said. "I was talking with her one day 'cause I had a good race, and she saw this lump, so she took me to the doctor and it turned out to be Hodgkin's lymphoma."
McDowell had to take six months off for chemotherapy treatments, but returned to elite competition just a year later in his senior-level World Cup debut. He said he stayed positive throughout chemotherapy and turned it into his "new finish line." Back in 2019, he also said he had "that Olympic dream" – we're pleased to say he'll realize it this summer.
April Ross, 39, Beach Volleyball
Some could say that April Ross needs one more Olympic medal to complete her collection, and perhaps she'll do it in the Tokyo Olympics. The beach volleyball star has previously earned bronze with partner Kerri Walsh Jennings in the 2016 Olympics at Rio de Janeiro and silver with Jennifer Kessy in 2012 at the London Games.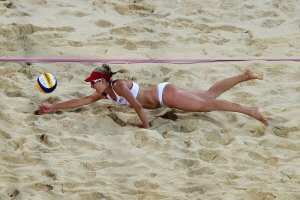 It's clear that Ross is a natural when it comes to volleyball, but she credits a lot of her success to her mother, Margie, who passed away after losing her 10-year battle with metastatic breast cancer. Ross was a 19-year-old sophomore at the University of Southern California at the time and her grades plummeted and team performance suffered as a result. But she didn't stay down for long. She rallied at the end of USC's winter break and started taking better care of herself. Near perfect grades and two back-to-back national championship wins followed. In a previous interview with SurvivorNet, she said her mom still inspires her to be better today.
"Reflecting back on her life, I can appreciate how strong she was and how brave she was in the face of everything she was dealing with," Ross said. "I look back on that and have so much inspiration in her courage, and I just try to channel that on the court and in life."
She even remembers to thank her mother mid-game when she taps her chest and points to the sky when she gets a crucial point of makes a tough play.
"That's just a nod to my mom – 'thank you for helping us get this point' – acknowledging she's still with me and inspiring me," Ross said.
And the inspiration doesn't stop there. She's also partnered with pharmaceutical giant Eli Lilly to raise awareness of metastatic breast cancer and promote testing and treatment options.
Kevin Durant, 32, Basketball
Kevin Durant is set to lead the USA men's basketball team in the Tokyo Olympics this summer. He's focused on bringing home another gold medal – he already has two from the 2012 and 2016 Games – but another thing he'll probably be thinking about as he steps onto the court is his 'Aunt Pearl.'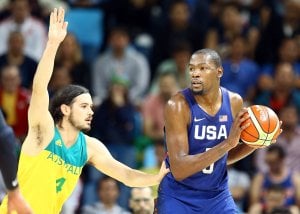 Durant always had a special connection with his grandmother's sister. They spent a lot of quality time together as he was growing up, and she was an essential part of his upbringing. She always encouraged him to follow his dreams.
"I was a quiet kid, I didn't really have friends," Durant said in an article for the Golden State Warriors website. "I talked to her even more than my mom and my grandma and my brother… She realized how important basketball was to me."
But despite being so close, Durant didn't know she was dying of lung cancer during his childhood. She passed away by Durant's side when he was just 11 years old.
"When she passed away right in front of me, I didn't know what it was for," Durant said. "As I started to get older, I started to understand what cancer was and how many lives it affected."
Since her passing, he's done various projects aimed at honor his late 'aunt' and giving back to organizations working to fight cancer. For example, he's designed multiple basketball shoes designed to commemorate Aunt Pearl with a portion of the proceeds going towards the Kay Yow Cancer Fund which strives to find cures for women's cancers. His latest release of his Nike KD 13s, the "Aunt Pearl" hit stores in October 2020.
Ryan Murphy, 25, Swimming
Swimmer Ryan Murphy will compete in the Tokyo Olympics after proving he remains the top backstroker in the U.S.  by winning the 100-meter backstroke in a time of 52.33. But this isn't his first rodeo. The 25-year-old already has three Olympic gold medals from the 2016 summer Olympics, and we're sure he's hungry for at least a fourth.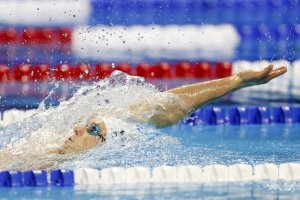 And one person he'll likely pull strength from to get the job done is his paternal uncle Frank. Sadly, Frank died of esophageal cancer in May 2014 at the age of 51, but Murphy has still kept his spirit with him for inspiration.
"He always promoted my swimming competitively, and I still speak to him in my prayers," Murphy told the National Catholic Register. "He was very important to me."
He's also taken his connection to cancer to the next level by partnering with the Jay Fund – a foundation that assists families affected by childhood cancer with emotional and financial needs. In a previous article for Swim Swam, Murphy talked about connecting with the Jay Fund children through Zoom calls during the COVID-19 pandemic.
"A child with cancer has managed more than I could ever imagine, and there's a mentality and level of maturity that helps these kids in their hardest moments. They're fearless," he said. "I had a conversation with a 15 year old girl who was going to some chemo treatments that day after the call. I asked her what her emotions were heading into that treatment? She replied that she was honestly happy to be able to leave the house. That gave me chills. All of these children were optimistic and have an incredible perspective on life. I learned so much from them."
Alise Willoughby, 30, BMX
Alise Willoughby is a BMX racer with the nickname "The Beast" – need we say more? The 30-year-old is a two-time world champion, two-time Olympian and a 2016 Olympic silver medalist. USA Cycling calls her "one of the most successful female BMX racers to ever swing her leg over a bike," and it's a reputation she truly deserves.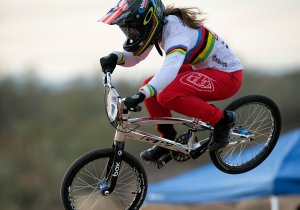 And although she's overcome many major injuries, some of her toughest setbacks have been emotional. She lost her mother to cancer at just 22. In an interview for Bicycling, Willoughby shared her race mantra: "Never ever give up" – something her mother would always say to her during her battle with cancer.
"It sounds cliché and simple, but when I've wanted to throw in the towel, it's helped me stay motivated," Willoughby said.
Learn more about SurvivorNet's rigorous medical review process.