Combatting Trust Issues as a Cancer Patient
People battling cancer who are having trust issues may want to consider speaking with their oncologist about how they are feeling.
Consider switching doctors if your doctor is not receptive to how you feel, or invalidates your impressions.
You may want to also speak with a therapist to help you unpack the situation in a safe, non-judgmental space.
Having trust in your care team, like your oncologist, through the cancer journey is so important. There's a long history of mistrust by Black communities towards the medical community as a result of events like the
Tuskegee Syphilis Study
, during which unethical medical practices took place for the Black men participating in the study.
Related: The Infamous Tuskegee Syphilis Experiment– Understanding Why Some African-Americans Don't Trust The Medical System
Read More
At SurvivorNet, we are committed to
closing the gap of racial disparities in cancer care
, and that includes disparities for feelings of trust experienced by patients towards their doctors. Our Close the Gap Initiative supports promoting equality in cancer care throughout the world.
For people grappling with feelings of distrust or lack of confidence and their oncologist, here are five ways to address those feelings.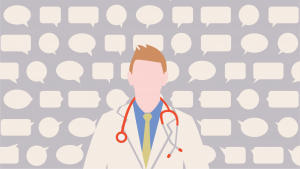 1. Speak with Your Doctor about How You're Feeling
As mental health professionals often advise: People can't read your mind, so you must tell them how you're feeling. Yes, there may be some awkwardness felt by speaking up, but it doesn't have to be uncomfortable.
Related: Clinical Trials Need More Minority Patients
Talk things out with your doctor and bring your concerns to the table in a calm, and de-personalized way. Keep your tone even and controlled, and express what you're feeling in a straightforward way. Ask them what they might advise in this situation, too. Your oncologist has years of experience dealing with people in your position. And while you might have trust issues with them – potentially valid ones at that – keep in mind that they have a lot of experience with patients like you who are battling cancer.
How Do We Inspire Trust
2. Consider Switching Doctors
As the popular adage goes: You are not a tree – move. If you speak with your oncologist about how you're feeling and don't make any headway, or are displeased with their response, consider requesting to meet with a different doctor.
Related: Black Americans Have the Highest Cancer Death Rates in the U.S.; Let's Close the Gap in Cancer Care For Black History Month and Beyond
Your health and your care team are critical and your comfort matters. In an earlier interview, one expert spoke with SurvivorNet and advised patients to be their own best healthcare advocate and to be "pushy" if need be.
Be Pushy, Be Your Own Advocate… Don't Settle
3. Speak with a Therapist for Feedback & Support
Therapists, psychologists, and social workers are excellent sounding boards and support systems through the cancer journey. They can also help you process feelings of distrust, and create an action plan – either internal or external – to change how you're feeling.
A good therapist will sit with you, listen in a non-judgmental and open way, and help work with you to work through your experiences. Taking care of your mental health is a form of self-care, just like a hot bath after a long day or like going to the gym.
'Self Care Is A Way To Treat Yourself' Dr. Marianna Strongin on the Importance of Self-Care
4. Build Trust Slowly
If you have decided to stay with your current oncologist and care team and work through the issues you are having with trusting them, take it slow and let your gut be your guide. Feelings don't change overnight, and your feelings matter.
Specific Ways To Inspire Trust In Patients
5. Be Gentle with Yourself
Most importantly, through this process – go easy on yourself. If you're having trust issues, it's possible you may have lived through some ACEs (Adverse Childhood Experiences) which can lead to trust issues.
Additionally, you are in the midst of a healthcare battle, and that is emotionally, physically, and mentally draining. You are likely doing your best in this moment, so cut yourself some slack and be proud of yourself for honoring your feelings and listening to your gut if you're experiencing trust issues.
Guided Meditation- The Relaxation Response
Learn more about SurvivorNet's rigorous medical review process.