Finding Love After Cancer & Divorce
TV journalist Amy Robach, 50, is celebrating being "Instagram official" with TJ Holmes, just after marking 10 years since she beat stage 2 invasive breast cancer.
Despite overcoming cancer and divorce been, it's easy to see Robach is making the best after the challenges she endured, and maintains a smile on her face throughout it all.
Robach, who has two daughters Ava and Annalise, whom she shares with her first husband Tim McIntosh (they divorced in 2009), certainly handled cancer and her two divorces well as she appears to be thriving in her new relationship.
She was declared legally single this past April according to US Weekly.  And while married to Shue, Robach was the stepmother to Nate, Aidan and Wyatt, her now ex husband's three sons, whom he shares with Jennifer Hageney.
As TV journalist Amy Robach successful beat stage 2 invasive breast cancer 10 years ago, and now, after battling the disease and going through a divorce from her husband of 13 years, Andrew Shue, the famed reporter has shared some uplifting news—her new relationship with a fellow former "GMA" host is now "Instagram official."
A resilient Robach, 50, took to Instagram to share a sweet photo of her and the man she's dating, 46-year-old journalist TJ Holmes. The former ABC cohosts first worked together in 2014. Then, in 2020, they worked for "GMA3: What You Need to Know." The pair were fired from GMA3 after their personal relationship was revealed publicly.
View this post on Instagram
Read More
Robach shared a photo of her and Holmes standing close together with huge smiles on their faces. She
captioned the post
, which was also shared by Holmes on his Instagram page, "How's this for Instagram official? #silentnomore.
"'Amy & T.J.' December 5th. Listen on the iHeartRadio app and everywhere podcasts are heard. @amyandtjpodcast."
Robach's post was showered with a praise by fans and friends, and she later took to her Instagram story to share a press release from iHeartMedia announcing the podcast.
The release states, "Robach and Holmes take on new medium as co-hosts and executive producers of new weekly iHeartPodcast titled 'Amy & T.J.' premiering December 5, 2023."
"Hosts and executive producers Robach and Holmes are a formidable broadcasting team with decades of experience delivering headline news and captivating viewers nationwide," the release explained.
"Now, the duo will get behind the microphone to explore meaningful conversations about current events, pop culture, and everything in between. Nothing is off limits. 'Amy & T.J.' is guaranteed to be informative, entertaining, and above all, authentic; it will mark the first time Robach and Holmes speak publicly since their own names became a part of the headlines. "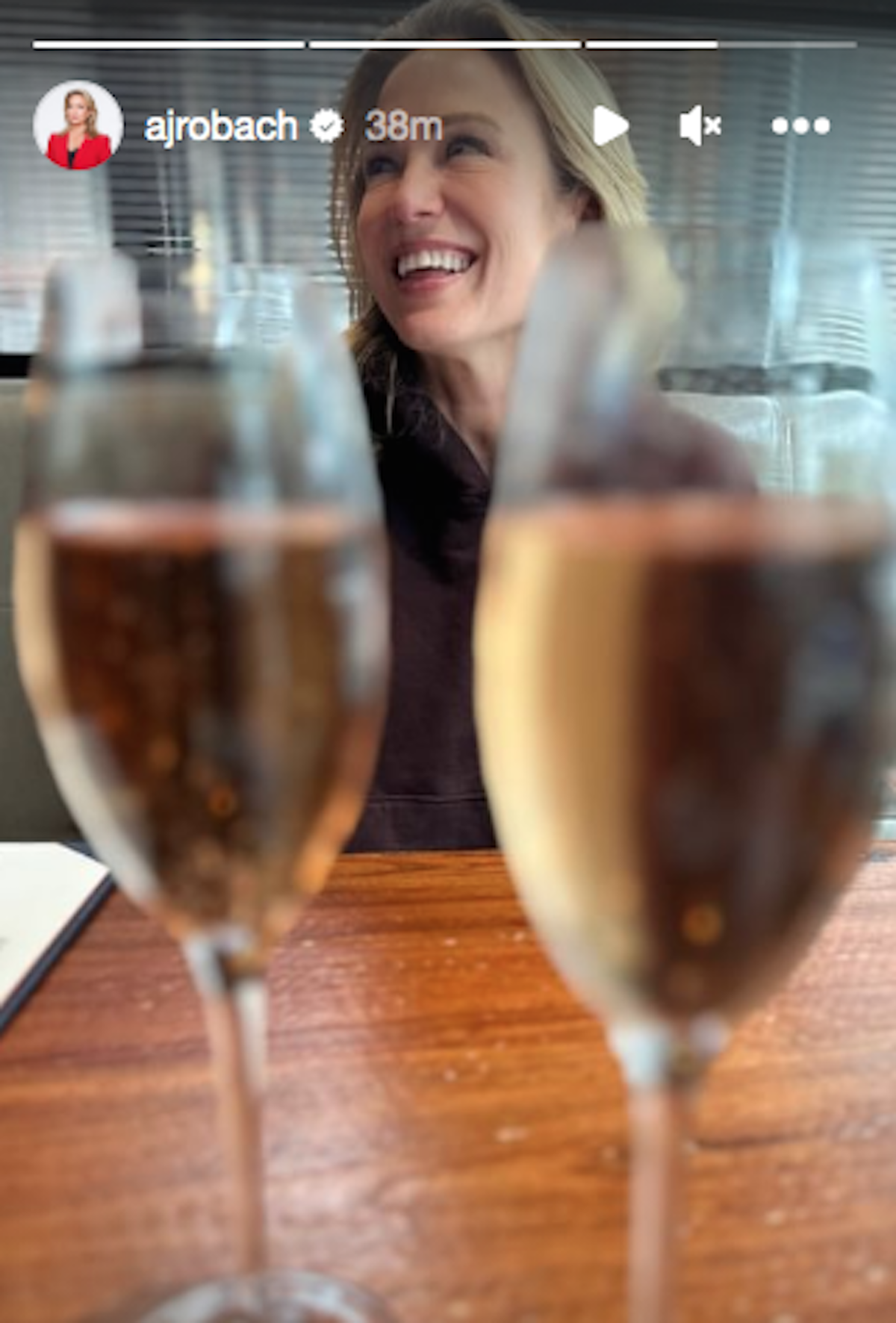 Robach also took to her Instagram story to share a photo of herself smiling alongside what appears to be two glasses of champaign, seemingly celebrating the podcast news and becoming "Instagram official" with Holmes.
It's great to see Robach being open and confident in her new relationship, especially after beating cancer.
Just this week, the TV journalist uploaded photo of herself flexing her arm muscles at what looks to be at a hospital where she received treatment.
"10 years ago today I became a survivor…. to everyone out there fighting the fight, I salute you 🩷 #breastcancerawareness," she captioned the post.
Robach, who has two daughters Ava and Annalise, whom she shares with her first husband Tim McIntosh (they divorced in 2009), certainly handled cancer and her two divorces well as she appears to be thriving in her new relationship.
She was declared legally single this past April according to US Weekly.  While married to Shue, Robach was the stepmother to Nate, Aidan and Wyatt, her now ex husband's three sons, whom he shares with Jennifer Hageney.
View this post on Instagram
Amy Robach's Battle With Breast Cancer
Amy Robach's cancer journey began after being encouraged by Robin Roberts during a segment on the morning show. Like Roberts, who also learned of her cancer diagnosis while undergoing a self-exam, Robach underwent a mammogram on the program to promote breast cancer awareness.
.@ABC News anchor @arobach opens up about the lessons she learned while battling breast cancer in 2013: "Realize how precious time is and no one is guaranteed a tomorrow." 💗 https://t.co/9BUBbAnKcD pic.twitter.com/aCkglXFn8p

— Good Morning America (@GMA) October 29, 2020
It was Robach's cancer screening which led to her diagnosis of stage 2 invasive breast cancer. She also learned cancer had spread to her sentinel lymph nodes.
RELATED: "I Haven't Been Myself": Cancer Can Wreak Havoc on Relationships; How To Navigate a Partnership During a Health Battle
After her tumor was detected, she underwent a bilateral mastectomy (also called a double mastectomy), where both breasts were removed. Following the procedure, Robach underwent six months of chemotherapy. Luckily, her treatments helped her reach remission.
RELATED: Stay Positive, It Matters
Robach previously told SurvivorNet in an interview that her cancer diagnosis brought her closer to her ex husband, Melrose Place star Andrew Shue. Sometimes, a major health condition can strengthen relationships as both individuals find support and strength with each other. However, the opposite can also be true if the relationship is already struggling.
The former ABC News reporter also spoke about some of the trials and tribulations you undergo as you take on cancer.
Robach's cancer journey strengthened her compassion for others. She says she developed a new kind of compassion that wasn't possible before her experience with breast cancer.
View this post on Instagram
"Cancer is something that has changed my life forever, something that I will always live with. There's anger at first because you've lost security, and you've never had it to begin with. None of us have security, but you are grieving this loss of security because we all feel like there's tomorrow," Robach said.
"We all feel like there's another day. When you get to something like this, you're angry that you lost that. That's been taken away from you. From that anger, I think, grew compassion and empathy."
TV Journalist Amy Robach Says Cancer Taught Her To Feel Other People's Pain
Robach considers that loss of security one of the gifts that cancer can bring. "You truly can feel other people's pain in a way that you couldn't have before."
Relationships and Cancer
Facing any sort of health battle, like the cancer Amy Robach battled, can be extremely overwhelming. So having a good relationship with a partner can be immensely helpful.
RELATED: 'Strong in Cancer': Navigating New Relationships and Motherhood While Fighting Cancer Is Challenging. We Offer Solutions.
According to MacMillan Cancer Support, communication is key.
"Try to be yourself and live as normally as possible. Behaving differently may make your partner feel more aware of the cancer," the organization explains. "It can help to ask your partner what support they would like and find useful. This makes sure you help where it is most wanted and needed. It can also help you avoid misunderstandings."
That being said, the person struggling with their health needs to know their limits on what they can handle as they prioritize their recovery.
"Going through [cancer] treatment is a very vulnerable and emotionally exhausting experience," licensed clinical psychologist Dr. Marianna Strongin wrote in a column for SurvivorNet. "Noticing what you have strength for and what is feeling like too much [is] extremely important to pay attention to as you navigate treatment."
Still, Dr. Strongin says studies show that loneliness can impact a person's recovery. That's why surrounding yourself with people, potentially including a partner, who can support you throughout treatment is crucial.
Key Dating Tips for Breast Cancer Survivors
Dating after breast cancer, or even divorce, or possible both, like Amy Robach, can be daunting.
RELATED: Sex and Cancer: How to Communicate Your Desires & Fears and Create New Sexual Experiences
If you are living with breast cancer or have battled the disease and have a supportive partner, that's beautiful. But for the people who quickly found out their partner couldn't handle the weight of their health situation, or for the single people in recovery, it's important to understand that the emotions that come along with dating are completely natural.
While it's normal to feel apprehensive about dating in general, jumping in during or after cancer can be particularly nerve-racking.
RELATED: "When Do I Tell a Potential Partner About My Health Battle?" 
SurvivorNet previously put together five tips on how to navigate the singles scene after cancer for all the survivors out there
1. Decide if you're ready
Whether you are fresh off the "I just beat cancer" boat, or you are adjusting to having to live with cancer longterm, or ended a relationship with someone else, the most important thing is to assess if you're ready to explore a romantic relationship with someone.
Some people may feel they're ready, then quickly realize they're not.
As NYC-based writer actress Jill Kargman says, cancer can help weed out the "s***heads." She previously told SurvivorNet, "When you get cancer, it's a really great way to tell if your partner is the love of your life, or a s***head."
She explained, "A lot of people at middle age are kind of at a crossroads waiting for their kids to fly the coop, and I think if you're with someone who is not supportive [during cancer], or kind of emotionally checked out, or doesn't tell you you're still beautiful, this might not be your person."
RELATED: Breast Cancer Survivor Hoda Kotb is 'Treasuring Being Single' After Split from Financier Fiance, is 'Tiptoeing' In Her Dating Life
Just like every cancer battle is different, every person is different and there is no right answer for this. Just don't push yourself. If it happens organically, then just go with it and see how it feels. But, if you don't feel you are physically and emotionally able to dive in fully, don't be afraid to table the dating life for a bit or put the brakes on something that doesn't seem to be the right timing for you. Equally as important in your situation is honesty.
2. Be honest
In regard to being honest with a potential new partner on what you have been going through, that's up for you to decide. You have a right to be as private with your news as you want, but before you decide, consider the other person in the situation as well.
Dating After Cancer: Getting Intimate With the New You
While it may not be the best to blurt it all out on date one, if you feel some chemistry and there is a possibility to get serious with this person, they do have a right to know what they are getting into.
Breast cancer survivor and author Laura Morton says that she's really adamant about being honest with people she's dating when it comes to what she's been through.
"It is a part of who I am, but it's by no means who I am," Laura told SurvivorNet.
"It's not anything that I feel any shame about. It's nothing that I feel any regrets about. If anything I need them to know I don't have a lot of feeling there, it doesn't do much for me if you're playing with my boobs."
RELATED Survivor Sheryl Crow: 'My Breast Cancer Diagnosis Stopped Me From Dating Narcissists'
Aside from the honesty, Laura says it's important to acknowledge that you've experienced this huge, life-altering battle. And she has some blunt advice for anyone who finds themselves dating someone who lacks that empathy. "If you're with someone who has an issue with it, quite frankly, why are you with them? Show them the door, fast."
The good news is, sharing your health situation early with someone can really help you assess what that person is like, based on how they handle your full disclosure. If they act uncomfortable about it, and if it does turn them away, then as Laura says, let them go! You're better off sparing yourself from more heartache down the road.
However, chances are, they will listen to you, hopefully try their best to understand, show compassion, and maybe even show it doesn't phase them. So, if you are interested in someone, try not to be scared and give it a chance.
Again, it's up to you to determine how much you want to tell. Not immediately sharing an early stage cancer battle you went through 20 years ago is one thing, but dating in your 20s, 30s, or 40s and not disclosing that you may have difficulty getting pregnant due to cancer treatment is of course a different story.
3. It's okay to just have fun!
Chances are, you may not be looking for anything serious, and there are many others out there who be on the exact same page. Again, this boils down to honesty, but feel free to tell your date that you aren't looking for anything serious. Whether you've been set up through a friend, or you're on one of the dating apps, it's usually somewhat easy to determine whether or not someone wants to just keep things casual.
'The Big C' on SNTV: Laughter as Medicine & Tough Subjects for Cancer Survivors Including Relationships
And who knows, maybe it can evolve into something else, but taking that pressure off of yourself and your "friend" may be the best way to go, depending on your situation. Then you can enjoy companionship, a night out, and a little affection or attention after all you have been through definitely doesn't hurt!
Bottom line, more and more people are recognizing that they do not need a partner in order to be happy, so it is perfectly alright to feel content with being single. Just remember to maintain open communication.
4. Treat yourself
Many women understandably suffer from body image insecurities, not to mention other aspects of physical and mental aftermath. After all, you've gone (or are going) through a war of sorts to say the least.
Dating After Preventative Cancer Surgery Meet Pre-Vivor Erika Stallings
Not only is it important to pamper yourself here and there to lift your spirits, but if you've decided to put yourself out there and really do this, do not hesitate to splurge and do what you feel is needed to feel your best.
RELATED: Body Image, Sex, and Adjusting to a New Normal After Cancer Treatment
Whether it's getting a fresh hair cut or buying a new wig, dress, lingerie or lipstick, do not even think twice about pampering yourself. There is nothing wrong with boosting your own spirits with something new, which can spark some extra needed confidence as you hit the town for a nice dinner somewhere, or even just to perk yourself up at home.
5. It's okay to be vulnerable
So, maybe you've met a new person and things are starting to get serious. You've gotten through the whole "C" word conversation, but what happens if you have a down day and are feeling emotional? Let it out.
RELATED: Fear, Anger, Anxiety You're Entitled To Your Emotions
Just like it's important to be honest about what you've gone through, it's vital to know that you can trust someone with the perceived "ugliness" of your post-cancer suffering.
The Courage to Be You: Meet Survivor Ericka Hart
As many of us know, in general, holding in feelings will often just make things worse in the long run. If you want to truly get close with someone and let them in, don't be afraid to be vulnerable. Most importantly, don't forget to be yourself.
Finding Joy Through Adversity
When faced with a cancer battle or  divorce, it can be difficulty to focus on life outside of your disease or relationship struggles. However, it's important to remember that your mental state can actually impact your success as a patient.
"I'm pretty good at telling what kind of patients are going to still have this attitude and probably going to live the longest, even with bad, bad disease," Dr. Zuri Murrell, a colorectal surgeon at Cedars-Sinai Medical Center, previously told SurvivorNet. "And those are patients who, they have gratitude in life."
Dr. Dana Chase, a gynecologic oncologist at Arizona Oncology, also advocates for cancer warriors to prioritize their mental health. She noted that emotional well-being has been studied as a factor in patient outcomes.
"We know from good studies that emotional health is associated with survival, meaning better quality of life is associated with better outcomes," Dr. Chase told SurvivorNet in an earlier interview.
"So, working on your emotional health, your physical well-being, your social environment [and] your emotional well-being are important and can impact your survival. If that's related to what activities you do that bring you joy, then you should try to do more of those activities."
Adversity And The Art of Happiness: How Hardship Makes You Even Stronger
There are no right or wrong answers, but Dr. Chase says doing things that bring you joy is important.
She recommends writing down ten things that make you happy and intentionally making the time to do those activities throughout the day.
What Still Brings You Joy? Your Emotional Health is So Important to Living with Ovarian Cancer
"Sometimes I will talk to a patient about making [a] list of the top ten things that bring them joy," Chase says. "And trying to do those ten things, to make at least 50 percent of their experiences positive throughout the day."
Contributing: SurvivorNet Staff
Learn more about SurvivorNet's rigorous medical review process.
---