Fighting For a Diagnosis, But Misdiagnosed
After being misdiagnosed and put off a number of times by doctors, wife and mother Gemma Thomas, 40, continued to bravely fight for a diagnosis.
Gemma lost her cancer battle just three days after she was diagnosed with acute myeloid leukemia (AML), one of the most common leukemias in adults.
Four years later, Gemma's TV star husband Simon, 49, is sharing his late love's courageous fight to urge others to advocate for their health and learn the symptoms of AML.
Symptoms of AML include: easily bruised skin, sweating, and swollen glands in your neck, armpit, or groin to name a few.
Doctors dismissed 40-year-old Gemma Thomas' headaches multiple times; the wife and mother persisted and kept going in as symptoms progressed to fatigue, bruising, and night sweats. Finally, she received a diagnosis for acute myeloid leukemia (AML), a cancer of the blood and bone marrow. She died three days later.
Husband Simon—father of their son Ethan, now 12—is sharing his late love's courageous story to raise awareness about cancer misdiagnoses and how important it is to fight to be heard by your care team.
Read More
Gemma was told her ailments were potentially "stress-related," an unfortunate all-too-common occurrence as anxiety continues to become more prevalent in our society.
The English TV host, 49, who has found love again after his tragic loss of Gemma four years ago, is honorably still giving his late wife a voice.
 

View this post on Instagram

 
"People know the symptoms of breast cancer, " the Norfolk native told The Sun. "If you go to pretty much any football ground across the UK there are signs in the men's loos talking about prostate cancer, but I bet if I went onto my local high street right now, no one would know the symptoms for blood cancer."
Simon shared how important it was for he and his son to receive help from mental health professionals. "We both benefited from having people to talk to and we both spent two years working with our individual counsellors," he shared.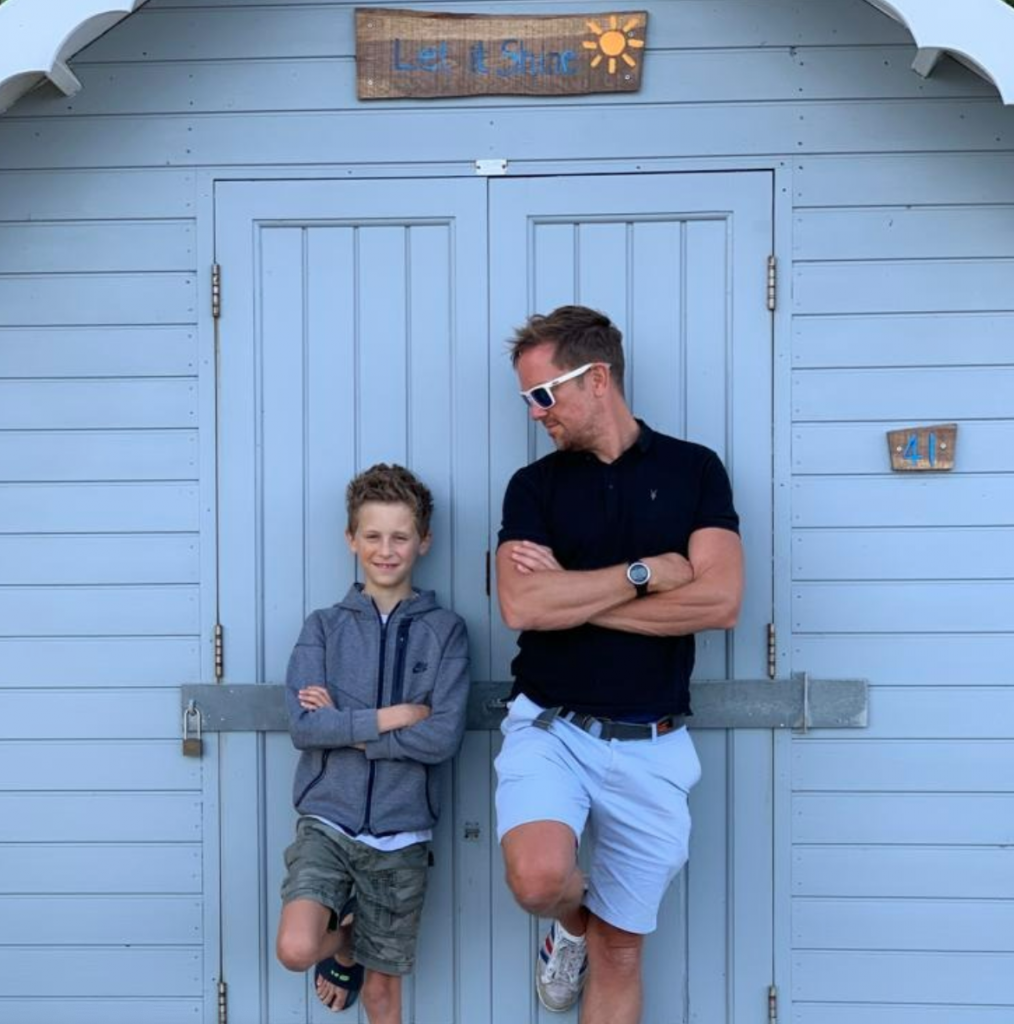 The public figure went on to say that he received so many encourage messages as he opened up about grief and getting help. "People find a lot of solace in that," he said.
Simon and new wife, Derrina Jebb, a lawyer, are now on a waiting list to help house a Ukrainian family as the country continues to defend itself from Russia's attacks.
"Ethan was taught not to take things for granted in a very painful way four years ago," Simon said of the family of two's trying time, explaining that he has been educating his son about the horrors going on in Ukraine. "I think because of what he's been through, he gets it. His experience is different in some ways but the same in others. He understands lives being turned upside down so he's been really keen to help."
Advocating for Your Health
While Gemma tragically didn't get the care she needed in time, it is highly commendable that she did not take the multiple doctor dismissals, and instead, relentlessly pushed and pushed for her diagnosis. She knew something was gravely wrong, and didn't buy the "stress symptoms" cop-out by medical professionals who were not taking her complaints serious enough.
Advocating for Yourself is the Most Important Thing
A trustworthy medical expert is someone who will encourage you to get a second, or even third, opinion. There are countless amazing doctors and health professionals out there, but they are not perfect, all-knowing people. Plus, women can sometimes face gender bias, and many minorities suffer from not being taken seriously at times.
Furthermore, there is a reason why doctors will often say they are "practicing medicine," as they don't always have all the answers, and continue learning as their practice grows. Some may be more flawed than others, so if you're not getting the proper attention or care that you deserve, keep going to different people until you find a doctor that makes you feel comfortable.
Learning About Acute Myeloid Leukemia
Acute myeloid leukemia is a fast-growing blood cancer that begins in the bone marrow, the factory that makes white and red blood cells and platelets.
Your blood contains different types of cells:
White Blood Cells: WBCs are involved in many immune-related processes, but the primary goal of WBCs is to fight infections.
Red Blood Cells: RBCs are involved in carrying oxygen to the organs of the body.
Platelets: Platelets are cell fragments that are important for helping blood to clot.
Within the bone marrow are stem cells that eventually develop into WBCs, RBCs and platelets. Stem cells can copy themselves or self renew making progenitor cells or precursor cells.
Related: Acute Myeloid Leukemia (AML) — What Are The Symptoms?
AML affects these myeloid progenitor cells during a stage of development when they are called myeloblasts. With AML, myeloblasts fail to turn into fully develop blood cells, thus building up in the bone marrow and blood. Also, because the myeloblasts don't mature, the body lacks RBCs, WBCs and platelets.
The symptoms of AML can be very subtle and non-specific. Many people experience flu-like symptoms such as fatigue, fever, and loss of appetite. Others, like Gemma, may easily bruise or suffer from night sweats.
What is Acute Myeloid Leukemia (AML)?
"To understand acute myeloid leukemia [AML], you have to understand how the bone marrow works," Dr. Mikkael Sekeres, chief of the division of hematology at the University of Miami Sylvester Comprehensive Cancer and formerly of the Cleveland Clinic, tells SurvivorNet. "The bone marrow is the factory that makes all of the cells that wind up in our blood stream."
This "factory" makes red blood cells that bring oxygen to our tissues; white blood cells that make up the immune system; and platelets, which help stop bleeding, as explained by Dr. Sekeres. All of these cells perform essential functions in the body, and a spike or decline in any of them can lead to some serious health issues.
Related: Writer Nora Ephron Quietly Fought Acute Myeloid Leukemia (AML)—The Exciting Advances In Treatment
For a majority of patients, AML appears out of the blue. But there are some risk factors.
Dr. Gail Roboz, a noted AML expert and medical oncologist at Weill Cornell Medicine, says patients who have undergone chemotherapy and radiation for other forms of cancer can be at increased risk of AML. However, she notes that AML is a rare disease and a majority of cancer patients, unfortunately like Gemma, will not be diagnosed. Dr. Roboz also points out that exposure to organic solvents, such as benzene, are associated with AML, but the association isn't necessarily clear, and doesn't affect treatment options overall.
Related: What Acute Myeloid Leukemia (AML) Patients Should Expect During A Bone Marrow Transplant
"One of the things that's actually emerging that as a very important potential predisposition is familial," Dr. Roboz says. "We didn't really used to think of a familial predisposition as important in acute leukemia and yet it might be that up to 10% of leukemias are associated with some sort of familial predisposition."
With this new discovery, people should expect physicians to ask them questions concerning whether family members have had blood disorders, abnormal blood counts, or a history of leukemia.
Contributing by SurvivorNet staff.
Learn more about SurvivorNet's rigorous medical review process.