Coping With Grief After Loss
Ahead of Mother's Day, Valerie Bertinelli reminisced about celebrating the holiday with her late, ex-husband Eddie Van Halen and the couple's son Wolfgang Van Halen.
Eddie passed away in 2020 after a years-long battle with cancer.
Bertinelli has previously called Eddie her soulmate and reflected on the love she shared with him even after the two divorced. She's coped after his death by remembering the good times they've shared.
Carrying on after someone you love has died of cancer can be incredibly difficult. But our experts say that finding joy in hobbies and activities or leaning on a support system can help you get through.
For Neal Unger, who also lost a partner to cancer, skateboarding proved to be exactly what he needed to cope after the loss.
Holidays can be a painful time for people who've lost a loved one. But Valerie Bertinelli is looking back fondly, remembering the sweet ways ex-husband Eddie Van Halen (who passed from cancer in 2020) would spoil her on Mother's Day.
Valerie is an award-winning actress and the star of the Food Network show "Valerie's Home Cooking." But being the mother of Wolfgang Van Halen, her son with the legendary rocker, trumps all.
Read More
"I adore him!"
she said of Wolf
. "I love what a kind, thoughtful, funny human he is. It's weird that I have a 32-year-old adult son — life goes by in a flash!" During a recent interview ahead of Mother's Day, Valerie opened up about what the holiday meant to her when she was Eddie's wife. The two married in 1981 and brought Wolf into the world in 1991 before deciding to divorce in 2007. "Mother's Day was always family time if Ed wasn't on the road," Valerie said. "I hold so many memories close from that time — the sweet, funny little gifts and time together. We'd go to dinner or Ed would make something — he was really good at reheating frozen burritos and making hot dogs, which I love!
"But those little gestures don't have to be for a special day. It can be out of nowhere. Us moms, we just appreciate being appreciated!"
View this post on Instagram
After filing for divorce from her estranged husband Tom Vitale last year and losing her ex-husband and "soulmate" Eddie just a couple years prior, Valerie has dealt with so much heartbreak and hardship. She recently said it's been the "hardest six years" of her life.
Fortunately, she's found a way to rise above it all and look down with an appreciation for the lessons learned and her newfound strength.
"We as women are stronger than we give ourselves credit for, but that strength comes in being vulnerable," she said. "Like author Brené Brown says, 'Strength comes in feeling those feelings and knowing that they won't last forever.'"
Valerie Bertinelli Loses a Loved One to Cancer
Eddie Van Halen died on Oct. 6, 2020, at age 65 after multiple battles with various forms of cancer. His first diagnosis, tongue cancer, came in 2000 when Wolf was just nine years old. For treatment, he had part of his tongue removed, and he was declared to be in remission in 2002.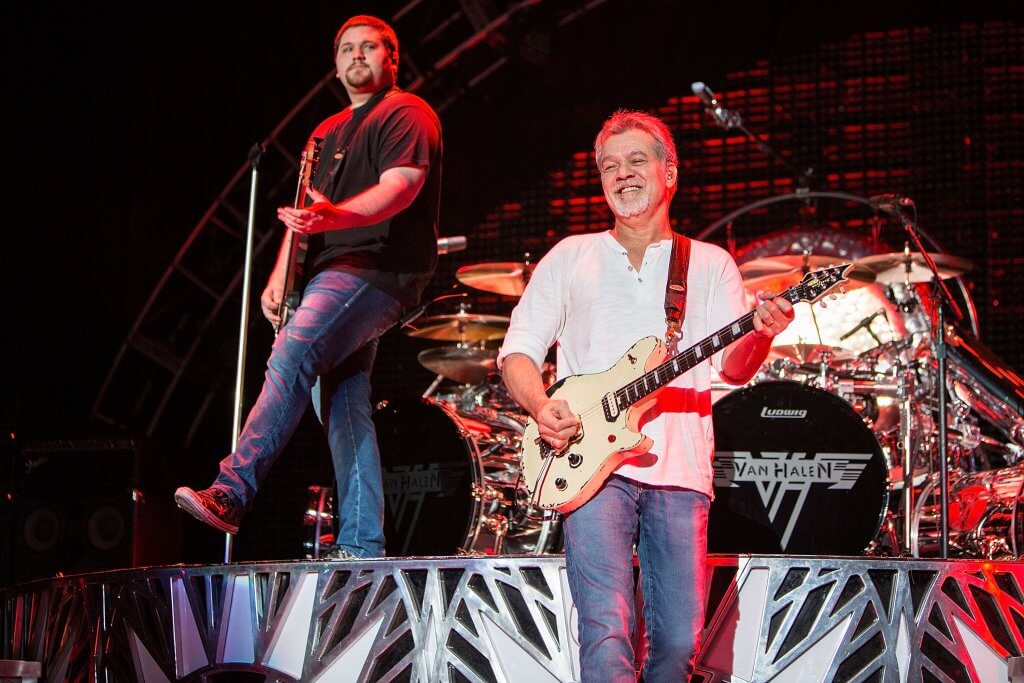 Then he was diagnosed with throat cancer around 2014 and stage four lung cancer in 2017. As if that weren't enough, a brain tumor arrived in 2019.
After obtaining a copy of the death certificate, SurvivorNet discovered that Eddie was suffering from multiple cancers at the time of his death. The document lists a cerebrovascular accident (stroke) as his cause of death, but it also lists pneumonia, lung cancer, myelodysplastic syndrome and squamous cell carcinoma of the head and neck as underlying conditions.
Needless to say, Eddie's cancer journey was a long, hard haul. And Valerie Bertinelli was amazed by her ex-husband's spirit through it all.
"Through all your challenging treatments for lung cancer, you kept your gorgeous spirit and that impish grin," she said shortly after his passing. "I'm so grateful Wolfie and I were able to hold you in your last moments. I will see you in our next life my love."
Moving Forward After Loss
Valerie Bertinelli has found comfort in sharing her story and remembering the love she shared with Eddie Van Halen. Despite their divorce in 2007, Valerie and Eddie reached "a beautiful place together" before his passing.
"Love always wins no matter what, even when they're gone," she said. "There's still that love there to be grateful for that you had."
"I Don't Want to Move On; I Do Want To Move Forward": Doug Wendt On Being A Caregiver and Tragically Losing His Wife to Ovarian Cancer
During his final weeks, Valerie joined Wolf, Eddie's second wife Janie Liszewski and Eddie's brother Alex Van Halen to comfort him until the end.
"'I love you' are the last words Ed says to Wolfie and me," Valerie wrote in her memoir. "And they are the last words we say to him before he stops breathing."
Carrying on after someone you love has died of cancer can be incredibly difficult. And Neal Unger, like Valerie, knows the pain all too well.
"When you lose someone dear to you, you are literally ripped apart and you don't know what to do," he told SurvivorNet.
66-Year-Old California Man Skateboards to Grieve His Late Love – How the Young Person's Sport Taught Him to Be Resilient: 'You Keep Rolling'
Unger's mother died of a hemorrhage related to a brain tumor when he was very young. More recently, his partner died of ovarian cancer. Thankfully, the 66 year old found solace in his passion for skateboarding.
"Thank the skate board gods," he said. "This saved my life."
Now, he's turned his saving grace into a tool for helping others. He's joined the Next Up Foundation in working to help underserved youth in Los Angeles, California, reach their goals through lessons learned from skateboarding.
"Falling down is part of life," Unger said. "And skateboarding will teach you how to fall down a hundred times. You have to get up every time and keep going."
Learn more about SurvivorNet's rigorous medical review process.