One of the most common and earliest Von Hippel-Lindau disease (VHL) manifestations are retinal hemangioblastomas. Retinal hemangioblastomas are tumors of the blood vessels in the retina. These tumors can be very aggressive and may spread to other parts of the body if they are not treated.
They account for about 60% of all VHL-associated tumors. Even though retinal hemangioblastomas are not cancerous, they can cause damage by pressing on the neighboring tissue.
What You Need to Know About Von Hippel-Lindau
Read More
Von Hippel-Lindau disease (VHL)
is a rare genetic condition that causes numerous tumors in different areas of the body. This happens as a result of a mutation or alteration in the tumor suppressor gene 'VHL' that's found on chromosome 3. These tumors can either be benign or malignant, and there's no way to predict which one a VHL patient will get. According to the
American Society of Clinical Oncology
, VHL has been linked to the onset of many types of benign and malignant tumors, and they include the following: Table 1. VHL-Associated tumors and their risk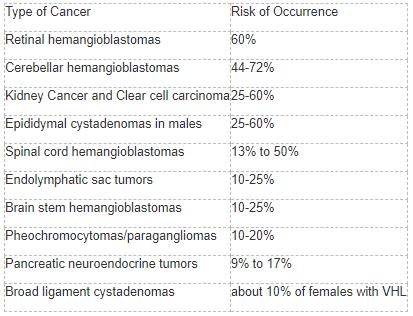 If you have a family history of VHL or suspect you might have it, you need to perform a genetic test that determines the state of your VHL gene.
Retinal Hemangioblastomas Symptoms
Symptoms of retinal hemangioblastoma may not cause noticeable symptoms at the primary stages. So, patients with VHL should be on the lookout for any signs of retinal hemangioblastoma as well as perform regular checkups every 6 to 12 months with their doctor to improve their chances of early detection of these tumors before they cause significant damage. While retinal hemangioblastoma can be asymptomatic, it can often be associated with the below symptoms in some patients:
Fluid leakage from the hemangioblastoma
Bleeding from the hemangioblastoma
Eye pain
Eye swelling
Fibrous tissue formation
Complications
Regular surveillance for symptoms of retinal hemangioblastomas can help protect patients from life-altering complications like vision loss and retinal detachment.
Retinal Hemangioblastomas Diagnosis
Diagnosing retinal hemangioblastoma is generally done through clinical examination by your ophthalmologist, who will conduct a fundus (part of the eye that's opposite to the pupils) examination. This examination takes place through specific eye drops that dilate (enlarge) the pupil to enable your doctor to get a better view of your eye and identify any tumors or lesions present.
Other diagnostic methods for retinal hemangioblastomas include the following:
If you have been diagnosed with VHL, it's better to tell your doctor so that they can schedule routine fundus examinations every 6-12 months to stay ahead of any tumors that may arise.
Retinal Hemangioblastomas Treatment
The goal of treatment for retinal hemangioblastoma is to find and remove these tumors as early as possible before they cause any damage or affect patients' vision. There isn't a specific universal approach for treating retinal hemangioblastoma; your doctor will assess your condition first and take into consideration the following parameters before they recommend a specific treatment for you. These include the following:
Size of tumor
Location of tumor
Your general health
Any underlying medical condition
Previous treatments
Your medical history
Luckily, retinal hemangioblastomas respond well to treatment when caught early and show favorable results. Below are your treatment options:
Laser Photocoagulation therapy. These are also called light therapy and they're very commonly used for tumors that are small (less than 3 mm in size) and located in the posterior area.
Cryotherapy. This therapy applies very cold temperatures (-80o C) for tumors that are medium or large in size. This technique is better for treating tumors that are far back in the periphery.
Targeted therapy. Belzutifan (Welireg) is the newest systemic treatment for some VHL-associated cancers, including kidney cancers, hemangioblastomas, and pancreatic neuroendocrine tumors; that has been approved by the FDA back in August 2021. This approval came after a clinical trial (Study 004) that was conducted on 61 patients who took 120 mg of belzutifan daily.
This drug works by blocking a specific pathway that helps in promoting tumors.
Thirty percent of patients with VHL-associated central nervous system hemangioblastoma showed a response to treatment. Twelve patients of these had retinal hemangioblastoma, and they all showed improvement after being on the treatment.
Principal investigator Eric Jonasch, M.D., professor of Genitourinary Medical Oncology shared his thoughts in an interview with MD Anderson Cancer Center saying "These data suggest HIF-2a inhibition offers an effective treatment option with manageable side effects for patients with VHL-associated renal cell carcinoma and other VHL-related tumors." He also added, "I am excited to be able to provide this impactful therapy to patients who have waited a long time for new options."
Dr. Ramaprasad Srinivasan, head, Molecular Cancer Therapeutics Section, Urologic Oncology Branch, National Cancer Institute (NCI), and principal investigator on the Cooperative Research and Development Agreement (CRADA) also said "In Study 004, nearly half of all patients with VHL-associated renal cell carcinoma, as well as the majority of patients with VHL-associated central nervous system hemangioblastomas or pancreatic neuroendocrine tumors, who were treated with WELIREG experienced a reduction of their respective tumor size. The FDA's approval of WELIREG marks an important step forward by introducing a systemic therapy that has the potential to improve the current treatment paradigm for patients with certain types of VHL-associated tumors."
Other targeted therapies include Anti-VEGF and Anti-PDGF which works on blocking these proteins and inhibiting the angiogenesis process (formation of new blood vessels). However, there's a need for further investigations through clinical trials on a larger scale to validate the safety and effectiveness of these medications.
Vitreoretinal surgery. It is a type of corrective surgery used to treat a detached retina caused by fluid leakage from the hemangioblastoma or growth of fibrous tissue in that area.
Other treatments. Other treatments that have shown promising results are photodynamic therapy and proton beam irradiation. Nevertheless, this data needs to be confirmed with further testing.
It's preferable for very small lesions (tumors less than 500 micrometers in size) that don't leak any fluids to be monitored for any changes through time rather than treated. Sometimes, tumors can be very close to the optic nerve, so it's hard to treat patients without affecting vision; this differs from patient to patient. Thus, your doctor will decide your treatment depending on the best approach that provides maximum benefits with minimal risks.
You can check The National Eye Institute for the latest recommendations and research efforts regarding retinal hemangioblastomas.
Questions to Ask Your Doctor
What are my treatment options?
Which treatment do you recommend?
What are the side effects or risks associated with the recommended treatment option?
What are my chances of recurrence?
How can I best follow up on my condition?
How can I improve my chances of recovery?
The Bottom Line
Retinal hemangioblastomas very frequently occur in patients with Von Hippel-Lindau disease. So, it's recommended that patients with VHL maintain regular surveillance every 6 to 12 months to improve their chances of early detection. Additionally, the recurrence chance for these tumors is very high.
Left untreated, these tumors can be very aggressive and cause unwanted complications like vision loss, but when caught early, they respond well to  treatment.
Depending on your case parameters, your doctor will take the best approach for your treatment. Make sure to share to sure all your questions and concerns with your doctor. Another resource is the VHL Alliance which provides information to patients and families living with VHL.
Learn more about SurvivorNet's rigorous medical review process.