Learning about Thyroid Cancer
Paige King, 25, was hospitalized after a runaway rodeo bull, named Border Crisis, lept into the stands at The Redding Rodeo in California on May 20.
She credits the bull encounter as 'life-saving' after a CT scan revealed a mass in her neck—which months later was revealed to be the beginning stages of thyroid cancer.
Thyroid cancer, like many other cancers, can be difficult to spot and early cancer detection is key to successful treatment. So, it is important to talk to a doctor if you have any concerns about your body.
Symptoms of thyroid cancer can include lump, swelling or pain in the neck, voice changes, trouble swallowing or breathing or even a constant cough., but most people have no discrete symptoms, according to one of our experts.
Paige King, 25, was hospitalized earlier this year after a runaway rodeo bull, named Border Crisis, lept into the stands at The Redding Rodeo in California.
The Californian now credits the May 20 incident, where she was among six people struck by the bull, as life-saving after a CT scan revealed a mass in her neck. Months after the event, an ultrasound and biopsy revealed the growth to be the beginning stages of thyroid cancer.
Read More
"I was sitting there with my boyfriend, and we were watching the run, and then all of a sudden, I looked to my left to glance at something, and I looked back over, and the bull was right there coming at me, so I had no initial reaction until it happened,"
King told KRCR-TV
.
"I didn't know exactly what was happening; it took me a second. And then my boyfriend picked me up, and I was like, oh, there's a bull there," she said.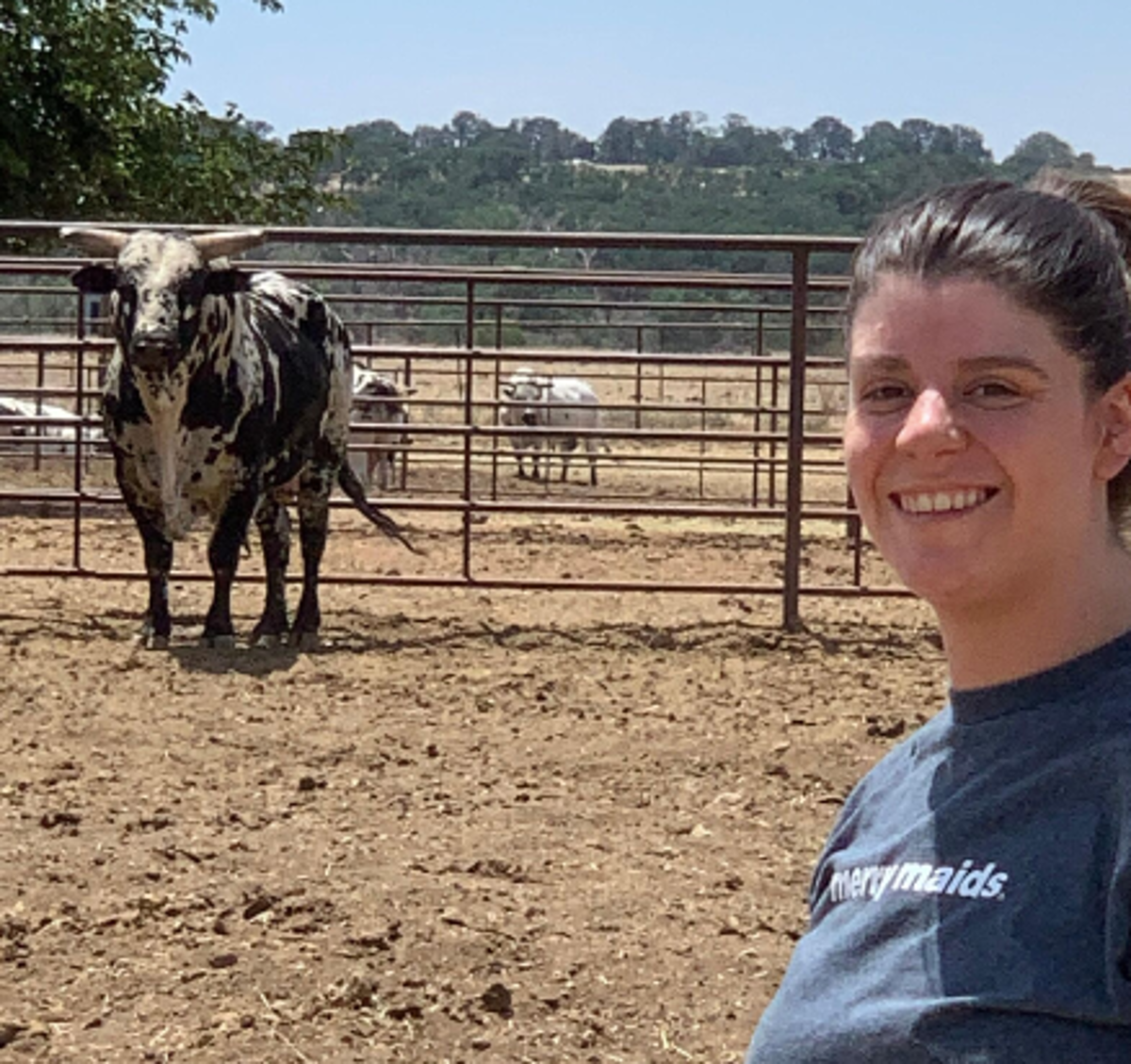 Her father, Erick Mattson, recounted the "panic moment" he felt when he realized his daughter was sitting in the front row of the stands where the bull jumped over.
"I go into looking at everybody else, but when it's your child, you're very worried and concerned, and you're not sure exactly what happened. We didn't know how badly she was injured," Mattson, who was working at the rode with his wife, said.
"We brought her to the emergency room and did a CT scan of her, and the doctor noticed a lump on her neck, secondary to any internal injuries from the incident… what could be cancer at that point," he continued.
It wasn't until months later, an ultrasound and biopsy revealed the growth in her next was malignant, which means cancer. According to the National Cancer Institute (NIH) "malignant cells grow in an uncontrolled way and can invade nearby tissues and spread to other parts of the body through the blood and lymph system."
King's mom, Jennifer Mattson, took to Facebook last month to open up about her daughter's battle with cancer.
"The next several months will be challenging but she is strong, she is surrounded by an amazing loving group of friends/family and together we will get through this," King's mom wrote. "As scary as that night was for us, we will forever be thankful that it happened and remember Border Crisis as the bull that saved her life. We know that he's living happily on the ranch and has no idea that he is our hero, but we know,"
King travels to get specialized care and treatment at M.D. Anderson Cancer Center in Houston, Texas.
And oddly enough, after learning she had cancer, King, who works as a house cleaner learned that one of her clients owns the bull that struck her at the rodeo.
"I was able to smile about it and laugh," she told KRCR. "It was a full circle moment, and I'll cherish it forever."
What is Thyroid Cancer?
Thyroid cancer is a disease that begins in the thyroid gland, which is at the base of the neck. The cancer will often present itself as a large bump (tumor) in the neck. It remains unclear what causes the disease. Some symptoms of thyroid cancer can be mistaken for a common cold.
Treatments for this type of cancer can include surgery, hormone therapy, radioactive iodine, radiation, and chemotherapy. Symptoms of thyroid cancer include the following, outlined by the American Cancer Society (ACS):
The Non-binary TikTok Star Stuck In a Hospital Room 'Radioactive,' Isolated, & Fighting Cancer
A lump in the neck, sometimes growing quickly
Swelling in the neck
Pain in the front of the neck, sometimes going up to the ears
Hoarseness or other voice changes that do not go away
Trouble swallowing
Trouble breathing
A constant cough that is not due to a cold
Related: 7 Common Signs of Thyroid Cancer & How to Spot Them
Catching A Cancer Diagnosis Early: Get Checked
When treating cancer effectively, your chance of recovery increases significantly when it's caught in the earlier stages. That's why it's so important to always get screened and talk to your doctor if you feel that something is wrong.
Cancer symptoms, can sometimes present themselves in subtle ways, and some people may brush them off as no big deal. However, you know your body the best, and Dr. Beth Karlan, a gynecologic oncologist at UCLA Medical Center, says that many women can put off getting examined up to nine months.
Dr. Beth Karlan Says 'If You Feel Something, Say Something'
Additionally, once you do decide to get checked out for a possible cancer diagnosis, it's important to be your own advocate and push for answers and a thorough examination. If you don't, the consequences can be serious.
Spotting thyroid cancer can often be difficult. The American Cancer Society reports that symptoms may include a lump, swelling or pain in the neck, voice changes, trouble swallowing or breathing or even a constant cough.
"Most people have no discrete symptoms — the majority of cases now are found incidentally," Dr. Ho said in a previous interview with SurvivorNet. "However, a sizable number of people may first discover their cancer when they feel a bump on their neck. Other possible late symptoms include problems swallowing, the sensation of something in their throat, neck compression when laying flat or voice changes."
The good news is that many of these possible symptoms, including lumps in the thyroid, are both common and commonly benign – but it never hurts to ask your doctor.
Chances of cancer recovery increase significantly with early detection, so it's important to address any warning signs of thyroid cancer, or any cancer for that matter, with a medical expert swiftly.
Thriving after Cancer
A cancer diagnosis will change your life. But we've seen so many survivors thrive on the other side of their cancer journey.
Take Marecya Burton, for example. She was diagnosed with ovarian cancer at just 20 years old. Burton was a college student-athlete looking forward to graduation at the time, but all that had to change when she was forced to move home to start treatment.
Former College Cheerleader Reinvents Herself After Surviving Ovarian Cancer
"That was definitely challenging for me," Burton said in a previous interview with SurvivorNet. "I was looking forward to graduating."
She also had planned on pursuing a law degree after graduation – another dream she had to give up.
"I really had to, in a sense, put my life on hold," she said. "Sometimes I look at where I am, and I can't help but wonder, would I be further had I not had my diagnosis?"
But instead of law school, Burton found a new passion: teaching. She became a high school teacher in Baltimore, Maryland, and she's since made peace with her new direction in life. "I wouldn't change my career for the world," she says. "It's so fulfilling."
Contributing: SurvivorNet Staff
Learn more about SurvivorNet's rigorous medical review process.
---