Surviving Cervical Cancer & Giving Birth
After having her cervix removed due to a cervical cancer diagnosis, a woman in West Sussex in England has given birth to a baby girl.
Every year in the U.S., approximately 14,480 women will be diagnosed with cervical cancer.
Symptoms of cervical cancer include abnormal vaginal bleeding, unusual vaginal discharge, pain during sex, and pain in the pelvic region.
39-year-old Emma Davis in England has given birth to a baby girl, Willow Grace; what makes this fact extraordinary is that Davis survived cervical cancer and her cervix was surgically removed as part of her cancer treatment.
Davis's cervical cancer presented in April 2013 when she noticed abnormal bleeding between her periods. This led her to see her doctor. Always seek medical attention if you notice something unusual going on with your body. Your health is critical, and you're the best judge of when something feels off – don't delay in getting help.
Read More
A biopsy revealed that Davis had a large tumor, measuring 1.7cm, on her cervix. Other
symptoms of her cervical cancer
included back pain, weight loss, abnormal discharge, and bleeding after sex, reports 
Yahoo! Life. 
Davis was diagnosed with invasive adenocarcinoma of the cervix. She had an operation in August 2013 to remove her cervix but did not need to freeze her eggs as she didn't have chemotherapy or radiation treatment – which can damage a person's eggs.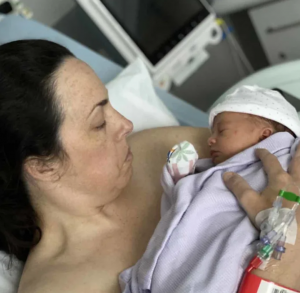 Understanding Cervical Cancer
Every year in the U.S., approximately 14,480 women will be diagnosed with cervical cancer. And nearly a third of women diagnosed will pass away from this disease.
Related: New Hope for Patients With Cervical Cancer: Adding Immunotherapy Drug to Standard Chemo Treatment Could Improve Survival Time
Screening for cervical cancer is done via pap smear and HPV DNA testing, which is recommended by the World Health Organization (WHO) as the best screening option for cervical cancer. Cervical cancer treatments may include surgery, radiation, and chemotherapy. Getting screened for cervical cancer is critically important because an earlier diagnosis may mean a better prognosis and broader treatment options.
The most common symptoms of cervical cancer can include:
Abnormal vaginal bleeding, such as bleeding after vaginal sex, bleeding after menopause, bleeding and spotting between periods, or having (menstrual) periods that are longer or heavier than usual. Bleeding after douching may also occur.
An unusual discharge from the vagina − the discharge may contain some blood and may occur between your periods or after menopause.
Pain during sex.
Pain in the pelvic region.
Should I Give My Kids the HPV Vaccine? A Leading Doctor On Why She Says "Yes!"
Cancer & Fertility Preservation
Four years after her cancer diagnosis and treatment, Davis and her husband Rob were ready to start trying for a family. For two years, they tried to get pregnant but were unsuccessful. After one round of IVF, the couple conceived a baby girl.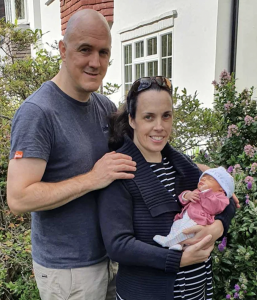 At the time of her cancer diagnosis, Davis knew that she wanted a family. So, when she was diagnosed with cervical cancer, she discussed fertility-preserving treatments with her doctor. "My doctor was focused on fertility-sparing treatment," she tells Yahoo! Life. 
Related: 'I Am Not Keeping it a Secret Anymore!' Says Sports Reporter & Cervical Cancer Survivor Erin Andrews in Powerful Essay about Fertility Difficulties
The surgery to remove her cervix and its surrounding tissue was seven hours long and executed by robotic surgery with a device call the DaVinci robot.
For people who want to have a family and are diagnosed with cancer, speak with your oncologist about ways to preserve your fertility prior to cancer treatment. People diagnosed with cervical cancer, testicular cancer, and related reproductive cancers can go on to have healthy families, thanks to modern fertility treatments like egg freezing, sperm freezing, and IVF.
Preserving Your Fertility Before Cancer Treatment
Learn more about SurvivorNet's rigorous medical review process.