Saved By Her Cough
Sharon Johnson, 54, suffered from chronic bronchitis, but noticed her cough was getting worse and she thankfully went to the emergency room. It was stage 4 ovarian cancer that had spread to her lungs and various other organs.
One of the most difficult aspects of ovarian cancer is diagnosing it in the first place. That's because the symptoms can often be vague, and as in Sharon's case, may not initially be connected cancer.
Advocating for your health when sometimes doesn't feel right in your body and going to get checked is crucial, and the only way to catch cancer or other disease before it's too late. Be proactive, and always listen to your body.
Bristol, Connecticut native Sharon Johnson, 54, suffered from chronic bronchitis since she was young, but last December, noticed her cough was suddenly getting worse. After doctors ordered a scan, they determined that she had fluid built up in the cavity of one of her lungs. It was cancer.
They determined that the cancer was coming from her ovaries, and that it was stage 4, as it head spread to other organs besides her lungs.
Read More
Stage 4 ovarian cancer in both of her ovaries was found on the CT Scan, the cancer had spread to other body organs as well.
Although there has been progress with treating advanced ovarian cancer, it is a very difficult diagnosis, and the disease is much easier to treat at an earlier stage, which is the case for most cancers, but especially with ovarian.
Related: Healthy Nurse Thanks 'Voice In Her Head' About 'Tiny Symptoms' Such As Vaginal Bleeding That Led To Her Catching Her Cancer Early
As many patients will do following a diagnosis, Sharon racked her brain for other symptoms she may have experienced sooner, and recalled complaining about bowel problems and "pain in her abdomen" back in 2013. However, it's often impossible to tell in hindsight, and when the cancer actually reared its head.
The important part is that she discovered it before it was too late, as the survivor is happy to report that she appears to now be free of disease. The risk is high for it to come back, but the treatment was successful, and she is extremely lucky, considering how far advanced it was.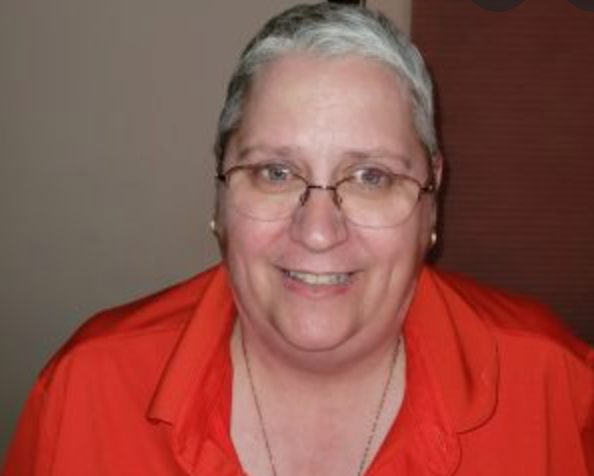 When she had her surgery, Sharon's medical team actually found that is was much worse than they had determined, even thought they had already assessed it at stage 4. It is often difficult to stage ovarian cancer until surgery, but in this case, it was evident.
Sharon had cancer in her ovaries, appendix, fallopian tubes, spleen, stomach, omentum (a fatty tissue from your stomach that folds over your intestines), and her intestines.
Related: How Did 'How I Met Your Mother' Star Cobie Smulders, 40, Beat An Aggressive Ovarian Cancer?
"Dr. Jorgensen is fantastic, she takes her time during appointments and cares about the whole person, asking about my family and my cat," Johnson told UConn Health of her experience getting treated at their hospital. "She got me right in and did not waste any time, she scheduled my surgery right away."
Not only is Sharon working on healing physically, but she's making sure she is taking care of her emotional health as well, which is just as important (if not more, sometimes).
"While I used humor to deal with my diagnosis, I didn't know how to express myself without upsetting the people around me," says Johnson. "Dr. Cooney, really helped both me and my husband, who had just lost his father, was caregiving for his mother and now told his wife had cancer."
What Still Brings You Joy? Your Emotional Health is So Important to Living with Ovarian Cancer
Sharon has gained back her independence, her hair is growing back, and she's even back at it with her bowling league.
"My mom taught me to be a strong, independent woman, but when you get socked with cancer you lose your independence and I had a hard time with that," Sharon shared. "Your whole world is turned upside down, but I have learned to not be afraid to ask for help."
"While the cancer is gone, there is an 80 percent chance it will reoccur so I am more aware of what is happening with my body," Johnson added.
Diagnosing Ovarian Cancer
One of the most difficult aspects of ovarian cancer is diagnosing it in the first place. That's because the symptoms can often be vague, and as in Sharon's case, may not initially correlate directly to cancer.
Related: Ovarian Cancer—The Cancer That Whispers
"I think what's really challenging about ovarian cancer is that, while it's sometimes referred to as silent, I would say it's more subtle than silent," says Dr. Karen Zempolich, gynecologic oncologist at St. Mark's Hospital in Salt Lake City. "Most women have some symptoms. It's just that they overlap with so many other things."
Ovarian Cancer Warning Signs Can be Subtle
Most warning signs of ovarian cancer relate to pain or discomfort in the abdominal area. These can include:
Feeling full more quickly
Bloating
Abdominal discomfortNausea or upset stomach
Changes in bowel movements
Swelling in the pelvic area
"Most of the symptoms are focused on the abdomen," Dr. Zempolich tells us. "There's some sort of upset stomach feeling or getting full earlier, rather than eating a full meal without the sensation of having a full stomach."
Keep in mind that this doesn't mean every time you feel full or bloated it could be a sign of ovarian cancer. The difference when it is cancer is that these symptoms will happen without any triggers attached to them.
Related: 'Severely Bloated' Woman, 64, Was Misdiagnosed With Irritable Bowel Syndrome: She Learned It Was Cancer After She Pushed For A Second Opinion
"Anybody who eats a really spicy meal will have some indigestion, bloating, or maybe changes in their bowel movements," says Dr. Zempolich. But symptoms that last for two to three weeks and don't have any obvious cause are worth telling your doctor about and "thinking about whether or not there is something going on in the abdomen or pelvis related to the ovaries."
Steps to Diagnose Ovarian Cancer
If you're having continuous pain in the pelvic area, you may not be sure which type of doctor to visit. Dr. Zempolich recommends starting with whichever doctor you see on a regular basis: a primary care physician, nurse practitioner, or your OB/GYN, which many younger women may visit more often than their internist.
Related: 3 Common Myths About Ovarian Cancer Screening
After hearing your symptoms, the doctor will start with a pelvic exam. "As part of that exam they'll feel through the vagina and the rectum for any masses inside the pelvis that might suggest ovarian cancer," says Dr. Zempolich.
Once a pelvic exam has been completed, your doctor will likely do one or both of the following tests:
A pelvic ultrasound to look at the ovaries more closely
A CA-125 blood test, which looks for specific proteins in the blood that may be tumor markers
While these tools are useful in pinpointing the cause of your symptoms, there are no true screening methods when it comes to ovarian cancer. "[These tests] just aren't specific enough," says Dr. Zempolich. "They can be normal, and cancer can be present and [your CA 125] can be elevated from things that are not ovarian cancer."
A Key Marker for Ovarian Cancer– What is CA-125?
This is where a crucial part of diagnosing ovarian cancer comes in: you. It's important to be your own health advocate if you sense something is wrong with your body, so you can get the proper care when you need it. Seek out medical expertise as soon as possible, and if you're not satisfied with the results of your pelvic exam and subsequent screenings, don't be afraid to get a second opinion.
Related: Your Diagnosis May Be Difficult But You Deserve Comfort and the Best Care — How Can Cancer Survivors Advocate For Themselves?
According to the American Cancer Society, only about 20% of ovarian cancers are diagnosed at an early stage. The earlier you make an appointment with a doctor and start asking questions (and more questions, if needed), the quicker you can get the proper care and treatment you may need.
Sharon was very lucky for doctors to find no evidence of disease, although there is a higher risk of it coming back, as she mentioned. That's why it's crucial to pay extra attention to your body, to stay ahead of a potential advanced diagnosis.
Learn more about SurvivorNet's rigorous medical review process.