Woman's Uterine Cancer Leads to Hysterectomy
A Macedonian woman living in the UK was told her symptoms of uterine cancer were just gluten intolerance; doctors in her home country later found a 14-cm tumor on her uterus. She had a hysterectomy to treat it, and is in remission today.
Uterine cancer is sometimes called "endometrial cancer" and it's a type of cancer that starts in the uterus. Treatments for this disease include surgery to remove the uterus, radiation, hormone therapy, and chemotherapy.
It's important to be an advocate for your health, and be "pushy" if need be; lead each doctor's appointment with a plan.
Dafina Malovska, a woman from Macedonia living in the UK, recalls with total clarity how she felt "terrified" that she would die when she was diagnosed with uterine cancer in 2014.
Malovska penned a powerful essay for Metro UK about her experiences; in the piece, she urges women to take care of their gynecological health, do their regular exams and pap smears, and speak up. She wants women living in the UK to avoid what happened to her.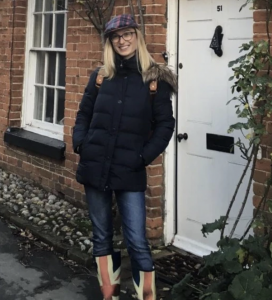 Read More
Malovska says that in contrast to her native Macedonia, the dialogue around women's health in the UK is abysmal. "I feel like there's also less emphasis on women getting regular check ups (except for things like smear tests) unless something is wrong," writes Malovska. "I know this because it happened to me."
Related: 'Nanny' Star Fran Drescher Continues to Thrive 21 Years after Uterine Cancer Fight, Is Running for Screen Actors Guild President
She writes about her experience for Metro, recalling her early symptoms, too. "In June 2014, I noticed I was extremely bloated and I couldn't even sit down, which persisted for months."
Her doctor initially said that Malovska simply had a gluten intolerance. "I didn't feel like I was being listened to at all," she writes. "I visited my GP four more times over a few months but they never examined or even touched my stomach once. I was only recommended to eat Activia yogurt, which made me feel neglected and like I wasn't taken seriously at all."
In October 2014, Malovska began bleeding between her periods so she went to see a gynecologist. But she was planning to visit her family in Macedonia, so she saw a gynecologist there instead. "As soon as they did a routine pelvic examination, they discovered that I had a 14cm tumor on my womb and I needed to remove it so that I could still potentially have children in the future," she writes.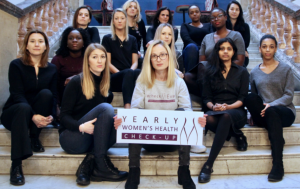 Malvoska was in shock at the diagnosis. After she had surgery she was told by her doctor, "'You have stage two womb cancer that has also spread to your ovaries – you must have a second operation this evening to remove your reproductive organs.'"
Malvoska says that her life has changed completely since that day in 2014 when she had two operations to treat her cancer. "My total hysterectomy meant that I lost the ability to have my own children and I was put into immediate surgical early menopause," she explains.
"The surgery was a success, and I am in remission. Thankfully, I didn't have to have any chemotherapy."
As a result of her harrowing experiences and misdiagnosis, Malvoska has used her voice to empower others and serve as an example of the importance of being thorough when advocating for your health.
"I realised that women's health in the UK is not taken seriously enough and it is failing women of all ages," she concludes.
Understanding Uterine Cancer
Uterine cancer – also called endometrial cancer – occurs when cancer cells develop in the lining of a person's uterus. This year, approximately 66,570 people will be diagnosed with this type of cancer, according to the American Cancer Society (ACS).
In an earlier interview, Stanford Gynecologic Oncologist Dr. Diana English explains there are several conditions that may predispose someone to getting uterine cancer. "These patients might not be thinking about this, their primary care providers may not be speaking to them about this," says Dr. English. Those conditions are:
Hypertension
Diabetes
Polycystic Ovarian Syndrome (which is marked by the absence of regular periods)
Obesity
Hyperandrogenism (elevated male sex hormones)
Lynch Syndrome
Understanding the Risks and Symptoms of Uterine Cancer
Being an Advocate for Your Health
It's important to be an advocate for your health and push for answers when something feels off in your body. "Be pushy" when necessary, experts tell us. Two-time breast cancer survivor Marc Futterweit recalls in an earlier interview how he felt ashamed to be diagnosed with breast cancer, and his initial impulse was to ignore his symptoms.
Related: Be Pushy, Be Your Own Advocate… Don't Settle
Since surviving male breast cancer, however, Futterweit has become an advocate and for standing up for your health. He says, "If you feel something, say something." Futterweit is a proponent of speaking up when something feels off. His breast cancer diagnosis came after he found a lump on his chest in the shower, and his doctor recommended he get a mammogram. "The problem with men is that they wait, and they think things are going to go away," says Futterweit. "Once they're diagnosed, sometimes it's too late."
If You Feel Something, Say Something — Men Ignore Symptoms Too Often
Learn more about SurvivorNet's rigorous medical review process.