Cancer blogger and author Heidi Louglin has been banned from all Airbnb properties after using aggressive language, which the company deemed "abusive."
Heidi runs a cancer blog called Storm in a Tit Cup, which chronicles her experience with stage 4 breast cancer. Heidi, a mother of two, was pregnant at the time of her diagnosis in 2015 and put off treatment, hoping she'd be able to bring her daughter into the world. But tragically, her child died at just 8 days old. A lot of people find Heidi's candor really refreshing — she gives an open, honest take about the reality of dealing with the day-to-day when you have advanced cancer.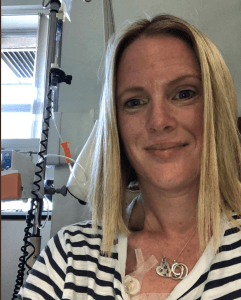 Read More
So when Heidi shared that she had been banned from every Airbnb in the world (about 6 million properties), she was met with a lot of support from friends and fans alike. The controversy began when Heidi booked an Airbnb home in the U.S. for a visit (she's Bristol, UK-based). The host apparently cancelled the booking just weeks before Heidi was supposed to make her trip, and was refusing to pay back a 200 pound deposit she paid. The host told the blogger she would need to contact Airbnb for a refund — which she did. But apparently, at some point while Heidi was making the complaint she used the C-word.
"I dropped the C-bomb," Heidi told the Daily Mail. "I tweeted Airbnb and complained and eventually they sorted it out. But they said they had to ban me because of my language."
Airbnb explained their decision in a statement, writing, "We do not tolerate abusive language of any kind and have Standards in place which we ask all of the Airbnb community to agree to. As a result, we have removed this user from the platform."
Heidi shared the story of her banning with Facebook and Twitter followers and was met with much support — with several Twitter users even agreeing that Heidi's harsh language was quite warranted. Heidi told the Daily Mail that she does not regret using the word Airbnb deemed "abusive," and that the whole situation caused her to "see red."
"It was like waving a red flag at a bull," Heidi said. Heidi's followers seem to be finding amusement in the story, and several have commented about other services she can use to book future vacations.
And though in this instance it's easy to fault Airbnb for its swift choice to ban a user who is battling incurable cancer, the company has done right by those undergoing cancer treatment in the past. Earlier this year, Airbnb announced a new Open Homes for Medical Stays program, which aims to find hosts who are willing to open their homes free of charge to people who need to travel for medical treatment. The home-sharing app also made a hefty donation — $1.2 million in grants — to the Bone Marrow & Cancer Foundation and the Cancer Support Community to help pay for travel expenses for patients when Airbnb homes may not be available.
As for Heidi, she shared with Twitter commenters that she could still book through Airbnb using other usernames if she wanted, but after this recent headache, she's willing to give other home-sharing apps a try.
Learn more about SurvivorNet's rigorous medical review process.