Hazel Medina is 15 years old, she loves wrestling, and she has a terrible tumor on her spine. It may be her passion for sports that lead the Oakland Raiders quarterback Derek Carr to stop by recently for a visit to her hospital room.
Hazel described her own diagnosis on her GoFundMe page as "a tumor in my spinal cord which is eating away the bone and moving into the spinal fluid," and said there were "little masses [tumors] which are surrounding the bones."
Read More
She compared the diagnosis to wrestling in the interview. "Wrestling is hard but whenever I'm in pain I mostly take it. But now it's like constant and I have to really fight."
"I want her to get better to be able to take her home so that way she's able to function and do things she's used to doing and be her normal self again," said Hazel's mom in the interview.
"He asked us if he could pray with us and he prayed for her. He talked to her for a little bit," said Hazel's dad.
He also asked Hazel who she rooted for when it came to football, and she knew her answer immediately. "The Cowboys," she replied, "because I just kind of grew up with that and I fell in love with them."
Carr told Hazel he wants to see her standing next time he stops by.
Tuesday the soon to be sophomore at Coalinga High begins chemotherapy. Her treatment could take up to fifteen months but she's determined to fight.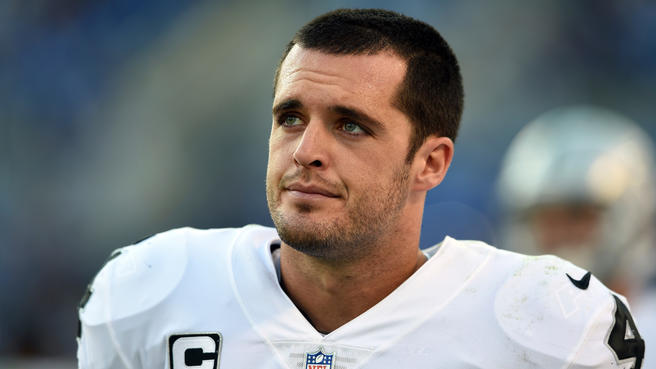 Information on pediatric spinal cord cancer 
According to the National Cancer Institute, which provides quality information on pediatric cancer, treatment for childhood spinal cord cancer often include some combination of surgery, chemotherapy, and radiation therapy.
In addition, researchers are testing a new treatment in clinical trials that would include high dose-chemotherapy with an accompanying stem cell transplant. For a stem cell transplant, doctors remove stem cells either from the patient before chemotherapy or use stem cells collected from others. After the patient receives chemotherapy, which kills a lot of stem cells, doctors replenish the body with the collected stem cells. It's essentially a way to safely deliver huge doses of chemotherapy.
Childhood brain and spinal cord tumors may cause signs or symptoms that begin before the cancer is diagnosed and continue for months or years. They include back pain or pain that spreads from the back towards the arms or legs, a change in bowel habits or trouble urinating, weakness in the legs, and trouble walking.
In childhood spinal cord cancer, there is a change of recurrence. The tumor may come back in the same place or in another part of the spinal cord, or in other parts of the body, and return many years after first being treated.
Hazel's journey with cancer
Hazel has had two surgeries so far, according to the Fox26News. In the description for her GoFundMe page, which she wrote before the surgeries, she said that the purpose of the first was to relieve some of pressure on her spinal cord, and that the second was to remove the masses and the tumor if the first surgery went well.
On the GoFundMe page, Hazel also wrote about growing up in a family of wrestlers, and the numerous competitions she's participated in throughout her life. "I've wrestled almost all my life. Wrestling has played a huge role in my life along with my families. I have placed at many tournaments, beat various boys, have multiple metals, and so on. I have even placed at a large national tournament which allowed me to bring home an eagle."
When she got to high school, she was immediately recruited to the varsity team. "I was on varsity this year which was my freshman year as well," Hazel wrote.
But her wrestling came to an end (at least for now) when she began feeling pain in multiple parts of her body. "Recently, my life has turned upside down. I've been to multiple doctor visits to only be diagnosed with something I did not have. It began with my shoulder, back, then ended with my legs."
And as her symptoms worsened, Hazel described, she lost a lot of her mobility. "I was unable to sleep due to how uncomfortable my shoulder felt, later I was unable to stand, sit, jump, and so much more, after my legs began to become weak and I was unable to walk without being hunchback."
She was initially prescribed some medication, but it didn't help the pain she was having. "I was put on medication that did not help me, or perhaps I did not need the medications my doctors prescribed."
"After the surgery's, I will have to remain where I am to have therapy to walk again. This is a very tough time for my family, and I. I appreciate all the support, prayers, and love that I am receiving," Hazel wrote.
Learn more about SurvivorNet's rigorous medical review process.