Real housewife of Atlanta Nene Leakes says her husband Gregg, who has undergone chemotherapy treatment for his stage three colon cancer, seems like he is feeling better.
"Gregg is doing really well. He did a PET scan a couple of days ago," Nene told Hollywood Life. "Next week he will get the results to see if he has cancer in his body — has it spread, does he need more chemo?" A PET scan is an imaging test that doctors use to detect cancer and determine its stage.
Read More
Chemotherapy protocol for stage three colon cancer
Gregg was diagnosed with stage three colon cancer, which means that the cancer spread to the nearby lymph nodes. According to Dr. Paul Oberstein, Medical Oncologist at NYU Perlmutter Cancer Center, that's part of the reason that chemotherapy is so important for stage three colon cancer. "In colon cancer, we now know that if tumor cells have reached the lymph nodes, they may be hiding in other parts of the body, too," says Dr. Oberstein. "Although they may be too small to be seen, they can cause the cancer to come back. Because of that risk of recurrence, anyone with a tumor in their lymph nodes is recommended to undergo chemotherapy after surgery."
Dr. Paul Oberstein on chemotherapy treatment for stage three colon cancer
Chemo lasts three to six months and is a combination of several medications that clinical trials have shown to do the best job of preventing the cancer from coming back. The most common combination is called FOLFOX, which is an acronym for three different medications that are given together: 5-fluorouracil/5-FU, leucovorin and oxaliplatin.
These medications are usually given through an IV which means you'll be hooked to an IV pole in the doctor's office every couple of weeks. There can be side effects to FOLFOX in some people such as low white blood cell count, diarrhea and numbness in the fingers and toes, but this combination is safe for most patients.
Nene and Gregg are hopeful and positive
Overall, Nene's feeling pretty positive about the coming results. "I'm pretty sure that Gregg is going to be good. I just can see it," NeNe continued. "When I look at him, it's like, 'You look great! You're going to be fine. You look amazing!'"
After he got the tests, Gregg posted a photo on Instagram of his hand during the blood drawing process, and wrote a hopeful message to go with it, "Almost time to shout Victory…. God is a Healer & I Believe…"
And his fans responded with a lot of love and support. "love u n ur wife [sic] i will start my first chemo today n im so fearful," wrote one fan in the comments. "AMEN I'm in agreement with you in JESUS NAME AMEN!!!! [sic]," wrote another.
Nene and Gregg even celebrated with a party. "He rang the bell or he hit the gong and he wanted to have a party so we had a party at our house for him," she says of the event, "like an old school kitchen party" with dancing.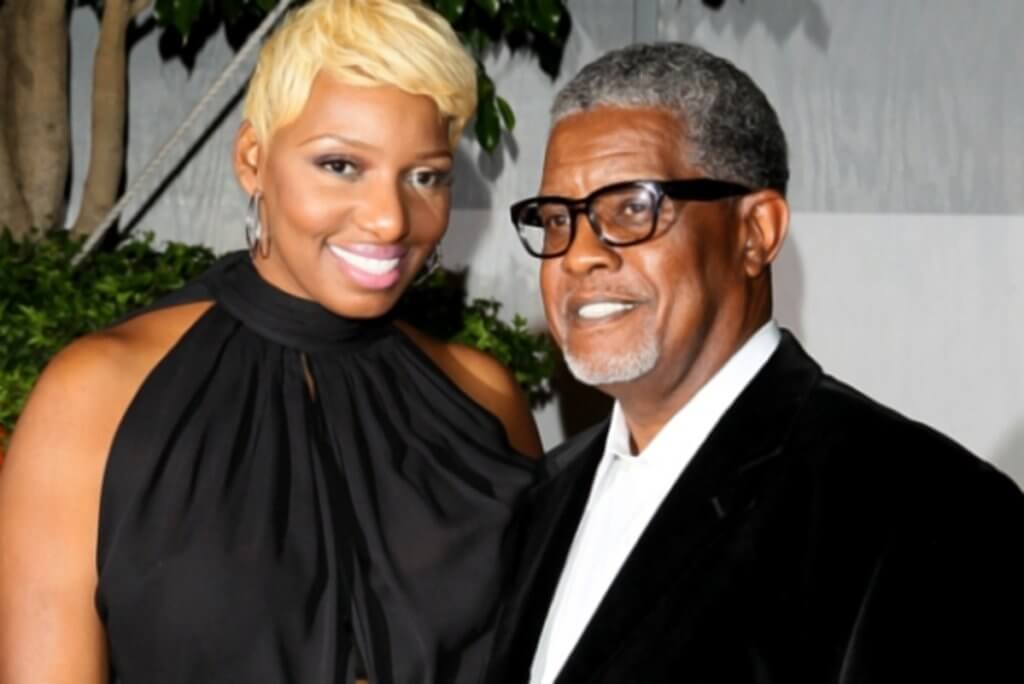 Nene Leakes and her husband Gregg, who are awaiting results from tests after Gregg's chemotherapy treatments
Gregg and Nene have been public about the fact that gregg's cancer took a major toll on what was already a very difficult relationship. In an earlier interview, Nene said "Gregg is not a walk in the park," Nene told host Andy Cohen as a cowed Gregg sat by her side. "Not even if he didn't have cancer, he is not a walk in the park," NeNe said. "Our relationship is not great. It really put a strain on us."
But now that Gregg is doing a little bit better, Nene seems to be enjoying their relationship a little more too. "We're doing good. We hope to be doing great, but we're doing good," NeNe says.
They've even used some therapy to move past their differences. "We actually stepped into a therapy for the cancer — a therapist," NeNe said, and noted that "it's been really helpful" because they've been "through a lot." Elaborating on that, NeNe explained, "Gregg was absent from our marriage for almost a year, so it was a lot."
Gregg, who has stage three colon cancer, initially refused chemotherapy treatments. Leading doctors stressed to SurvivorNet that middle aged men and women really need to get screened even if they don't think they're at risk for colon cancer.
"You should be screened for colon cancer, even if you have no family history," says Dr. Heather Yeo, Colorectal Surgeon and Surgical Oncologist at Weill Cornell Medicine and NewYork-Presbyterian.
"Colon cancer is considered a silent and deadly killer," continues Dr. Yeo. "What happens is people often don't know that they have colon cancer. They don't have any symptoms. That's why we screen for colon cancer in the United States."
The best, most accurate form of colon cancer screening is the colonoscopy. During a colonoscopy, doctors insert a tiny camera on a flexible tube into the patient's rectum, and look for small growths, called polyps. These polyps can turn into colon cancer if left undetected and never removed. If doctors find a polyp during a colonoscopy, they remove it using  something called a colonoscope.
Gregg also posted a pre testing Instagram to as prayers from his fans and followers. "Good Morning World.. I'm asking for your Prayers as i take my body scan this am to see if there is any cancer in my body. I KNOW I'm healed by the Promises of God, by the Blood of Jesus and by your Prayers. I Thank You for your Prayers all the time and especially today as i take this Scan shortly. To God be the Glory and May HIS WILL take place in Heaven and on Earth. I go in this morning claiming Victory as i don't know defeat. My God shall supply ALL my needs.."
Nene is Gregg's primary caretaker, but she says she's getting a lot of support from her immediate network, as well as her online community.
Learn more about SurvivorNet's rigorous medical review process.