A Fan's Dream Come True
Singer Demi Lovato, 28, has inspired millions of fans with her lyrics, and one superfan just beat leukemia, citing the pop star's music and support for helping her through. "I love you," Lovato tells her fan on Instagram.
Lovato's fan, named Larissa, says "Demi, you were present in all these months of fight. You won with me. I can't even think in words to express how important you are for this world."
Cancer survivors tell SurvivorNet  that music can be "transformational." One survivor says music doesn't make disease go away but it does "let us dance on our problems."
A superfan of pop singer Demi Lovato has credited the singer and her music with helping her beat leukemia, and Lovato, 28, has supported her fan with personal messages of support on her social media along the way.
Related: For Actor Val Kilmer & Millions Fighting Cancer, There's New Evidence Art Helps Reduce Anxiety
Read More
The Brazilian fan, named Larissa, shared teary photos of her battle on her Instagram stories with these captions: "THEN: I thought I wouldn't be strong enough to get thru cancer." Larissa's next post says, "NOW: I'm alive, healthy, strong, happy, and CANCER FREE" to which Lovato re-posted with a "Wow, this is incredible!!! THANK YOU!!!!" with double-high five, prayer, and heart emojis, then writes "I love you."
Related: Leukemia Survivor Says Symptoms Were First Dismissed as "Teen Hormones" & Now Has Early Menopause from Treatment; "I Kept Getting Told to Change My Lifestyle"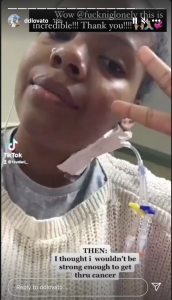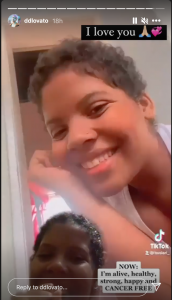 View this post on Instagram
Larissa described a more detailed description of her battle with leukemia on her own Instagram page, and how Lovato's music helped. "This year has been really hard for everyone but a little bit harder for me. In the middle of this pandemic, I was diagnosed with leukemia, something I didn't expect. And because of this virus, I wasn't able to see my family."
Related: A TikTok User Who is "Trying to Make Cancer Cool" Beats Leukemia Three Times; Inspires His Nearly 100,000 Followers
The Rio de Janeiro native credits Lovato's music as her refuge. "You don't even know me, but at the hospital, you were the person who I listened to every single day. When I was missing my family I used to put 'my love is like a star' on and this made me feel a little more closer to them. My first hospitalization lasted 53 days so the day my doctor came into my room and said I was able to go home I literally spent all day listening and dancing to your songs in my hospital room."
Related: 'The Beatles' Paul McCartney Recalls Cancer Survivors Thanking Him: 'Your Music Really Helped Me Get Through'
When Larissa lost her hair, she especially needed her idols songs of encouragement. "Months ago at the beginning of this fight, you wrote something so beautiful to me when you saw my video. You believed in me when I didn't and now I really won this fu**ing cancer. You said I inspired you but girl you have been my inspiration for more than 8 years now."
She concludes with, "Demi, you were present in all these months of fight. You won with me. I can't even think in words to express how important you are for this world. How much difference your songs made in this world and in my life. I love you."
View this post on Instagram
A Mental Health Advocate
Lovato has had a very public and private battle of her own with her mental health and past addiction issues. The role model and mental health-advocate has wrote about these experiences in her lyrics, which resonate with fans around the world going through a hard time like Larissa. "What I would say to somebody who's struggling right now, is try to find the gratitude," Demi shared in an interview with E!. "It's so important that you try to find gratitude in your life and focus on the positive things and when you're able to do that, or you're able to help others, you're able to get outside of yourself and you're able to look at your life from a different perspective." She then added, "Sometimes it's really challenging and it's really difficult, but it's something that helps me every day, and so far it's worked."
The lyrics to Lovato's 2013 hit 'Warrior' especially resonate with cancer survivors. "Now I'm a warrior, now I've got thicker skin / I'm a warrior, I'm stronger than I've ever been / And my armor is made of steel, you can't get in / I'm a warrior, and you can never hurt me again."
View this post on Instagram
Music In Healing
Music has helped so many people get through various obstacles in their lives: Mental health issues, addiction, breakups, deaths of loved ones, and the cancer community has used various songs like Lovato's as their battle cries. Cancer survivor Joel Nafterberg told SurvivorNet in a previous interview about the power of music in his own cancer battle. "I have found music and rock and roll to be transformational," he said, adding that it "lets us dance on our problems for at least an hour or two." Nafterberg also said that he feels very "blessed" to have had some of his favorite artists as friends. "The people that were my heroes in entertainment and rock and roll have been my friends and have been some of the most supportive people that I've had in my life," he said.
Cancer Survivor Joel Naftelberg Learned to Dance on His Problems
Cancer and Art Therapy 
Not only does music help people power through tough times like cancer battles, but other forms of art like painting can also be therapeutic for healing. Mother, artist, and three-time cancer survivor Marianna Cuozzo told SurvivorNet about her healing journey while going through her battles in a previous interview. "I was diagnosed with cancer in 1994 when I was 28. I was diagnosed with Hodgkin's lymphoma, stage II B. Having gone through several times– 3 times cancer– throughout my life, from when I was 28, to 32, when I was in my 40s– to say that cancer has been my whole life is pretty much accurate." Cuozzo talked about an art studio she had in her home, and the charcoal drawings she would do. "No one was meant to see them because it was just for me and, my cathartic getting out my anger." She also talked about her breast cancer and the issues she had. "It became a body image (issue). Everyone has something that they don't like their body." She struggled after having her breast removed but said she's "doing the best I can to feel beautiful in this new body. "My artwork is very reflective of my cancer journey. To be sexual– it's in my head. It's not in the body. It's in the mind. It's here," she said, pointing to her head. "And to feel beautiful is in here."
Three time cancer survivor, Marianna Cuozzo, talks to SurvivorNet about how art helps her express herself
Learn more about SurvivorNet's rigorous medical review process.