Baring All for Breast Cancer
Three friends in the UK who are breast cancer survivors posed together to celebrate their scars.
Breast cancer treatment options can include surgery (like a mastectomy), chemotherapy and radiation therapy.
Women who have not yet gone through menopause should get mammograms every year.
Three women in the UK, Eleanor Howie, Caroline Scott and Laura Middleton-Hughes, are friends and breast cancer survivors, and they are bravely sharing their battle with the world.
Related: PHOTOS: Celebrity Cancer Survivors
Read More
The three friends posed together in lingerie to show what an empowered breast cancer survivor looks like. Middleton-Hughes, 32, says that after she had a mastectomy she felt "frumpy." She says, "I didn't think I would
ever feel sexy again
," reports 
The Daily Mail.
"But you learn to love your scars because ultimately they are reminders of what saved your life," says Middleton-Hughes.
The three friends decided to take photographs together "to prove breast cancer sufferers should never be ashamed of their scars." Scott works for Keeping Abreast, a support group for women who have undergone mastectomies. Scott was diagnosed with triple-negative breast cancer in 2013 and had a mastectomy to treat her disease.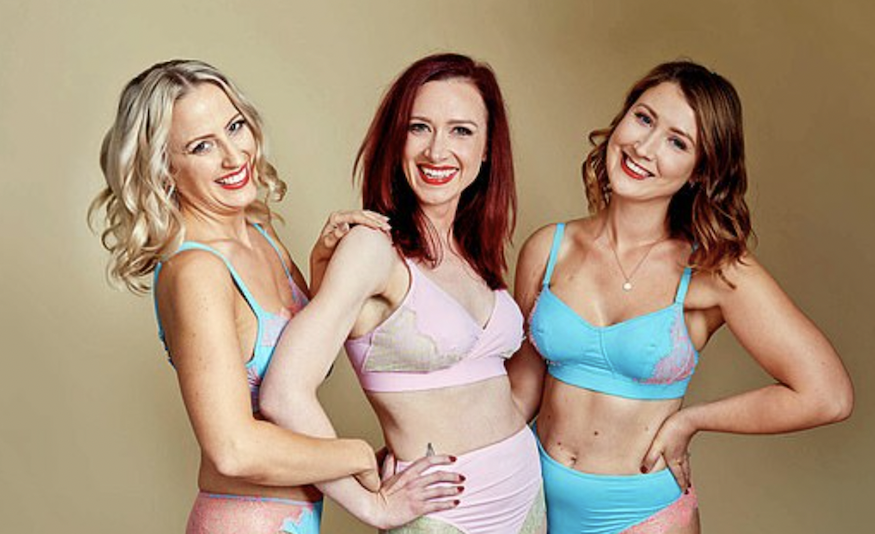 Getting a Mastectomy
Undergoing a mastectomy is a life-altering process and one of several treatment options for breast cancer.
Related: Breast Cancer: Overview
Dr. Ann Partridge, an oncologist at Dana-Farber Cancer Institute, says in an earlier interview, "So when I talk to a woman who comes to me and she has breast cancer, I evaluate what the standard options for treatment for her are, which typically include cutting out the cancer– which is either a lumpectomy if you can get it all with just a little scooping around of the area that's abnormal or a mastectomy for some women meaning taking the full breast because sometimes these lesions can be very extensive in the breast."
Related: What Are the Options if You Have a High Risk of Developing Breast Cancer?
Dr. Elizabeth Comen, a medical oncologist at Memorial Sloane Kettering, says in an earlier interview, "Depending on the size and other features, such as family history, a patient may opt for more aggressive surgery.  And so even for early-stage one breast cancer, a woman may elect a mastectomy to remove her whole breast."
Related: Her Other Half: How Christina Applegate Shares "the Cancer Gene" — and a Double Mastectomy — With Her Netflix Character in "Dead To Me"
"Sometimes, this is something that's done prophylactically, meaning a woman just has a high risk of breast cancer in their family," says Dr. Comen. "And so to prevent breast cancer, they're thinking about removing their breasts. There are some women that might say at age 25 they want a bilateral mastectomy in which case they won't need any screening in terms of imaging for the rest of their lives."
"So once you remove the breast, they're gone. They don't grow back and that it can be incredibly personal to psychologically and physically prepare for that kind of surgery."
When Should You Consider a Mastectomy?
Breast Cancer Screening: Getting a Mammogram
Breast cancer is typically detected via mammogram, which looks for lumps in the breast tissue, and early signs of breast cancer. Dr. Connie Lehman, the chief of the Breast Imaging Division at  Massachusetts General Hospital, says in an earlier interview, "If you haven't gone through menopause yet, I think it's very important that you have a mammogram every year. We know that cancers grow more rapidly in our younger patients, and having that annual mammogram can be lifesaving."
Related: When You're Getting a Mammogram, Ask About Dense Breasts
"After menopause, it may be perfectly acceptable to reduce that frequency to every two years," says Dr. Lehman. "But what I'm most concerned about is the women who haven't been in for a mammogram for two, three, or four years, those women that have never had a mammogram. We all agree regular screening mammography saves lives. Every doctor that I know, every organization that I know really encourages women to have a mammogram."
Related: Learn Your Risk and Listen to the Guidelines: An Important Message About Breast Cancer Awareness
"I want to be completely clear. If you are between 50 and 74 and you have not had a mammogram in the last two years, you are overdue. Please get a mammogram."
When Should I Get a Mammogram?
Learn more about SurvivorNet's rigorous medical review process.