Cancer vs. IBS: Knowing the Difference
Symptoms of colorectal cancer, which is cancer that grows in the colon or the rectum, can often mimic other gastrointestinal conditions
Roberto Cowan suffered from irritable bowel syndrome (IBS),  so he was used to diarrhea, constipation and a little bit of blood in his stool. But it was when there was more blood during bowel movements that he got the diagnosis he needed.
Cowan was only 30 years old at the time of diagnosis, becoming part of the growing population of younger people getting colorectal cancer.
Cowan helped found Dallas Young Adult Cancer Support, a program to help people between the ages of 18-39 who have been diagnosed with cancer.
Roberto Cowan was used to things like diarrhea, constipation and, sometimes, blood in his stool. He had suffered for years from
irritable bowel syndrome
(IBS), a common condition that affects the stomach and intestines. But that all changed when he was diagnosed with colorectal cancer at 30.
Cowan, of Texas, was otherwise healthy. "Since 2012, running was the way I stayed healthy, socialized and was where I found my community," he said in an interview with SurvivorNet.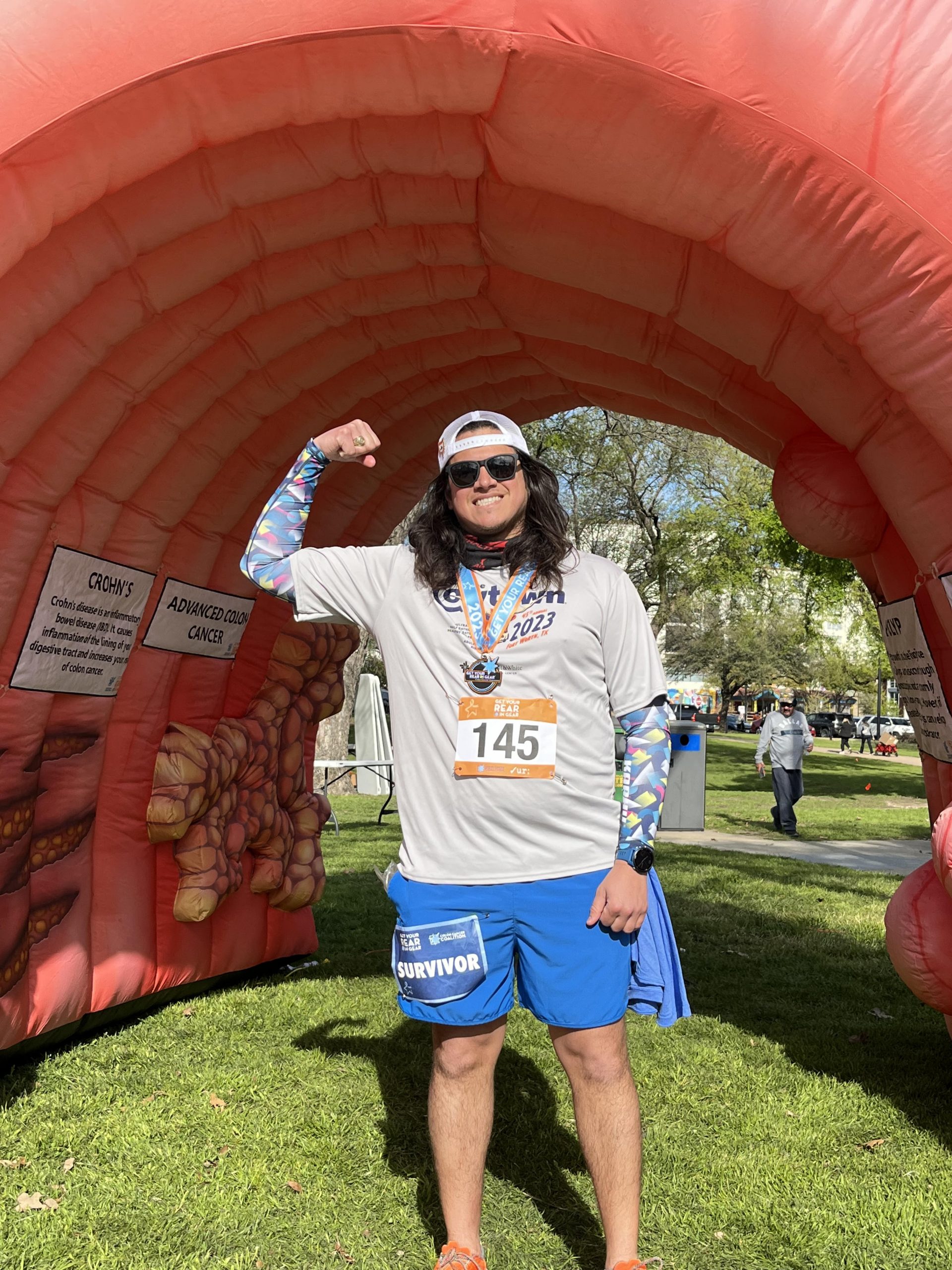 Read More
At one point, he did mention his blood stool to his doctor, and the doctor said it was probably an anal fissure, which is a tear in the tissue that lines the anus. Anal tears and a little bit of blod can be related to
IBS
, it's no wonder the doctor said that. And it made sense to Cowan. When there is constipation with IBS, the increased strain can lead to small tears, resulting in some bleeding. However, persistent rectal bleeding is a serious symptom, and can be an indication of colorectal cancer (cancer that begins in the colon or rectum, including bowel cancer). And this distinction is what helped get Cowan the diagnosis he needed. Later, when getting a medication refilled, he said, "I mentioned to my doctor that I had blood in my stool, and was experiencing bowel movements of just blood," Cowan said. "She asked me, 'How often: once a month, a week?' When I told her it was daily, multiple times a day, she told me I needed to get a colonoscopy."
A colonoscopy is a routine test that uses a scope to inspect the lining of the colon for abnormal growths.
That was February 2019. The colonoscopy unveiled a tumor in his rectum, and a week or so later, he was diagnosed with stage II/III rectal cancer. This cancer can be grouped under the umbrella term colorectal cancer, which includes cancer of the colon (the large intestine) or the rectum (the end of the intestine).
Cowan was just 30 years old.
Colon Cancer vs. GI Symptoms
Gastrointestinal problems can be caused by many factors. One important thing to remember is that colorectal cancer is usually a slow-growing cancer, so symptoms may not be apparent until the cancer has spread. In other words, getting a routine screening, such as a colonoscopy, is very important, rather than looking out for concerning symptoms.
Dr. Zuri Murrell previously told SurvivorNet, "all colon cancer starts as these small growths called polyps. And these polyps have no signs, no symptoms. The only way you can know you have them is if you do a colonoscopy, and you see them." Moreover, he adds, during the colonoscopy, the polyps can be removed.
However, there are some key symptoms that should prompt you to check with your doctor about potential colorectal cancer. According to the CDC, these include:
A change in bowel habits
Blood in your stool
Diarrhea, constipation, or a feeling that you're not completely emptying your bowels
Persistent abdominal pain
Unexplained weight loss
According to the Dana-Farber Cancer Institute, while IBS and colorectal cancer share some symptoms, especially in bowel habits, "Colorectal cancer may have additional symptoms of blood in the stool, weight loss, fatigue, and a feeling of incomplete bowel movements."
WATCH: Common Misconceptions About Colon Cancer
Educating Young People About Colon Cancer
Roberto's  treatment included chemotherapy, chemoradation, which combines chemotherapy with radiation, as well as immunotherapy, which uses parts of a person's own immune system to fight cancer. Roberto also underwent a laparoscopic sigmoidectomy, a surgery that removes the sigmoid colon, which is the the S-shaped part of the large intestine that is located close to the rectum.
After his treatment and secod surgery, the COVID-19 pandemic shut everything down. He tried to stay healthy and engaged in other ways while he was still recovering. He joined groups like ColonTown and the Colorectal Cancer Alliance, which helped him stay strong.
Since his own recovery, Roberto has become a vocal advocate for people going through treatment for colon cancer. Recently, he joined the Dallas Young Adult Cancer Support Committee (DYACS), a program started at the University of Texas Southwestern Medical Center by Alexandra Huffman, the Director of Support Services.
Cowan says, "It was started with the intent to connect young adults who were diagnosed from ages 18-39 with each other to provide support, education, resources, and guidance along as they started treatment, during it, and after the fact. What started as a group of monthly for supporting meetings has grown into a full fledged program offering socials, workshops to focus on mindfulness and wellness." He helps guide the direction of DYACS, including events like an upcoming weekend retreat.
The group helps young people to feel connected and not isolated and alone during their treatment. The film "Maintaining a Positive Headspace," which is streaming on SurvivorNetTV, talks about the importance of emotional health when it comes to surviving cancer. In the film, Dr. Dana Chase, a gynecologic oncologist at UCLA, previously told SurvivorNet,  "[A] better quality of life is associated with better survival, better outcomes.So definitely working on your emotional health, your physical well-being, your social environment, your emotional well-being, definitely working on those things and making them better are important and can impact your survival."
Roberto, an avid runner who posts regularly on Instagram at @therectalrunner, recently started a running club for people with colon cancer.  "It is still in the works," he says, "but the idea will be to connect people, hopefully organizations too, and make a virtual running club with colorectal cancer survivors." He wants people to "see that you can be active during and after the fact, it may just look and feel a little different."
Running is what Roberto loves. "It's a connector," he says, "and I want the same for the colorectal community."
More Young People Are Getting Colorectal Cancer
It's true that Cowan is very young to have colorectal cancer.
According to the American Cancer Society, the average age at the time of diagnosis for colon cancer is 68 for men and 72 for women. For rectal cancer, it is age 63 for both men and women. But lately we're seeing a concerning trend of more and more younger people being diagnosed colorectal cancer – a term used to describe both colon cancer and rectal cancer.
"We know rates are increasing in young people, but it's alarming to see how rapidly the whole patient population is shifting younger, despite shrinking numbers in the overall population," said Rebecca Siegel, lead author of a recently published report in CA: A Cancer Journal for Clinicians that outlines up-to-date- colorectal cancer statistics.
According to the data in the report, rates of colorectal cancer have been increasing in adults aged 20–39 years since the mid-1980s and in those aged 40–54 years since the mid-1990s. With "one in five new cases" now occurring in people in their early 50s or younger, we have to address the shifting patient population.
Learn more about SurvivorNet's rigorous medical review process.
---