Alan Jackson Sings from his Heart
Denise Jackson, wife to country star Alan Jackson, was diagnosed with colorectal cancer in 2010.
In a recent interview, Alan Jackson opens up about how much writing music helped him during his wife's battle with cancer.
Colorectal cancer treatment has come a long way, and experts say most colorectal cancers can be prevented early with screening.
The traditional wedding vow "in sickness and in health" takes on a whole new meaning when your partner is diagnosed with cancer. To get through those tough times, some people like country star Alan Jackson turn to music, and in a recent interview he talks about a song he wrote about when his wife, Denise, was diagnosed with colorectal cancer in 2010.
In the interview for Essentials Radio on Apple Music Country, Jackson talked about his lengthy career in country music and shared a deeper look on how he feels about vulnerability and song writing.
Read More
"I've always tried to write it where it is personal, but other people can feel like that could be their life," Jackson said.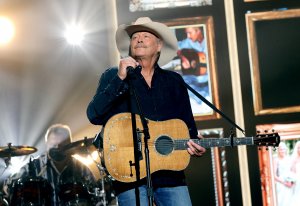 From the lighthearted It's Five O'Clock Somewhere to the heartfelt Remember When, he's captivated audiences with his ability to make people feel better on the good days and the bad.
In his recent interview, Jackson talks about his song, When I Saw You Leaving (For Nisey) which shares how he felt when Denise battled colorectal cancer.
"My wife went through a tough time with cancer several years ago, and I wrote a song about that, and it was almost just something to help me as much as her," he said. "It wasn't a single or anything, but I tried to think that it might help other people that are going through something like that."
RELATED: Eddie Van Halen's Musician Son Wolfgang's Emotional New Lyrics Pay Tribute To His Dad After Cancer Death
The song begins with a sentiment familiar to many families when they find out a loved one has cancer.
"Ain't it funny how, one minute, your whole life's looking fine," he sings. "And a short few words later it all just comes untied? / You can't believe you're looking what was always someone else / Now it's staring right there at you, yesterday you couldn't tell."
The song continues and discusses the "helpless" confusion felt by many people when they are trying to accept and understand a cancer diagnosis. But being the one without the cancer, Jackson felt he had to be strong even though his mind was darting to some awful conclusions.
"You can't help but see the worst to come a thousand different ways / The same time trying to hold a strong and optimistic gaze," he sings.
Denise quietly underwent 30 days of radiation and two four-day rounds of chemotherapy. After two months of treatment, she was cancer-free, according to an article by Coping with Cancer magazine. Thankfully, Denise is many years past her cancer battle, and the high-school sweethearts have been cherishing every moment with a new appreciation for life since.
Understanding Colorectal Cancer
Colorectal cancer is a type of cancer that occurs in the colon or rectum. Like any cancer, colorectal cancer presents its own unique challenges for patients on the road to recovery. But Dr. Heather Yeo, a surgical oncologist and colorectal surgeon at New York Presbyterian Weill Cornell Medical Center, wants to remind people how far the treatment of this disease has come.
"One of the most exciting things about my job is that we've made a lot of progress on treatment options," Dr. Yeo says in a previous interview with SurvivorNet. "However, patients are still — while they're living longer, they are still living with colon cancer, and so I think it's really important that we talk about how some of the things in your life affect you."
Navigating a Colorectal Cancer Diagnosis
Dr. Yeo also wants people to know how important colorectal screenings can be. In fact, she says most colorectal cancers can be prevented early with screening.
"In the United States, on a national level, colorectal cancer has been decreasing for the last 20 years," Dr. Yeo explains. "And much of that is thought to be directly due to screening for colon cancer."
Healing Through Music
For Alan Jackson, music was a way to process all the emotions he was feeling during his wife's battle with cancer. Many people find music and other artistic outlets to be a very cathartic way to cope with their own cancer journey or that of a loved one.
"I have found music and rock 'n' roll to be transformational," survivor Joel Naftelberg tells SurvivorNet in a previous interview.
"Without air guitar, my treatment would have been incredibly sad," music-enthusiast Marquina Iliev-Piselli tells SurvivorNet.
Music and Art – Reflecting On Your Cancer Journey
No matter how you do it, taking care of your mental health can be hugely beneficial when it comes to both dealing with your own relationship to cancer or watching a loved one fight their cancer battle.
Learn more about SurvivorNet's rigorous medical review process.