Young, Fit Mom Gets Diagnosed With Bowel Cancer
A 34-year-old single mom was diagnosed with bowel cancer after doctors dismissed her symptoms.
Bowel cancer is a general term for cancer that begins in the large bowel, and this type of cancer can also be called colon cancer, rectal cancer, or colorectal cancer.
The cancer starts when abnormal lumps called polyps grow in the colon or rectum. If you don't have these polyps removed, they can sometimes change into cancer.
Signs of this cancer can include a change in bowel habits, a change in stool color, abdominal pain, unexpected weight loss and anemia.
A young single mother was shocked when her 'stomach bug' like symptoms turned out to be stage three bowel cancer.
Sophie Edwards, 34, was experiencing changes in her bowel 12 weeks before visiting a doctor, and told the Daily Mail in an interview that she "needed the toilet more and more frequently to the point where I started having accidents – which was very embarrassing – then had severe intense pain."
Read More
"I was extremely unwell; It prompted me to go see a doctor because I couldn't eat or drink anything either," Edwards continued. The first doctor she went to dismissed her symptoms and she was told to take stomach tablets and had a stool sample that she says did not detect anything abnormal.
Edwards finally got on a path to a correct diagnosis when she was able to have an appointment with her regular doctor, who she says, reviewed the tests again and found microscopic amounts of blood in her stool sample.
Which was a catalyst for another meeting with a gastric entomologist, who ordered a CT scan, and then a colonoscopy, which finally revealed a 7 centimeter tumor and confirmed the diagnosis.
"It all happened so quickly; it took 10 days from first going to the doctor to being diagnosed," said Edwards.
"When you hear the word "cancer" you automatically think you're going to die. You have no idea what path is going to show up before you,' she said. "I felt completely numb and overwhelmed, and immediately I thought of my seven-year-old son Jaxon."
 

View this post on Instagram

 
What Is Bowel Cancer?
Bowel cancer is a general term for cancer that begins in the large bowel, and this type of cancer can also be called colon cancer, rectal cancer, or colorectal cancer.
Colon cancer is a type of cancer that affects your large intestine (colon) or the end of your intestine (rectum). Your doctor might call this type of cancer colorectal cancer or bowel cancer.
The cancer starts when abnormal lumps called polyps grow in the colon or rectum. If you don't have these polyps removed, they can sometimes change into cancer.  It takes up to 10 years for a colon polyp to become a full-blown cancer, according to Dr. Heather Yeo, a medical advisor to SurvivorNet and board-certified in general surgery, colon and rectal surgery, and complex general surgical oncology.
How Does a Colon Polyp Turn into Cancer?
By getting the recommended screenings doctors will likely have time to remove any polyps that form before they can cause problems. Experts are still unsure of what exactly causes colon cancer, however they do point to certain risk factors, such as diet, smoking tobacco, and drinking alcohol. Having a family history of colorectal cancer can also increase the risk.
Both men and women can get colon cancer. Overall, it is the third most common cancer in people of both genders in the United States, according to the American Cancer Society. But it's also very preventable, with the recommended screenings.
Symptoms And Screening
Colorectal polyps and colorectal cancer can be sneaky, say Dr. Yeo, because they don't necessarily lead to symptoms, which is why screening is necessary for everyone over age 50 (and sometimes earlier), even people who feel well.
Gastrointestinal oncologist, Dr. Paul Oberstein, describes the most common symptoms of colon cancer. When symptoms do appear, one of the most common is a change in bowel habits. This ranges from constipation or diarrhea to differences in the size or shape of bowel movements. A change in stool color, particularly black or tarry stools, can indicate bleeding from a tumor that lies deep in the colon.
Other symptoms can be harder to pinpoint as cancer, such as abdominal pain and unintentional weight loss. Finally, some tumors bleed a small amount over a long period of time, resulting in anemia (a low red blood cell count) that is picked up on a blood test.
A few other possible symptoms of colon cancer are:
Cramps
Gas
Weakness
Tiredness
Any symptoms that are new or unusual for you, or that persist for more than a week or two, warrant a call to your doctor. Treatments for bowel cancer can include surgery, along with chemotherapy, and radiation therapy. If the bowel cancer is detected early, treatment can be fully effective and stop the cancer from recurring.
Sophie's Treatment
For Edwards, she says she went straight into "intense" radiation therapy and was placed on chemotherapy tablets.
After 25 rounds of the radiation it felt like "'acid had been tipped into her abdominal," she adds. "The after effects were awful and horrific, but it had to be done."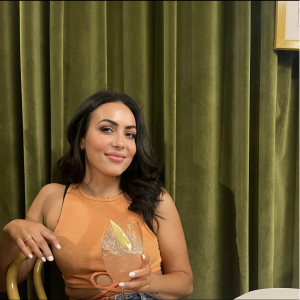 Now, Edwards is undergoing chemotherapy treatment through an IV port in her collarbone every two weeks over a three-day period for 18 weeks, according to the Daily Mail.
Edwards tells the news organization she is waiting to see how the treatments go, but things seem to be going well so far. She shares her last round of chemotherapy will be right after Christmas on December 26.
"It can be really lonely time at times, because everyone around wants to help but there's only so much they can do," says Edwards.
Fertility Preservation After A Cancer Diagnosis
If you're a young woman diagnosed with cancer, like Edwards, you are likely concerned about your future prospects for having children. Edwards shared that prior to her radiation treatment she saw a fertility specialist for in vitro fertilization (IVF) egg collection.
 

View this post on Instagram

 
"I found the process to be beautiful in what was a really depressing time for me. But after retrieving the eggs I felt ready to tackle the cancer," said Edwards.
Chemotherapy and radiation can harm your eggs but there are many options for fertility preservation. Chief among them: freezing your eggs for future use or fertilizing the eggs and freezing the embryos.
It's important to be your own advocate and discuss the options with your doctor, says Dr. Jaime Knopman, Director of Fertility Preservation at CCRM NY. Studies have shown that as many as 50 percent of women across the country are not informed about what they can do to preserve fertility before undergoing cancer treatment.
RELATED: Preserving Fertility During Cancer Treatment: What Are the Options?
Learn more about SurvivorNet's rigorous medical review process.
---