Real-Life Superheroes
Getting extra love and support while going through cancer can make an immense difference in a person's fight; Especially when you get some special attention from a certain celebrity.
Some of our most supportive real-life superheroes include Dwayne "The Rock" Johnson, Garth Brooks, Ryan Reynolds, Ryan Gosling, and the late Chadwick Boseman, who all have supported the cancer community in very touching ways.
Boseman, who lost his fight to colon cancer, visited terminally ill children while he was privately going through his own battle; Some of the top symptoms to look out for with colon cancer are a change in bowel habits, blood in the stool, and losing weight without trying.
Getting extra love and support while going through cancer can make an immense difference in a person's fight; Especially when you get some special attention from a certain celebrity!
Celebrities who use their platforms to support the less fortunate, or those struggling, are especially attractive in today's social media society. After all, it only takes a couple of minutes out of their day to lift someone up, and that gesture can make a person's entire year (and provide them bragging rights). Some of our most supportive real-life superheroes include Dwayne "The Rock" Johnson, Garth Brooks, Ryan Reynolds, Ryan Gosling and the late Chadwick Boseman.
Read More
Prepare to be moved.
1. Dwayne "The Rock" Johnson
Actor Dwayne "The Rock" Johnson, 49, posted a video of himself in May singing his "Maui" character's song from the movie Moana for a little girl who was battling leukemia. Tragically, Indy lost her fight in June at 5 years old.
Johnson had seen a video of the girl singing along to one of the hit Disney movie's songs.
RELATED: Actor Dwayne 'The Rock' Johnson Shows That Anyone Can Take Two Minutes Out of Their Day to Brighten Someone Else's; Sends Video to Fan Battling Stage 4 Lung Cancer
Terah Belle, Indy's mom, posted a video of Indy showing off her skills as an "expert lip syncer" by singing How Far I'll Go by Alessia Cara. Belle said her daughter "feels the rhythm and it brings her joy."
"It's 1am and I just got sent this beautiful vid of a VERY special & strong little girl named Indy Llew," the former professional wrestler wrote at the time. "Stay strong honey and keep singing your songs!"
View this post on Instagram
Indy was diagnosed with Myelodysplastic syndrome, or MDS, in January 2018. Myelodysplastic syndromes are a group of disorders caused by blood cells that are poorly formed or don't work properly, according to the Mayo Clinic. With these disorders, basically there is "something amiss" in the bone marrow, which is where blood cells are made.
Related: Blood Cancer Comes in More than 100 Varieties: How They Differ & What They Have in Common
Leukemia is a blood cancer that develops when the body produces large quantities of abnormal white blood cells. These cells prevent the bone marrow from producing any other type of cell including red blood cells and platelets.
"One cell got really selfish and decided that it needed to take up all the resources of everybody else, and, in doing so, took up space and energy from the rest of the body," Dr. Nina Shah, a hematologist at University of California San Francisco, explained to SurvivorNet.
Related: Illusionist Criss Angel Takes His 6-Year-Old Son to His First Concert—KISS—as His Childhood Leukemia Battle Continues
The American Cancer Society estimates that about one in three patients with MDS get acute myeloid leukemia (AML).
Indy also had Down syndrome. Children with Down syndrome are "slightly more likely" to get leukemia than other children at the same age, according to Mass General for Children.
2. Garth Brooks
Country artist Garth Brooks, 59, gave a special shout-out to someone fighting cancer during a concert in 2014, and the moment went viral.
When Brooks performed The Dance, he noticed a woman holding a sign revealing her cancer battle. "Chemo this morning. Garth Tonight. Enjoying 'The Dance'," it read.
Related: Country Singer Alan Jackson Shares the Inspiration Behind a Song Detailing his Wife's Journey with Colorectal Cancer
Brooks, who lost his mother and sister to cancer, reached down to give the woman, Iowa resident Teresa Shaw, a hug. He held up her sign and announced, "You will kick cancer's ass."
A year and a half later, Shaw had indeed kicked her triple-negative breast cancer's ass. The triumphant cancer warrior headed back for another show in Omaha, Nebraska in 2016, this time with a sign saying she beat cancer.
Related: Fox News Reporter Jennifer Griffin Beat Triple-Negative Breast Cancer; Know The Treatment Options
Brooks had framed and signed her original sign, with a "Luv ya! God bless your family" on the back. Brooks kept the sign safe while on tour and gave it back to her when they met in Omaha.
"It was like meeting a friend … just a friend," Shaw told the Des Moines Register at the time of finally meeting the superstar. "He gave me a big hug and asked how I was doing."
Triple-negative is a term used for breast cancers that do not have receptors for estrogen or progesterone or for a protein called HER2. What this means is that hormonal therapy can't be used because the cancer cells lack these receptors, and it also means that therapies targeted at HER2 will not be an effective treatment option.
The main treatment for triple-negative breast cancer, or TNBC, is chemotherapy. If you're diagnosed with TNBC, be sure to talk to your doctor, assess where you are in your diagnosis, and work through what the best options are for you.
Treatment for Early Stage Triple-Negative Breast Cancer
3. Ryan Reynolds
Deadpool actor Ryan Reynolds, aka Mr. Blake Lively, is another Hollywood hunk with a big heart.
Reynolds, 44, recorded a video message for an 11-year-old with cancer named Brody Dery, who was battling stage 3B Hodgkin lymphoma and Crohn's disease. In the video, shared by CKPG News reporter Caden Fanshaw, the Canadian star encouraged the fan to "stay strong and resilient" amid his health struggles.
Related: Hodgkin Lymphoma Survivor, Lexi Ribstein, Pays Loving Tribute Through TikTok to Her Boyfriend Who Stuck by Her Side
"I heard a little about your story and I just wanted to send you this video and let you know that I'm thinking about you," Reynolds told the boy. "I'm sending you tons of strength, whatever strength I've got."
Reynolds went above and beyond to make the fan feel loved and recognize the importance of the support around him. "You have a ton of people in your life who love you so much," he continued. "I'm sending you lots of love, I hope I get to meet you in person one of these days, and hang in there."
How cool is this? Huge thanks to @VancityReynolds for taking the time to send a message back to Brody Dery from Prince George. Thanks to everyone for helping get the message to Ryan so fast! @ckpgnews pic.twitter.com/dFJJi6huC1

— Caden Fanshaw (@CadenFanshaw) January 13, 2021
Lymphoma is a type of blood cancer that is broken up into two separate categories: Hodgkin lymphoma and non-Hodgkin lymphoma. The main difference between the two is that Hodgkin lymphoma has distinctive, giant cells called Reed-Sternberg cells. The presence of these cells, which can be seen under a microscope, will help your doctor determine which of the two lymphoma types you have. So, if these cells are not present then that points to non-Hodgkin Lymphoma.
Non-Hodgkin lymphoma is more common, and people are more likely to be diagnosed with it after age 55.
4. Ryan Gosling
The other famous, nice Canadian Ryan in Hollywood, Ryan Gosling, whom women—and men—have been swooning over since he played opposite Rachel McAdams in one of the most popular romantic films in history, The Notebook, went out of his way to pay tribute to a fan who sadly passed from a type of bone cancer called osteosarcoma at 27 years old.
Related: What Are Sarcomas? Know the Types and Symptoms of These Rare Cancers
The late Vine star, Ryan McHenry, rose to online fame with his "Ryan Gosling Won't Eat His Cereal" Vine series. After the actor heard that McHenry had passed in 2015, Gosling made a funny, cereal-themed video in the young man's honor on his own Vine page.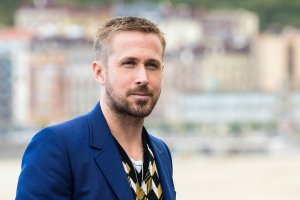 Gosling also Tweeted a heartfelt tweet to McHenry's family and friends.
My heart goes out to all of Ryan McHenry's family and friends. Feel very lucky to have been apart of his life in some small way.

— Ryan Gosling (@RyanGosling) May 5, 2015
Osteosarcoma, which most often occurs in children, teens, and young adults, is the most common type of bone cancer, according to the American Cancer Society. Symptoms include bone or joint pain, swelling near a bone, or a bone breaking easily.
5. Chadwick Boseman
Late actor Chadwick Boseman, who lost his battle to advanced stage colon cancer in August of 2020 at 43 years old, was going through his private fight when he went to support kids with cancer at St. Jude's hospital two years before his death. It's not a shout-out per se, but the late Golden Globe-award winner discussed his impactful visit with the kids during a 2018 interview.
Related: Chadwick Boseman's Posthumous Oscar Nomination Helps Raise More Awareness for Colon Cancer Screenings
The Black Panther star got choked up while talking about the experience with two terminally ill young boys who just could not wait to see Black Panther. Tragically, the boys both died before getting to see the movie. Thankfully the kids at least got to meet their real-life hero in person, which was surely a super exciting occasion.
"Just to experience those two little boys' anticipation of this movie," Boseman said with his voice cracking. "Yeah. It means a lot."
"It's not every day that St. Jude gets a visit from an Avenger! Thank you @ChadwickBoseman for stopping by to bring joy to our patients and learn more about our lifesaving mission!," the St. Jude Children's Hospital said in a Tweet at the time.
Forever. ❤️ pic.twitter.com/4tBU61WoAf

— St. Jude (@StJude) August 29, 2020
Getting Screened for Colon Cancer
It is important to get screened for colon cancer even if you have no family history.  Experts recommend that people at average risk of colorectal cancer start regular screening at age 45, but since many people like Boseman and Melvin's brother were diagnosed years earlier, it is best to be aware of symptoms and to go in and get checked if anything seems amiss.
Symptoms of colon cancer, according to the American Cancer Society:
A change in bowel habits, such as diarrhea, constipation, or narrowing of the stool, that lasts for more than a few days
A feeling that you need to have a bowel movement that is not relieved by having one
Rectal bleeding with bright red blood
Blood in the stool, which might make it look dark brown or black
Cramping or abdominal pain
Weakness and fatigue
Losing weight without trying
Dr. Heather Yeo, a colorectal surgeon at Weill-Cornell Medical Center, discusses the top two myths associated with colon cancer and getting checked, and sets the facts straight with SurvivorNet.
Myth #1: Colonoscopies are the only way to detect colon cancer.
The verdict: Not true. Though colonoscopies are the best way, there are a lot of other methods — like fecal occult blood tests (which look at a sample of your stool) and fecal immunochemical tests (FIT). "The [tests] have different roles and you should talk to a medical provider about what's best for you, but there are a lot of options," Dr. Yeo says.
Myth #2: Only people with a family history can get colon cancer.
The verdict: Not true. "In fact, the majority of people who get colon cancer have no family history," Dr. Yeo says. "The reason I do the specialty is because if we screen patients early, cancers can be prevented. We can have really good survival outcomes and so I tell that to a lot of my patients. It's important to have a positive outlook for that."
Colon Cancer Introduction to Prevention and Screening
Learn more about SurvivorNet's rigorous medical review process.