For all of us worried about facing cancer and COVID-19, an uplifting story of hope: After breaking her hip in February, Peggy Campbell, 79, was diagnosed with stage 4 bladder cancer. Then her family received unthinkable news, according to a report on FOX8: While at a rehabilitation center, Campbell had contracted COVID-19.
RELATED: Coronavirus Guide For Cancer Patients
Read More
"Her oncologist even said last month that she was worried about her going into the hospital for chemo treatments, she said 'if she would contract this, it would be fatal,'" says Campbell's daughter, Amy Resnick, in a
video interview
with reporter, Jordan Miller, adding, "When we learned she had COVID-19 we were devastated."
Campbell was rushed to the hospital when when her oxygen levels plummeted. "We were fully prepared not to see her again, Resnick said. But when doctors called several days later, the told her, "I think your mother has nine lives." Campbell had recovered from COVID-19.
RELATED: Cancer Screenings Have Dropped Nearly 70% Amid The Coronavirus Pandemic — Delays In Routine Checkups Disrupt Early Detection
Her family gathered — at a distance — to greet the ambulance as Campbell was transferred from the hospital back to the rehabilitation facility.  It's a miracle," Resnick said. "There's no other way to describe it. It almost felt like we hit the lottery. I couldn't wait to see her face. She's still here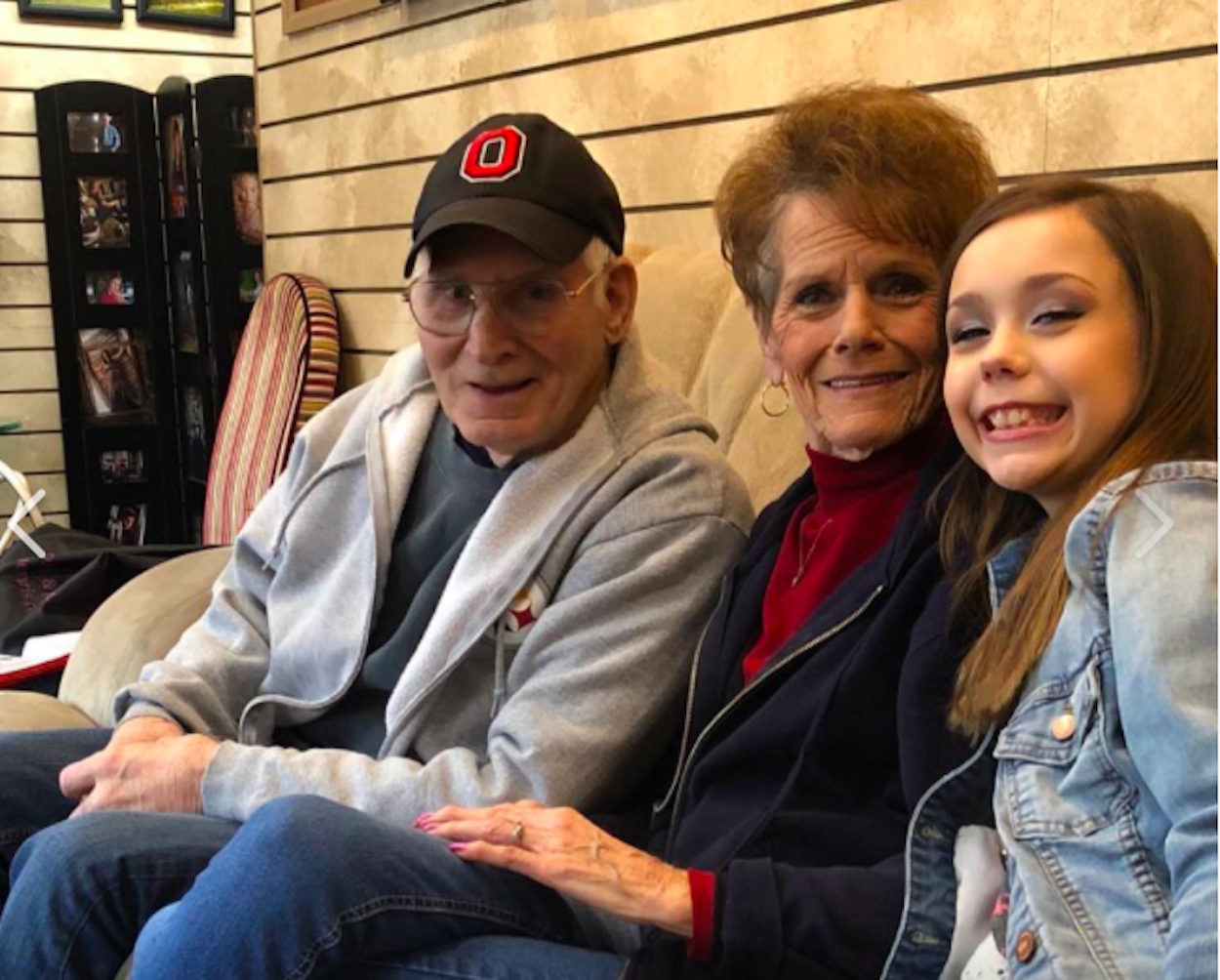 Peggy Campbell, who was diagnosed with advanced bladder cancer in February.
with us, and we can still go to her window and see her," says Resnick. "Last week, we didn't have that option." When asked how she was doing, Campbell replied: "I'm fit as a fiddle."
Bladder Cancer Signs and Symptoms
Because it causes blood in the urine, bladder cancer can often be detected in its early stages, according to the American Cancer Society. Blood may be present one day and absent the next, with the urine remaining clear for weeks or even months. But if a person has bladder cancer, at some point the blood reappears.
RELATED: 'There's No Playbook For Being Diagnosed With Cancer in the Middle of a Pandemic' — ESPN Radio Host Marc Silverman 
Other symptoms may include, frequent urination, pain or burning during urination, a weak urine stream, or feeling the need to go when the bladder isn't full. Signs of advanced bladder cancer may include lower back pain on one side, swelling of the feet, loss of appetite, weight loss, and/or bone pain. While these symptoms may have causes other than bladder cancer, it's important to have them checked by a doctor.
Surgery For Bladder Cancer
The surgery that is usually used to treat non-muscle invasive bladder cancer is highly curative, but has a substantial impact on quality of life, according to  Dr. Arjun Balar, Director of Genitourinary Medical Oncology at NYU Langone Health's Perlmutter Cancer Center. After the
Dr. Arjun Balar, director of the genitourinary medical oncology program at NYU's Perlmutter Cancer Center on immunotherapy for advanced bladder cancer.
surgery, patients usually live with a bag to divert urine, which brings a high risk of complications. In January, for the first time in over 20 years, the government has approved a new treatment
RELATED: 'In the End, I'm Full of Hope' — Filmmaker Julia Reichert Wins Oscar
for patients with cancer on the bladder's inner layer: immunotherapy. "It's an option other than radical surgery," says Dr. Balar.
Immunotherapy For Advanced Bladder Cancer
"The immune system is actually our most powerful weapon against cancer," says Dr.Balar, who notes that 60-70% of people diagnosed with advanced bladder cancer are not eligible for many chemotherapies. "For those patients, we really didn't have, until recently, very good and effective treatment options," Dr. Balar says.
RELATED: FDA Approves First Major Alternative to Surgery for Bladder Cancer in 20 years
Drugs called immune checkpoint inhibitors were developed to help the immune system target a protein called PD-1.When PD-1 in blocked by these inhibitors, the immune system can get to work fighting off cancer cells. In the past few years alone, five different PD-1 inhibitors have been approved by the FDA for use against bladder cancer.
Learn more about SurvivorNet's rigorous medical review process.
---