Everyone around the world is dealing with an unparalleled amount of stress and anxiety as the coronavirus (COVID-19) continues to spread. Dealing with an unexpected cancer diagnosis during this time is truly a devastating anomaly and can leave people with more questions than answers.
Last month, Marc Silverman, best known as "Silvy" from his ESPN Radio show "Waddle & Silvy" on WMVP 1000-AM in Chicago, broke the news that he has been diagnosed with Stage 3 non-Hodgkins lymphoma. The disease starts in the white blood cells and lymph nodes, and can drastically affect a person's immune system.
Read More
Since he shared the news with his listeners and fans, Silverman was inundated with well wishes and overwhelming support, which was a welcome boost he needed. SurvivorNet caught up with 48-year-old, who told us about being diagnosed with cancer during such unprecedented times.
RELATED: Outpouring of Support For ESPN Co-Host Marc Silverman, Who Has Been Diagnosed With Stage 3 Non-Hodgkins Lymphoma
Silverman tells SurvivorNet that when he was diagnosed with the disease, he didn't feel sick. He admits feeling a "little tired," after noticing swelling in his lymph nodes in his neck. At the end of February, he discovered a groin lymph node was swollen and was not receding. He went to see his primary care physician in the middle of a pandemic. The doctor ran a full panel for everything that could indicate lymphoma and the next day he received word that his blood work looked "great," but his doctor still sent him to an ear, nose and throat specialist for a biopsy.
Marc was shocked by his diagnosis after thinking there was a really good chance it wasn't lymphoma, but the gravity of the situation hit him while he was having the biopsy.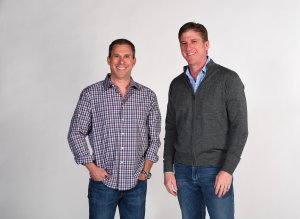 "It wasn't until I was laying in the chair and the doctor was doing the ultrasound on my neck lymph nodes and commenting how much bigger they are than normal, and then when she was pulling the fluid out and tears started coming down my face and at that moment it sort of hit me that I probably have something I wasn't expecting when I walked into this office," he solemnly explains. "To make matters worse, in the middle of this pandemic you know I don't have my wife by my side and I'm sitting there alone with the doctor with no one to emotionally lean on at that time."
Sadly, the results of that biopsy revealed the non-Hodgkins lymphoma.
Silvy admits, "This is a disease that doesn't discriminate. We're all touched by it and then you have that reflection moment when you are literally looking at your reflection in the mirror and not only is it close to home, it's you."
Since his diagnosis five weeks ago Silverman, a self-described "information guy," has "immersed himself in knowledge" reading "as much as possible about it." He has also surrounded himself with a "really good medical team."
Following two to three doctor's appointments a week consisting of CT scans, PET scans, biopsies and a procedure to have a port inserted for chemotherapy, last week was a quiet one for Silvy, who used the time to recoup and prepare for clinical trials of Nivolumab this week. Nivolumab is an immunotherapy drug that has found great success dealing with different cancers, specifically lung cancer, but the jury is still out on whether it works with lymphoma. He begins six weekly rounds of chemotherapy on May 22nd.
Cancer in the Age of COVID-19
"There's no playbook for being diagnosed with cancer in the middle of a pandemic," Silvy matter-of-factly states. He explains that the scariest part was not being sure, due to the coronavirus, that he would "get the treatment that someone just diagnosed with cancer would normally get."
Silverman continues: "You've heard the stories about hospitals being overrun and are the cancer doctors and nurses and techs all there for me? And I can assure people that they are. That's been my most thankful part of all this … God bless the people who are putting their life on the line."
Related: From Handling Anxiety to Tele-Therapy, Mental Health Expert Gives Tips For Cancer Patients During the COVID-19 Pandemic
He adds that essential workers "are still going to their hospitals and working" and "they're putting their lives on the line too and there are other diseases and other things that need to be treated as well and without these people, I wouldn't be as optimistic."
Silverman also shares that he feels lucky for his "shockingly good" treatment so far and calls his positive interactions with hospital staff and caregivers "an unbelievable experience."
You Have an Army Behind You
The decision to share his cancer diagnosis was an easy one for the ESPN radio host.
"I share everything in my life," he reveals. "We've been on the air for 13 years and thankfully it's mainly been good stuff. I started as a single 34-year-old broadcaster — a young broadcaster relatively speaking for hosting a talk show — and I lived in the city and Waddle (his radio co-host and former Chicago Bears wide receiver Tom Waddle) lived in the suburbs, he had the kids and I was single and through these 13 years we've evolved into different things. Now I have a four-year old and a six-year old. You know, I announced when I got engaged, everyone at the radio station was at my wedding, when we announced that we were pregnant, when we had our first child. Everything throughout my life we've always opened up the door to go through these milestones and big moments."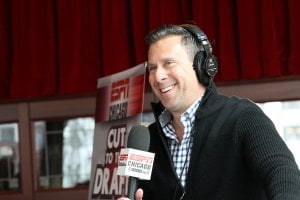 The empathetic response to his cancer diagnosis was overwhelming.
"I thought I would get a few messages wishing me well. I didn't realize the impact that it would have on some people and that the impact that people have made on me. The phrase I keep going back to is 'You have an army behind you.' Do you know how many people have either fought cancer or are survivors? I truly didn't know what that meant."
Silverman was inundated with a myriad of well-wishes running the gamut from other radio show hosts, pharmacists offering tips, doctors reaching out to make sure he's okay as well as listeners who have battled cancer. He also received a personal and meaningful email from Chicago Cubs President of Baseball Operations Theo Epstein and Bears' head coach Matt Nagy called Silverman on the phone to offer his support. Silvy explains that receiving these messages is "the most uplifting thing I've gone through as a broadcaster."
Sports Talk During a Pandemic
Back on March 11, the sports world came to a halt suspending all games due to the coronavirus. This forced sports talk radio broadcasters to do some soul searching to find things to discuss for hours upon hours on the air.
Silvy explains it has been hard from an "emotional standpoint."
"The definition of sports is for three hours we get to suspend reality. So, whether it's me going through what I've been going through lately or people going through COVID… the Ironic part is we need sports more than ever because we are going through so much, and it's not there," he says.
The ESPN host says the transition has been fairly easy for him and his co-host: "Waddle and I have always approached our show as a personality-driven show. We don't take ourselves too seriously, we try not to take sports too seriously."
He continues, the show has "always been about entertaining and even if our Chicago teams stink, we can still have fun and we lean on that now even more personality-wise."
He reveals that dealing with the sports stoppage has been "a challenge," but they have risen to that challenge, accepted it and appreciate it, even though they can't wait for sports to return when it's safe.
Silvy adds, "We find that there is plenty still to talk about. For us here in Chicago we've been pretty fortunate where the Bulls cleaned house… and they hired new people. The Blackhawks fired their President and CEO, the Bears got a new quarterback in Nick Foles."
Even during a pandemic, Silvy & Waddle have had major storylines in Chicago sports to discuss with listeners.
Silvy also calls the new Michael Jordan documentary "The Last Dance" — which focuses on the Bulls last championship season in 1998 — a "Godsend."
He says, "If there's ever been a perfect time to discuss debates that are 30 years old it's now." He adds, "We're having these sports debates that were alive and well in 1998 again in 2020 like it's brand new and fresh."
The Frontline Workers Are Champions
Silverman wants the frontline workers to know that he owes "everything to them." Knowing that it's safe and clean when he goes in for treatment gives him a positive mindset, which is needed to battle cancer.
"Getting diagnosed with cancer is world-changing for yourself to begin with and then to have it in the middle of a pandemic where there's all this unknown and to rely on these people who see you, and understand, and can help. I've just been with so many compassionate people, who have helped," he says.
Silverman continues to host his daily radio show from home. Once he finishes treatment and beats cancer, he will dedicate his life to helping others.
"I'm going to try to return it 50-fold. After I beat this, I'm going to put myself in a position to help where if someone is recently diagnosed and needs someone to talk to, I can be there for those people," he says.
Learn more about SurvivorNet's rigorous medical review process.
---