A Cancer Warrior's Fighting Spirit that Inspires Others
Actress Shannen Doherty, 52, is being called "a fighter" and received immense praise from her "Beverly Hills 90210" co-stars for "leading by example" for her incredible bravery and courage amid her stage 4 cancer fight.
Doherty, who recently described her metastatic breast cancer journey as "a fight every day," continues to inspire millions of people with her endless resilience in the face of a daunting health challenge.
Doherty has battled breast cancer since 2015. Although the cancer went into remission in 2017, it returned as stage 4 cancer in 2019, meaning it has spread to other body parts, including her brain.
She underwent brain surgery to remove a tumor earlier this year. Since the surgery, Doherty's remained in good spirits.
"Beverly Hills 90210" actress Shannen Doherty, 52, has grown far beyond her role as Brenda Walsh in the hearts and minds of people she's inspired over the years, especially in the cancer community. Her bravery and strength amid a challenging and emotional battle with metastatic breast cancer have redefined her resilient character inside and out, inspiring millions of people. Doherty's fellow "90210" co-stars have supported her closely throughout her cancer journey and describe her as "a fighter."
Shannen Doherty Tears Up #shannendoherty pic.twitter.com/Aa9YvjXkUR

— Memorable Minds (@Memorablemindss) September 19, 2023
Read More
Fellow cast members joined Doherty at a recent 90s convention in Tampa, Florida. The reunion was quite emotional, especially for the "Charmed" actress. She received a standing ovation from the audience and co-stars. Tori Spelling, 50; Gabrielle Carteris, 62; Jason Priestly, 54; Ian Ziering, 59; Jennie Garth, 51; and Brian Austin Green, 50, also embraced Doherty as she graced the stage with a warm smile and teary eyes.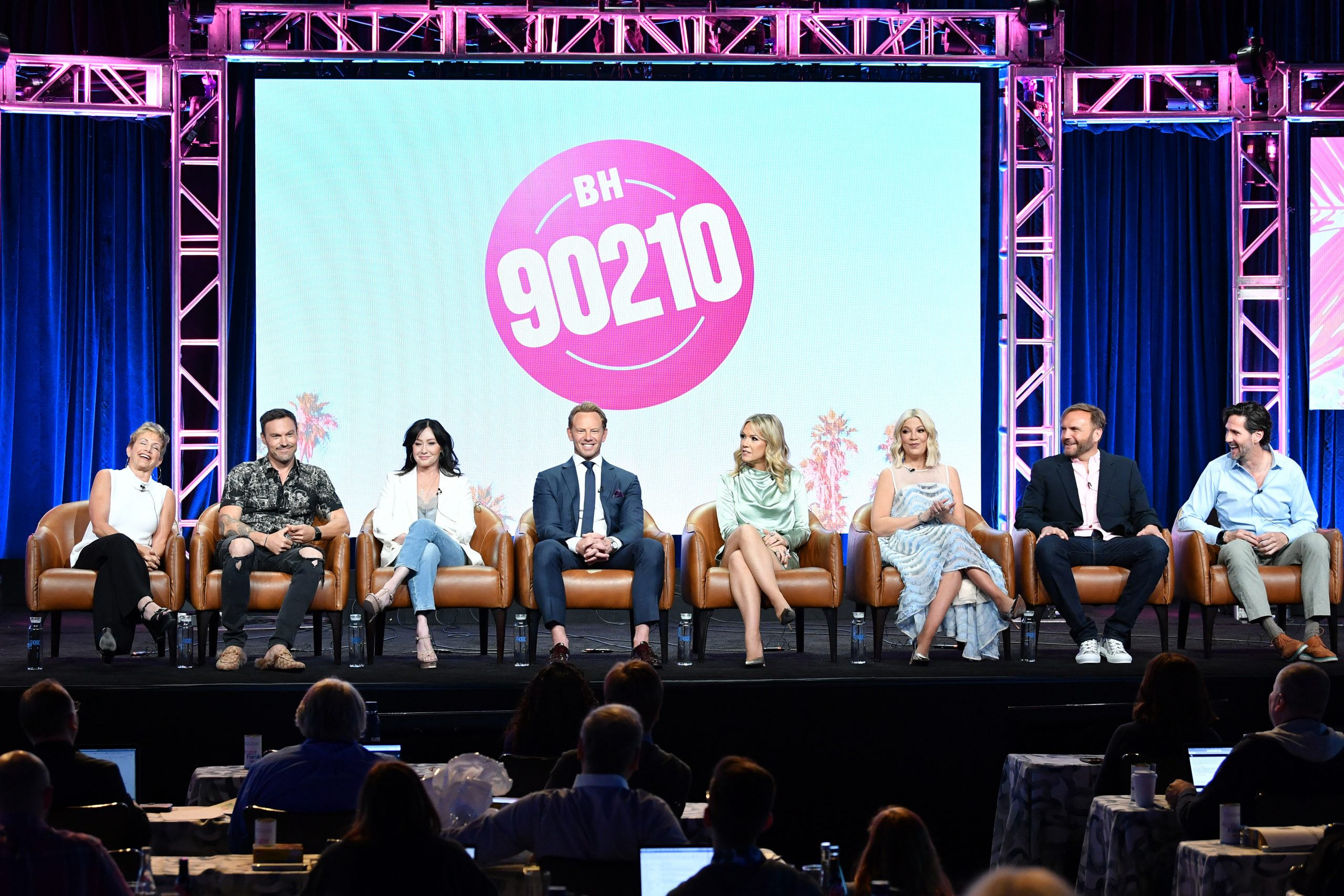 Her breast cancer journey began in 2015 and has been an emotional roller coaster for her supportive loved ones and even more so for Doherty herself.
"Shannen is loved, and she should be," Doherty's co-star and longtime friend Brian Austin Green told People.
Green appeared on the "Oldish" podcast to express his sentiments about his dear friend and the enormous amount of courage she's shown over the last few years amid her cancer battle.
"She's a fighter. She's been facing challenges over the last, gosh, decade now that are just, they're difficult things," Green said.
"She is absolutely leading by example and showing people that even in the toughest of times, you can keep your head up and you can be a good person…and she is, she's an amazing person, and I think she's an inspiration for people, she should be," Green continued.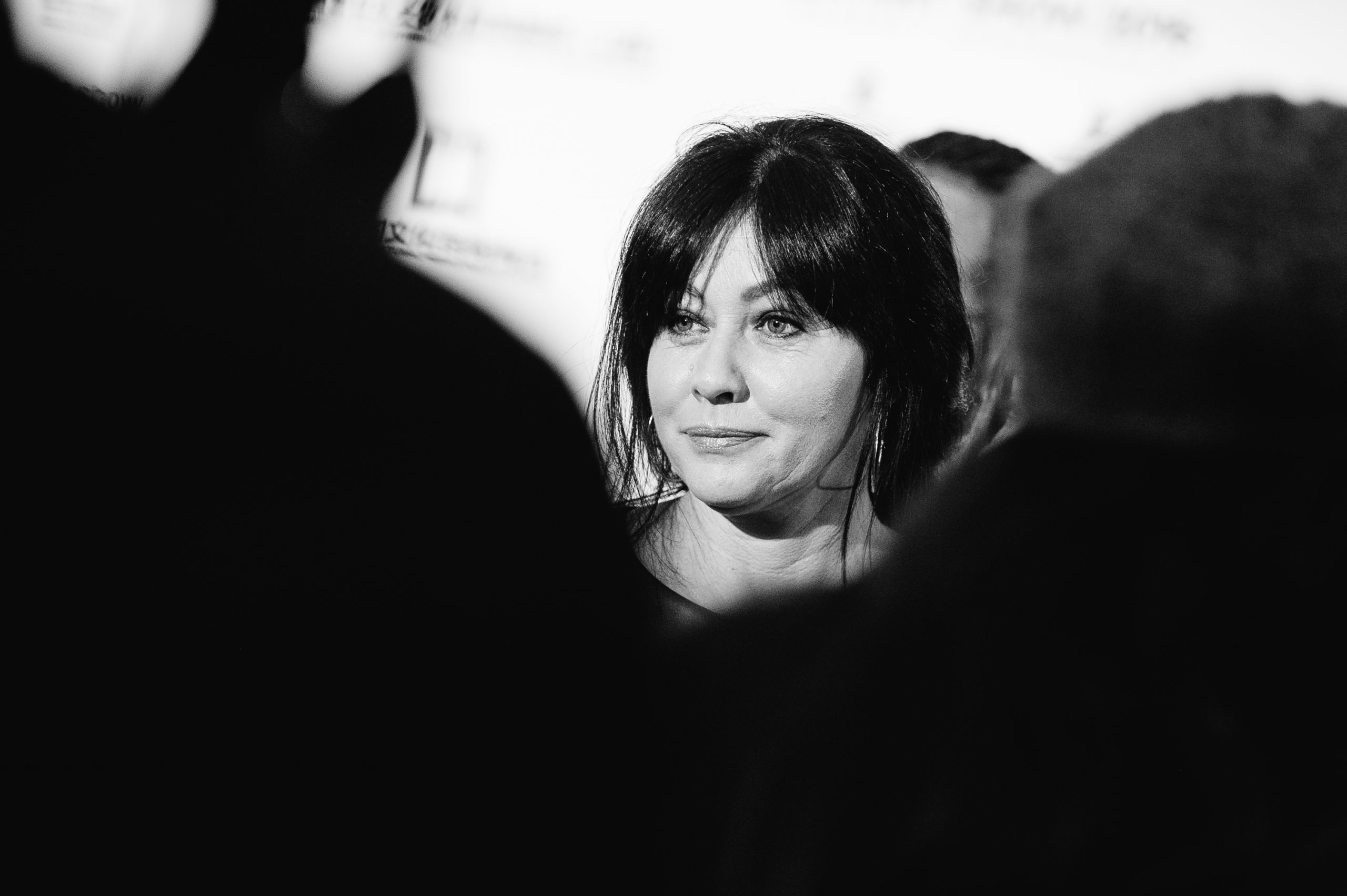 Doherty's battling stage 4 metastatic breast cancer. Her cancer journey has been filled with ups and downs that took a heartfelt turn earlier this year when the beloved actress revealed her cancer had spread to her brain. She bravely took to Instagram to detail her experience, admitting she was afraid while undergoing a CT scan.
"My fear is obvious…But that fear…the turmoil…the timing of it all…This is what cancer can look like," she wrote in an emotional social media post.
Her willingness to continue pushing forward despite the enormous adversity is brave and inspiring. Undoubtedly, many cancer warriors have been moved to embrace a fighting spirit like hers when they encounter rough days along their journeys.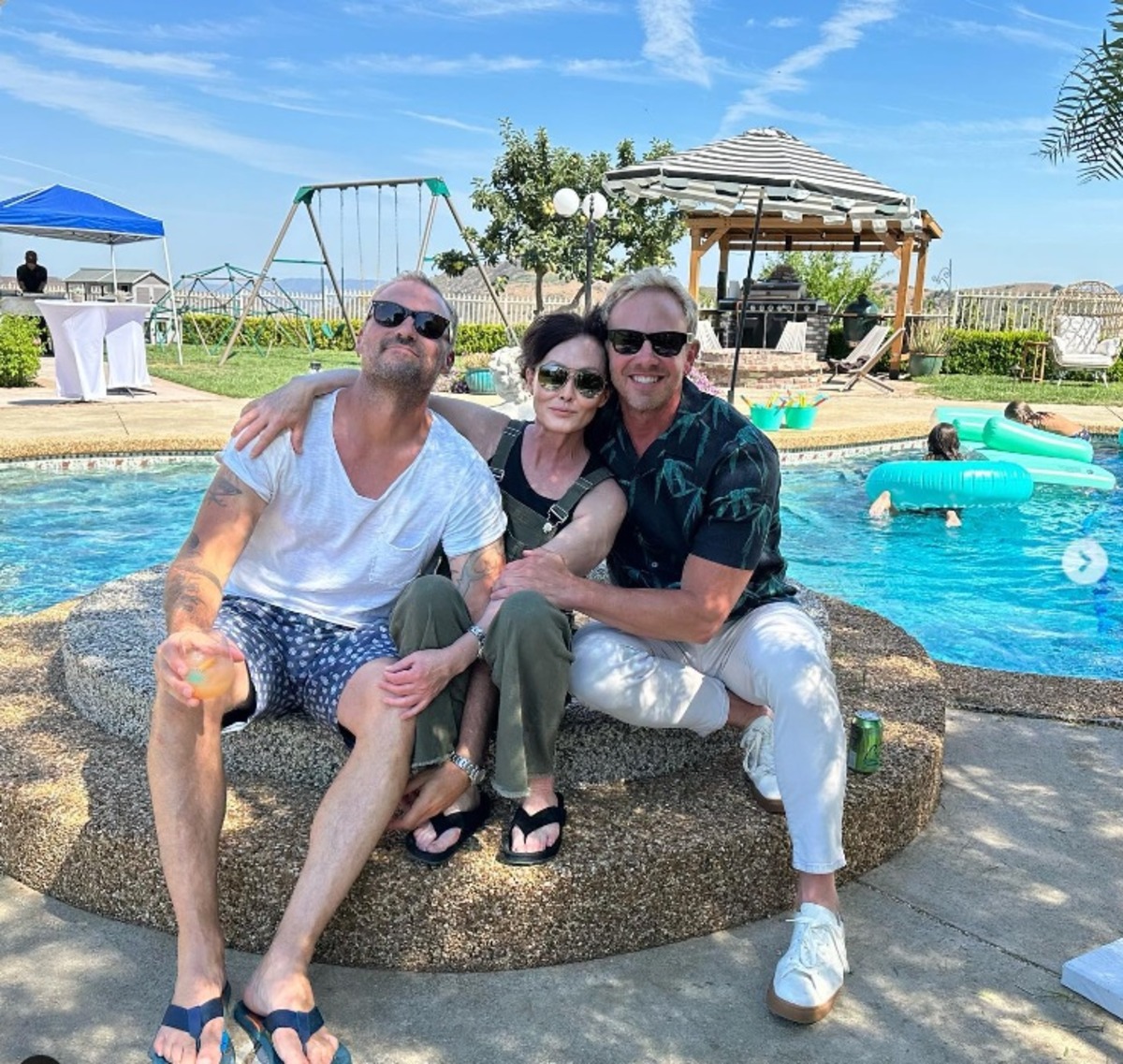 The Emotional Journey that Spawns Hope and Inspiration Amid Daunting Adversity
Shannen Doherty's initial breast cancer diagnosis arrived in 2015 after discovering a lump in her breast. For treatment, she had hormone therapy, a single mastectomy (the removal of all breast tissue from one breast), chemotherapy, and radiation.
By 2017, she achieved remission status, but the disease returned two years later in 2019. This time around, her breast cancer was metastatic, or stage 4.
WATCH: Breast cancer warrior Ericka Hart's courageous journey.
"With advanced disease, the goal of treatment is to keep you as stable as possible, slow the tumor growth, and improve your quality of life," SurvivorNet advisor Dr. Elizabeth Comen, an oncologist with Memorial Sloan Kettering Cancer Center, said of managing metastatic breast cancer.
"I have so many patients who are living with their cancer. It isn't just about living but living well," Dr. Comen adds.
Doherty's cancer then spread, or metastasized, to her brain. As a result, she's undergone radiation and surgery in the form of a craniotomy to improve her prognosis.
As cancer treatments improve year over year, so does the number of people battling this form of cancer that spreads to the brain, says Dr. Michael Lim, the Chair of the Department of Neurosurgery and a board-certified neurosurgeon specializing in brain tumors at Stanford Medicine.
"A third of the patients with systemic cancers develop brain metastasis, and we estimate that number is starting to go higher not because the cancers are becoming more aggressive but because people are living longer," Dr. Lim explained.
According to Dr. Kimberly Hoang, a board-certified neurosurgeon at Emory University School of Medicine, a craniotomy procedure like Doherty underwent earlier this year is "a procedure to cut out a tumor" on the brain that may be particularly useful "if the tumor is causing symptoms or if it's large."
"A couple of decades ago, to have a brain metastasis was a very bad prognosis for patients," Dr. Hoang said. "They didn't live for more than a couple of months, so it was a very terminal thing. Thanks to a lot of advancements in microsurgery we do and radiation, patients are living longer," Dr. Hoang continued.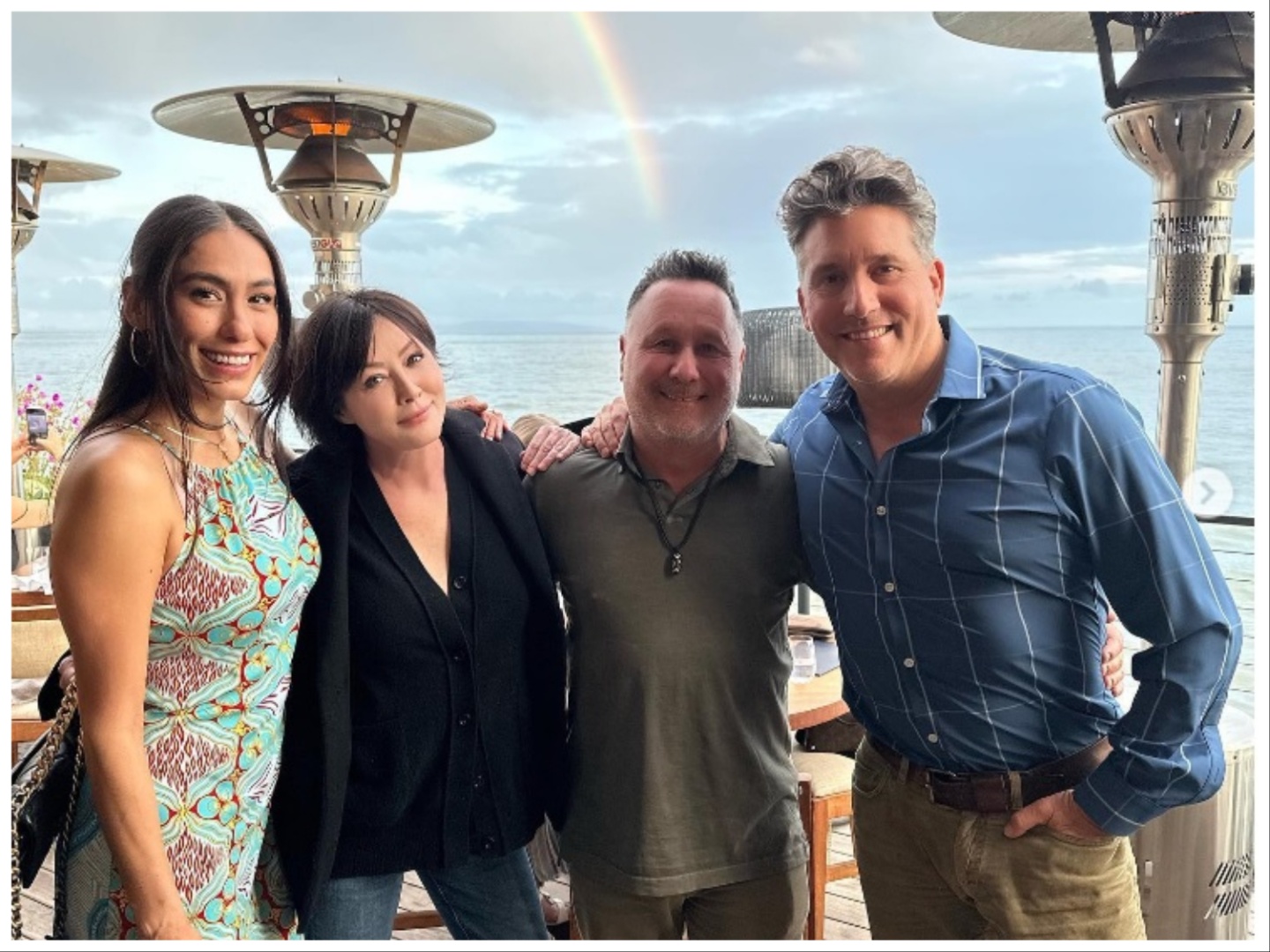 Some cancers are more prone to spread to the brain than others, Dr. Krishanthan Vigneswaran, a neurosurgeon with UT Health Houston and Memorial Hermann, tells SurvivorNet.
"Breast cancer is among the types of cancers that more commonly spread to the bone and to the brain along with melanoma, prostate cancer, renal cell cancer, and lung cancer," Dr. Vigneswaran explained.
Since undergoing brain surgery, Doherty has been seen throughout the Spring and Summer, spending time with loved ones as she continues battling stage 4 cancer.
What To Ask Your Doctor
If you have been diagnosed with breast cancer, you may have questions about keeping your strength through treatment. Here are a few questions to help you begin the conversation with your doctor:
What treatment will I be receiving?
What side effects are associated with this treatment?
Are there steps I can take daily to help minimize these side effects?
What physical activity routine do you recommend for me during treatment?
Do you have recommendations for someone who doesn't particularly enjoy exercise?
Can you recommend a dietician who can help me with healthy eating tips and weight maintenance?
I've been having trouble sleeping. Do you have any treatment recommendations?
Learn more about SurvivorNet's rigorous medical review process.
---