When a Culpeper, Virginia bride to be named Becky Carey found out that her beloved father's prostate cancer was terminal, she put her engagement photo plans on hold to do a pre-wedding shoot with her dad.
Becky's father, U.S. Air Force veteran Tim Carey, had been battling prostate cancer, and his body couldn't handle any more treatment.
Read More
"So I know you probably think I am the biggest photo session flake in the whole world, I'm so sorry for being all over the place with our requests changing. Yet, I have a huge ask, to see if it is possible. I had to write this in email because I couldn't keep it together to talk on the phone," Carey wrote in an email to photographer Bonnie Turner about her pending pre-wedding photoshoot.
In the email, she let Turner know that her father was stricken with cancer. "My dad has been fighting prostate cancer and his body is now at the point where it can't handle more treatment. We found out yesterday that he starts hospice this week," she continues.
We don't know the details of Tim's case, but we do know that doctors use a slightly different method for understanding prostate cancer risk, and for determining the best course of treatment.
In order to determine the risk level, prostate cancer doctors use something called the "Gleason score." "The Gleason score of prostate cancer is essentially a way to describe how aggressive those cells look under the microscope, how abnormal they look," says Dr. David Wise, Medical Oncologist at NYU Perlmutter Cancer Center, in a conversation with SurvivorNet that was not related to the Bonnie Turner photoshoot.
While "staging," used to assess other types of cancer, generally ranges from stage one to stage four, the Gleason score ranges from 6 to 10, according to Dr. Wise. "Gleason 6 cancers are those cancers that look a lot like normal prostate, and it turns out can be managed more conservatively, oftentimes not requiring active treatment at that particular time," says Dr. Wise. "Gleason 7 and above are cancers that typically warrant treatment, where those cells are looking more aggressive."
But the higher the Gleason score, the more risk there is on the prostate cancer spreading and becoming more dangerous. "Gleason 8, 9, and 10– that's high-risk prostate cancer," says Dr. Wise. "High-risk prostate cancer means that the risk is there for that cancer progressing to metastatic disease," says Dr. Wise.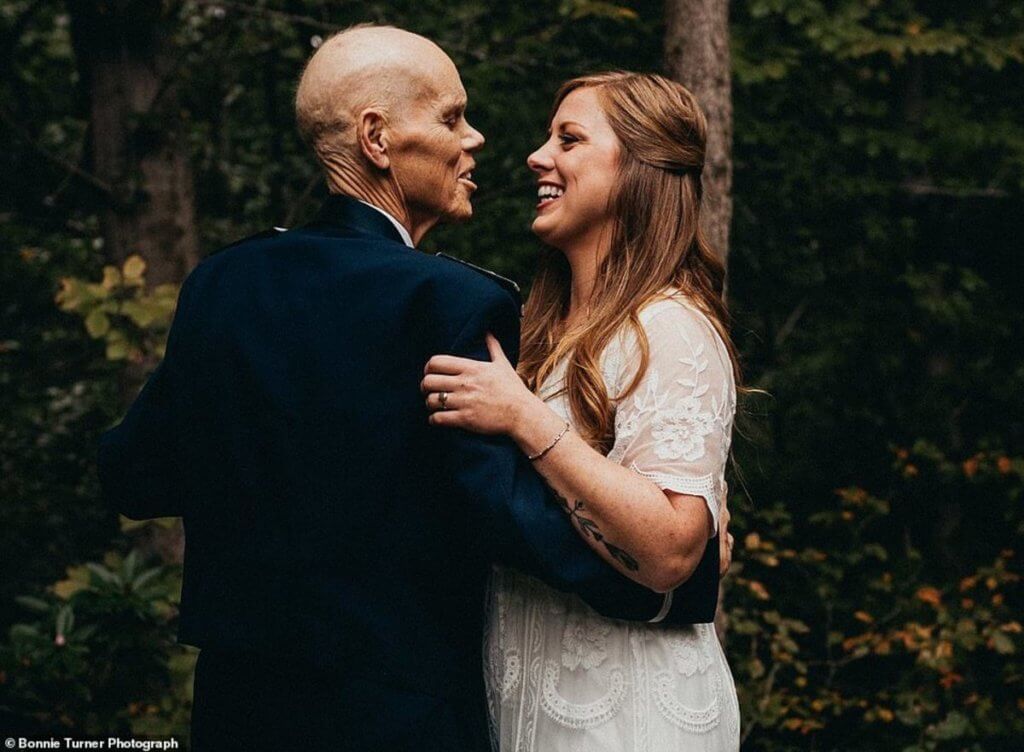 Becky Carey and her father, U.S. Navy veteran, Tim Carey, dance amidst his terminal cancer diagnosis
When Carey found out her father's prostate cancer wasn't curable, she wanted to reallocate the money she'd spent for her engagement photos to her dance with her dad. "We'd really love to use the deposit Matt gave you to do a family photo session. Matt and I will worry about our photos later, because this is more pressing with time. We haven't had professional family photos taken since my brother and I were little, and this would mean so much to us."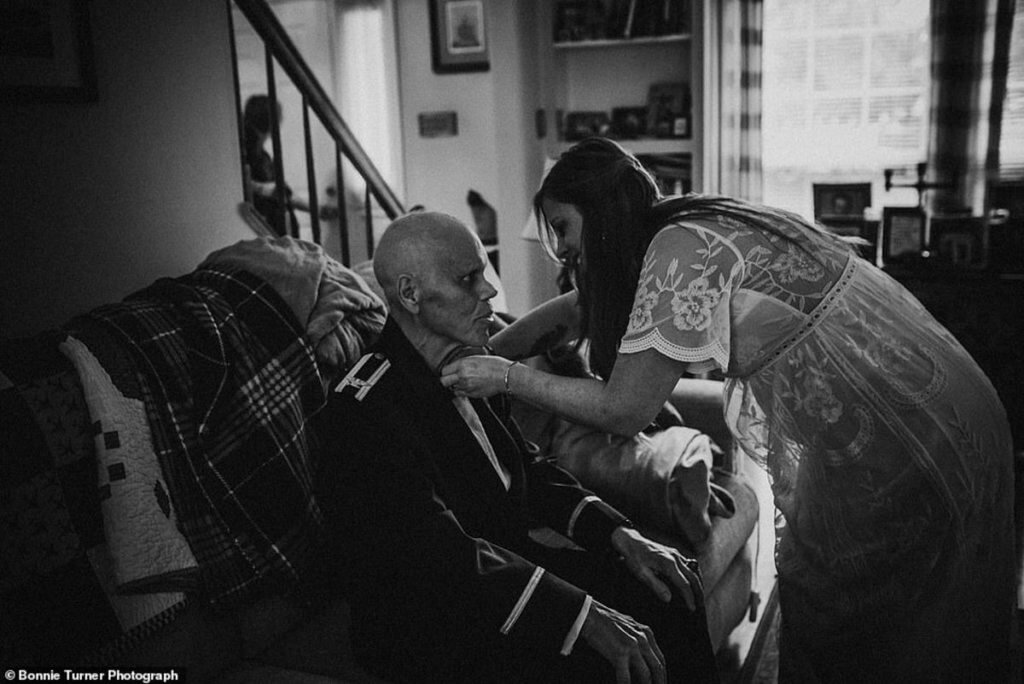 Black and white photo of Becky Carey and father Tim Carey getting ready for the shoot
And she knew Turner would be on board. "Of course this is a very difficult and dark time, but I know how you feel about love and capturing it so beautifully and meaningfully."
According to Turner, Carey seized the opportunity because she didn't know what would happen with her father. "These photos are near and dear to this family and most of all, special to her. She knew he possibly wouldn't make it to walk her down the aisle or share that father-daughter dance on her wedding day. So she took it upon herself to scratch those engagement photos for a while and share that father-daughter moment in the back yard where she grew up."
Becky's father Tim passed away on March 29. Becky and her fiance Matt will wed in September.
Learn more about SurvivorNet's rigorous medical review process.