When Columbus Cook was diagnosed with incurable brain cancer last year, the prognosis was grim: He was told he had 18 months left to live. But instead of retreating, the Gulf War veteran moved on to a whole new life in the arts, which cumulated this month — 18 months since his diagnosis — in his first-ever exhibit, put on by the Hudgens Center for Art and Learning in Duluth, Ga.
"To do art, whether I'm physically working on it or emotionally working on it, has allowed me not to feel like I'm just dying; it has allowed me to express myself through my artwork," Cook tells SurvivorNet.
Read More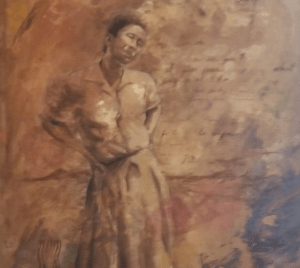 The show, called  "Awakening: The Evolution of an Artist," showcases the Smyrna, Ga., artist's gorgeous work, which ranges from what the center calls "meticulous architectural renderings, ephemeral contour drawings and contemplative sketches of objects Columbus encounters on walks around his neighborhood."
"Awakening" is on view through Feb. 1, 2020.
A Longtime Passion
Cook, who entered the military in 1990 and rose to become a Master Sergeant with the 116th Civil Engineering Squadron in Warner Robins, Ga., tells SurvivorNet that making art had always been a part of his life, and that while he had painted when he was younger, he went on to focus on architectural renderings and designs for projects such as signage the military would need. He also worked on "about 20-something hand drawings," he says, which he has since donated to his hometown museum.
But he held off on his biggest dream, saying he thought that "maybe when I got older, I'd do some fine art."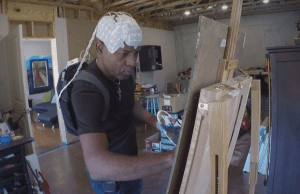 That changed when he learned he had cancer.
"Because there is no cure, it has totally made me work harder," he says.
Encouragement from Wife Val
"My wife [Val] got me into the gallery," Cook says. "I didn't know much about [the art world]. She told me that typically multiple artists are in a show together, so for me to get into the gallery and be the only one in the gallery is amazing itself."
It's no surprise that Val encouraged her husband — back in 1998, before they'd even met, and years before they  married in 2016, Val was working at an arts center when she became enamored with a painting of a woman. The student painter was Cook, and the subject was a portrait of his sister, who had passed away in 1991. A friend of his told him that someone wanted to buy his work.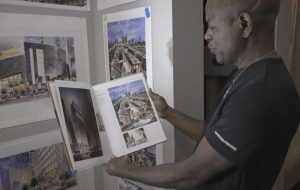 "She purchased it and had it professionally framed," Cook said. "I was so glad that someone was in love with it, and it [would be] part of her house. It made me feel good."
Visual Art and Cancer Recovery
Other cancer survivors have told SurvivorNet that their artwork helps them process and live with their diagnoses. Marianne Cuozzo, for instance, is a three-time cancer survivor whose work has reflected her journey.
Three-time cancer survivor on the importance of painting during her recovery from cancer
First diagnosed at 28 with Hodgkin's Lymphoma, Cuozzo says she drew "really angry charcoal drawings … no one was meant to see them, it was just just for me, and my cathartic getting out my cancer." More recently, she said, "with having breast cancer, it became about body image."
Cuozzo underwent a double mastectomy and immediate reconstruction–but after years of infections, she decided to have the implants removed and "go flat."
"My artwork is very reflective of my cancer journey," she continued. "I'm doing the best I can to feel beautiful in this new body."
Learn more about SurvivorNet's rigorous medical review process.
---