Finding Joy Through Art
A 5-year-old boy battling brain cancer has been getting through his days in the hospital with Post-It note art in his window and the window of a neighboring hospital.
Meyer Mixdorf and his family were able to meet their new "art" friends when they checked out of the hospital and are waiting on news of his scans.
Sadly, brain cancer is common in children, and symptoms that parents need to look out for include: crossed eyes or blurred vision, balance problems, behavior changes, and/or seizures
A 5-year-old boy in the hospital battling cancer has been getting through his days in a surprising way: Through art made from Post-It notes in his window and the window of a neighboring hospital.
Related: 8-Year-Old Boy's Brain Cancer Symptoms Tragically Dismissed as Anxiety: What Parents Need to Look Out For
Read More
"We'd say, 'Who do you think is over there?'" Meyer Mixdorf's mother, Liz Mixdorf, told
KMBC news
in Kansas City, Missouri.
It was Meyer's family who initially started making creations in his window at Children's Mercy Hospital. Now, the little boy, who is battling brain cancer, has been rewarded with revolving art displays in the windows of the Truman Medical Center/University Health building next door.
Related: 6-Year-Old Brain Cancer Patient Battling Cancer for the Second Time Meets His Favorite Superhero: Spider-Man!
"Your mystery friends changed the window again," Mixdorf would say to her son.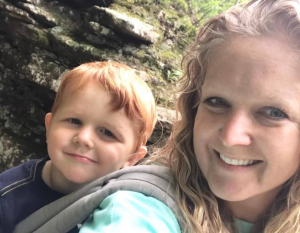 Truman Medical Center/University Health employee Johnna Schindbeck said they were "just doing something fun" for the kids across the way.
"I know there are children over there, and I don't know what they're going through, and if I can make them smile a little bit, that's all that mattered," said Cheryl Grey, aTruman Medical Center/University Health employee.
Related: Mystery on the Cancer Ward: Who Has Been Sending Flowers For The Past 12 Years? Nurses Inspired By Kindness
Both the nurses and little Meyer are on the 8th floor of their respective hospitals.
"Every morning, he would hop out of bed as soon as someone switched (the art) and he knew," Mixdorf said, explaining that they have been sharing pictures and messages with the Post-It notes for weeks.
Mixdorf is holding out hope that her son will soon be okay. "We'd love to say that he is cancer-free, and I hope I can be able to say that soon."
Related: 43 Children Are Diagnosed With Cancer Every Day in the U.S. — 90% Survive but That's Not Enough
When they finally were able to check out of the hospital, they were able to meet their neighboring mystery artists. Meyer left a final note for the nursing staff, "C U later. Thanks."
Meyer had his final scan at the hospital yesterday and the family headed back to their home state of Arkansas while waiting on results, which are hopefully "all clear."
Symptoms of Childhood Brain Cancer
Brain and spinal cord cancers are the second most common form of childhood cancer, accounting for more than 4,000 diagnoses per year — a quarter (26%) of all childhood cases. Only leukemia is more common.
According to the American Cancer Society, doctors may prescribe surgery, radiation, chemotherapy, and/or therapy drugs to target the brain tumor and prevent further spread.
Possible symptoms to look out for include:
Headache
Nausea
Vomiting
Crossed eyes or blurred vision
Balance problems
Behavior changes
Seizures
Drowsiness or even coma
Seizures occur in some patients as a first symptom. Although a seizure does not necessarily guarantee the presence of a brain tumor, pediatric neurologists will often check young seizure patients to rule out potential brain cancer.
While the survival rates for childhood brain tumors are encouraging, it does vary depending on the exact type and nature of the tumor.
How Childhood Cancer Can Affect a Family
Watching your child go through cancer is one of the most tragic things to witness for a parent.
SurvivorNet spoke with caregiver Jayne Wexler whose son Justice Carrier is an ALL (acute lymphocytic leukemia) survivor. According to the American Cancer Society, "acute" means that the leukemia can progress quickly, and "lymphocytic" means it develops from early (immature) forms of lymphocytes, a type of white blood cell.
Related: Childhood Cancer Didn't Keep Former WWE Wrestler Zack Ryder From Dominating in the Ring
Wexler tells SurvivorNet that some couples have a hard time staying together because of the stress their child's health places on their relationship.  "Fortunately, we were very strong and have stayed together," she says. "We've gone to behavioral parenting therapy, which I think all parents should go to."
The Impact of a Childhood Cancer Diagnosis
Sadly, their son relapsed at one point.
"My husband and I will always have fear … there's always some sort of worry. And we know that, I mean, it could happen to any of us … so many people have cancer or something terrible happened."
Related: Why The Increase in Childhood Cancers? Groundbreaking New Study Invites Families To 'Stand Up And Be Counted'
Wexler enjoys her time with her son, and realizes how precious those moments are.
"I try to just keep breathing and relax and enjoy my time with Justice. Kids can drive parents crazy. We drive them crazy. But you look back to how far he's come and how far we've come, and you've got to just love him. And he's the most important thing to me."
Childhood Cancer Survivor Gets Real About Life After Chemo and the New Perspective His Experience Gave Him
Learn more about SurvivorNet's rigorous medical review process.