Fighting A Villain: Brain Cancer
6-year-old Whyatt Yarnell is fighting cancer for the second time; a rare brain cancer called pineoblastoma.
The brave little boy is a superhero-enthusiast, and was recently surprised by a special visit in the park by his ultimate idol: Spider-Man.
The stress of childhood cancer affects a family greater than with adult cancer, according to a caregiver we spoke with who suggests that all parents should go to therapy to help handle the weight of the tragic situation.
Six-year-old Whyatt Yarnell is fighting cancer for the
second time
. The brave little boy has pineoblastoma, a rare brain cancer, which he has been battling since June 2019.
Whyatt was born with a chromosomal disorder called DiGeorge syndrome, and according to his grandmother Lee Ann Dial, he has endured four months of chemotherapy, six weeks of radiation and three brain surgeries on his journey.
Read More
After a year in remission, unfortunately Whyatt's cancer returned. "He doesn't fight alone," Dial told FOX Illinois out of Springfield. "He literally has an army behind him."
Related: A 14-Year Multiple-Myeloma Survivor On Her Sisterhood of Support: 'It Takes A Village to Get Chrissy Through Cancer'
Like most young boys, Whyatt is into superheroes, and Spider-Man is his ultimate.
"He's my favorite hero," Whyatt told the news outlet.
When FOX Illinois and News Channel 20 discovered Whyatt's love for Spider-Man, they put together a sweet surprise to brighten his day: A surprise visit with Spidey!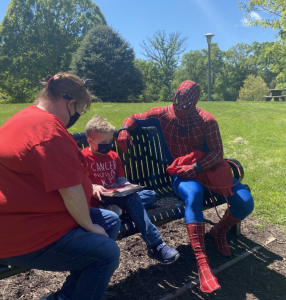 Whyatt was in awe to see Spider-Man, who gifted him some comic books. This fun distraction was just what he needed to feel "normal" again.
Related: A Dream Come True: 5-Year-Old Girl Battling Cancer Becomes an Honorary Pilot for the Day at an Air Force Base
Whyatt's grandmother was also touched by the act of kindness. She's proud of her grandson, but has obvious frustration for the tragedy of the situation.
"These kids are out here. They're fighting and there needs to be more done," she expressed. "There needs to be more research and more things brought to light."
No one should have to fight cancer, but especially not children.
"No matter what age you are, cancer is bad, but it just seems like people are more willing to rally for a child," Dial said.
On the family's Facebook page documenting Whyatt's journey, they gave a recent update in early May that experts are suggesting that his "best bet" is a stem cell transplant, or bone marrow transplant, which is a procedure in which a patient receives healthy stem cells (blood-forming cells) to replace their own stem cells that have been destroyed, although there is "no guarantee" for success.
Pediatric Brain Cancer
Brain and spinal cord cancers are the second most common form of childhood cancer, accounting for more than 4,000 diagnoses per year — a quarter (26%) of all childhood cases. Only leukemia is more common.
According to the American Cancer Society, doctors may prescribe surgery, radiation, chemotherapy, and/or therapy drugs to target the brain tumor and prevent further spread.
Possible symptoms to look out for include:
Headache
Nausea
Vomiting
Crossed eyes or blurred vision
Balance problems
Behavior changes
Seizures
Drowsiness or even coma
Seizures occur in some patients as a first symptom. Although a seizure does not necessarily guarantee the presence of a brain tumor, pediatric neurologists will often check young seizure patients to rule out potential brain cancer.
While the survival rates for childhood brain tumors are encouraging, it does vary depending on the exact type and nature of the tumor.
How a Child with Cancer Impacts the Family
Watching your child go through cancer is one of the most tragic things to witness for a parent.
SurvivorNet spoke with a caregiver Jayne Wexler whose son Justice Carrier is an ALL (acute lymphocytic leukemia) survivor. According to the American Cancer Society, "acute" means that the leukemia can progress quickly, and "lymphocytic" means it develops from early (immature) forms of lymphocytes, a type of white blood cell.
Related: Childhood Cancer Didn't Keep Former WWE Wrestler Zack Ryder From Dominating in the Ring
Wexler tells SurvivorNet that some couples have a hard time staying together because of the stress their child's health places on their relationship.  "Fortunately, we were very strong and have stayed together," she says. "We've gone to behavioral parenting therapy, which I think all parents should go to."
Sadly, their son relapsed at one point.
"My husband and I will always have fear … there's always some sort of worry. And we know that, I mean, it could happen to any of us … so many people have cancer or something terrible happened."
Related: Why The Increase in Childhood Cancers? Groundbreaking New Study Invites Families To 'Stand Up And Be Counted'
Wexler enjoys her time with her son, and realizes how precious those moments are.
"I try to just keep breathing and relax and enjoy my time with Justice. Kids can drive parents crazy. We drive them crazy. But you look back to how far he's come and how far we've come, and you've got to just love him. And he's the most important thing to me."
The Impact of a Childhood Cancer Diagnosis on the Whole Family
Playing the Role of Cancer Caregiver and Mom
Learn more about SurvivorNet's rigorous medical review process.