They're called man's best friend for a reason! Anecdotally, we've all heard about the benefits of spending some quality time with animals. They can brighten your mood, lessen anxiety, provide endless entertainment, and shower you with unconditional love. Memorial Sloan Kettering Cancer Center's Caring Canine's Program aims to provide all of those benefits to patients as they go through the challenges of the cancer journey.
SurvivorNet caught up with Jane Kopelman, who heads up MSK's canine program, to discuss some of the benefits of pet therapy–and it turns out there are quite a few! It comes as Plum, one of the dogs in the program, is set to compete in this weekend's Westminster Kennel Club Dog Show. Plum, a flat-coated retriever, will compete in the Best of Breed competition.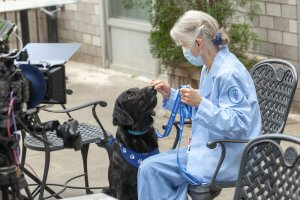 How Can Dogs Help During the Cancer Journey?
Read More
Though MSK's program was largely put on hold or transitioned to virtual meetings through the
Covid pandemic
, the Caring Canines Program has been widely successful throughout the past 14 or so years. Kopelman said they're hoping to get more pups involved in the program because patients request them so often.
"What most patients say, and studies have proven, is that the dogs reduce anxiety, reduce depression, and they give people a sense of hope–they often motivate people," Kopelman said. "Patients have said that they were so eager to have the dogs come that it motivated them to get up."
The dogs can visit patients who are in the hospital after undergoing surgery and also visit outpatient locations where patients may be undergoing treatment like chemotherapy.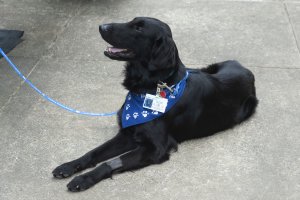 How Have Patients Responded?
MSK's Caring Canine program is a big hit. Kopelman tells SurvivorNet that there are patients who request to see the pooches every time they're in the hospital.
"Normally, what happened pre-Covid … Someone would go around and survey the patients and see who on a particular day would like to see the dog. The dogs visit conservatively more than 9,000 patients per year," Kopelman explains.
Before the pandemic, pet visits were available to anyone who requested them–and the program will resume just as soon as Covid-19 restrictions allow. Right now, about 45 dogs and their handlers are involved in the program, Kopelman said, "and we need more."
What's the Science?
Studies, including at least one done at MSK, have shown that patients and their families report lower levels of stress when they get to spend time around the dogs. Though the results are mostly anecdotal rather than statistically significant, those who have witnessed the benefits of pet visits say the benefits are clear.
"We had many patients who were having a hard time getting out of bed after having abdominal surgery," a nurse practitioner at MSK, Mary Montefusco, said. "But when they heard the dogs were on the way, they wanted to get up and sit in a chair so it would be easier to pet them."
Kopelman explained that "the biggest benefit is [the patients] feel less anxious, they feel calmer, and they're able to go through what is a very stressful experience."
Tune in to Watch the Westminster Dog Show!
If you'd like to tune in to watch Plum at the Westminster Kennel Club Dog Show this weekend, some segments will air on FOX, while the show in its entirety is available to stream at westminsterkennelclub.org or on the FOX Sports or FOX NOW apps. The show runs from through June 13. There will also be a segment on Fox Sunday night specifically about MSK's program.
You can donate to the cancer center's incredible Caring Canines program at Mskcc.org/plum!
Learn more about SurvivorNet's rigorous medical review process.