Sophie Ruiz was diagnosed with cancer at 18 years old. She and her boyfriend are getting through it together.
Ruiz went to the hospital on Sept. 20, 2017 for a paraspinal mass, according to the article she wrote for People Magazine. A paraspinal mass is basically any mass adjacent to the spine, which can be dangerous. "Six days later, I was told the mass was cancerous, and she was diagnosed with stage IV high risk neuroblastoma cancer," she wrote.
Read More
"I remember exactly what was going through my head: 'This can't be happening to me. I can't have CANCER. That's impossible.' I was basically denying that my diagnosis was real," she wrote.
When school started in Sept. 2018, Sophie had pneumonia, which left her tired all the time, "I wasn't up for doing things outside of the house and was still recovering from my stem cell transplant. But despite being extremely tired, I wanted to take some nice photos with my boyfriend Haydn as a way to remember my senior year homecoming."
And that's exactly what they did. "I was so happy that I had the opportunity to dress up, put makeup on, and get some cute pictures! I was just excited that I was able to do that, since I'd been in the hospital getting treatment the year before," she wrote.
But, Sophie wrote, she's still not able to do some daily activities. "Although my strength and stamina have increased, I am not yet able to do much dancing, walking, or standing for long periods of time," she wrote.
After five rounds of chemo, when her main tumor had shrunk enough, she had a 7-hour surgery to remove it from her spine, according to the story. "Then I had four rounds of immunotherapy," she writes. "Over the summer I had my stem cell transplant, which involved many days of the harshest chemotherapy a person can endure. After the chemo was complete, I was injected with my own stem cells."
"I was in the hospital for three weeks. After that, I had a month of proton radiation therapy. At the moment, I take an oral treatment called Isotretinoin," she wrote.
"Haydn and I have been together for a year now. When we first started talking, I asked him to hang out and we instantly clicked," she writes, "We've been pretty much inseparable ever since. He even woke up at 4 a.m. so he could be with me for my big surgery, and he waited in the waiting room for seven hours while I was in the operating room."
"He came into my life at the perfect time, and I can't thank him enough," she writes in the story, "Throughout our relationship, we have matured a lot. We've been through so much together. He has seen me at my lowest point in life and he was by my side through it all, calling me beautiful even when I was throwing up in a bucket!"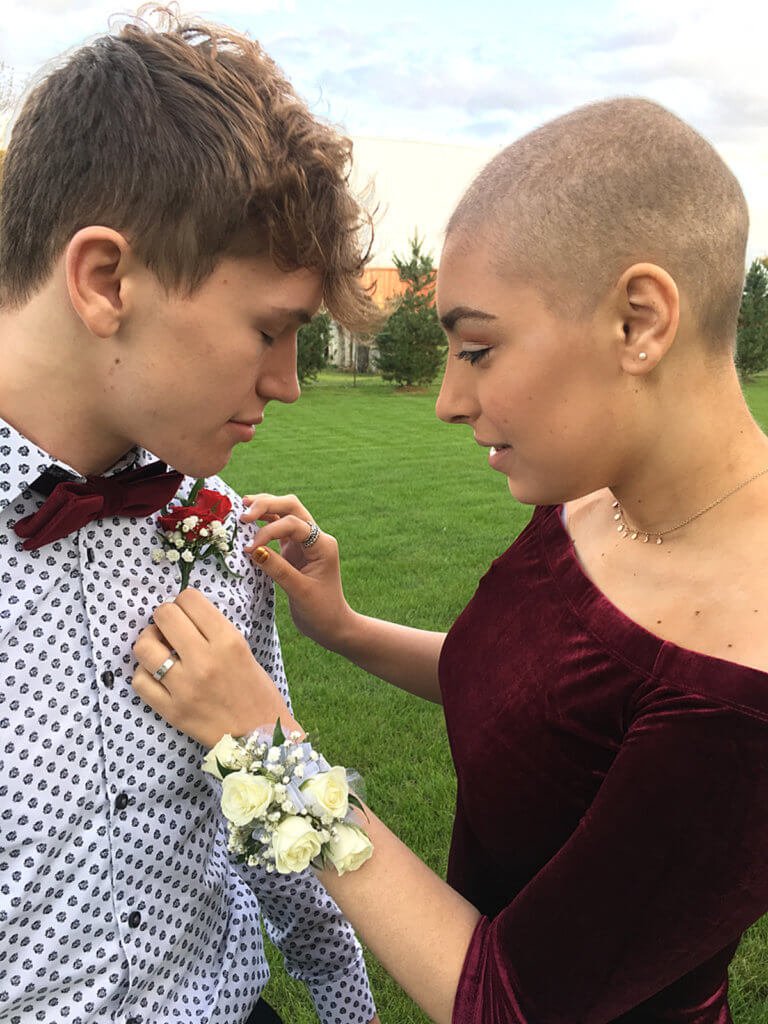 Sophie Ruiz Dresses Up With Her Boyfriend To Remember Her Senior Homecoming
But it wasn't just Haydn she was nervous about. "I was nervous about how my best friends would respond to my diagnosis," she wrotes, "but they jumped into action as soon as they found out. My friends Cameron Barto, Tobey Prime and Catherine Wise made shirts saying #SophieStrong to raise money for Four Diamonds."
"Friends came to visit me in the hospital, bringing me blankets, fuzzy socks, books, art supplies and my favorite food. The community cooked my family meals, which was a huge help. My friends don't see me as a sick person. They still see me as Sophie, which is great. I try not to talk about it too much because I feel like cancer is such a big, scary subject for a lot of people, but for me it's a reality. I realize I am used to talking about it because it's been my world for more than a year."
"Throughout this journey I've definitely grown closer to my parents, especially my mom, who has been with me every day from 9 a.m. to 9:30 pm. Needless to say, we have a lot of time to talk!," she wrote.
Sophie also included a little bit about her career dreams after cancer. "Graduating on time is a big priority for me. In college, I'd like to study child development and child psychology, eventually becoming a child life specialist in a pediatric oncology unit. My child life specialist, Haley, was a huge inspiration for me. She's just a ray of sunshine — I'd love to be that person for other patients."
"I keep my friends and supporters updated on Instagram, even though it can feel a little superficial at times. I also want to post about my reality," she wrote.
Learn more about SurvivorNet's rigorous medical review process.