Abby Lee Miller Meets Iggy Azala: A Cancer Connection
Miller is returning to filming while recovering from the long-term impact of spinal surgery for Burkitt's lymphoma
She shared a selfie with rapper, Iggy Azalea, who's reported skin-cancer risk from moles
The odd-couple met on the set of an unnamed dance project that Miller has begun filming in recent weeks
You never know who you'll run into on a film set. For former "Dance Moms" star, Abby Lee Miller, who is making strides in her recovery from Burkitt's lymphoma, filming brought a surprise encounter with Aussie rapper, Iggy Azalea, 30.
Related: 'I Cut The Moles Off My Tummy' — Iggy Azalea Regrets Losing Her Moles; But Do They Increase The Risk of Skin Cancer?
Read More
"Throwing it all the way back to last week when this happened! Whaaaat?" Miller wrote on Instagram (below). Their chance encounter inspired a selfie (below) between the two.
"Iggy Azalea Just popped on over to the @itsjojosiwa house and onto our set where we were filming! HELLO!!!" a surprised Miller wrote.
For Abby Lee Miller: New Production?
Miller has been focused on physical therapy after surgery for a cancerous a spinal tumor in 2019 left her unable to walk. The diagnosis was Burkitt's lymphoma, a highly aggressive B-cell non-Hodgkin lymphoma that can spread to the central nervous system.
Related: Recovering From Cancer, Dance Mom Abby Lee Miller Hints at New Show Taught From Her Wheelchair
One of the fastest-growing cancers known, Burkitt's lymphoma is often indistinguishable from diffuse large B-cell lymphoma, another aggressive form of lymphoma, an accurate diagnosis is critical, according to the Lymphoma Research Foundation.
Related: 'I Walk Out Here Next Time!' Reality-TV star and Cancer Survivor Abby Lee Miller Vows to Get Stronger on 'The Doctors'
But in a recent Instagram post, the former star of Lifetime's "Dance Moms" hints that she's launching a new venture. "And ACTION" Just like that we're back at it," she wrote on Instagram in late August. The film project might explain how Miller and Azalea happened to meet.
Iggy Azalea: Empowering Cancer Survivors
Iggy Azalea, whose real name is Amethyst Amelia Kelly, came to the U.S. in her teens to chase her music career dream and quickly rose to stardom with hits  "Fancy,"  "Work," and "Black Widow."
Related: The Cancer Community Loves That Pop Star Iggy Azalea's "Rock/Wrestler" Clothing for Breast Cancer Awareness Is Rad And Rebellious
A friend of the cancer community, Azalea designed a "Strength in Scars" t-shirt to support breast cancer awareness in October, 2019.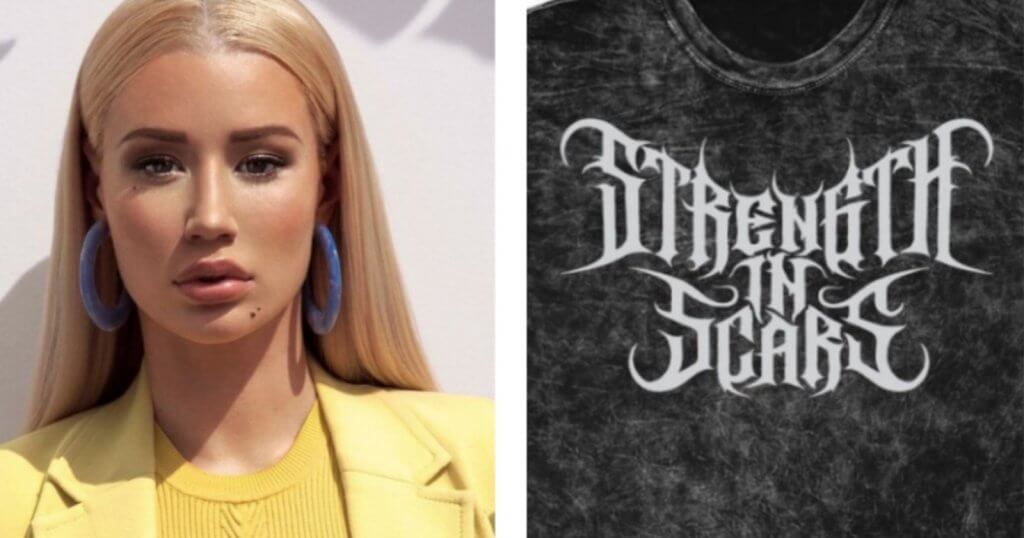 Aussie rapper, Iggy Azalea, steered clear of pink when designing her "Strength in Scars" shirt for breast cancer awareness in 2019.
Azalea's Melanoma Scare
The music star, who is famously fond of her moles, understands that they put her at higher risk of melanoma.
Related: Get Your Moles Evaluated to Rule Out Melanoma
In March,  Azalea tweeted, "I cut the moles off my tummy in case they were cancerous. And turns out, they weren't – I'm still deeply moderately kind of sad about it."
Dr. Anna Pavlick, an oncologist at NYU's Perlmutter notes that people who are covered with moles stand a higher risk of developing skin cancer.
Get Your Moles Evaluated to Rule Out Melanoma
As the deadliest form of skin cancer, melanoma, a cancer of the pigment-producing cells, is critical to rule out. Dr. Cecelia Larocca, a dermatologist at Dana-Farber Cancer Institute, recommends implementing the ABCDE rule to determine if a mole requires further examination.
The ABCDE rule:
A: Asymmetry of the mole, or when one half of the mole doesn't match the other
B: Border irregularity or Bleeding
C: Color change either lightening or darkening of a mole
D: Diameter greater than 6mm or enlarging moles
E: Evolving size, shape or color.
Related: John Lennon's Son, Julian Lennon, Has Surgery for a Cancerous Growth — the Importance of Early Detection
Of course, if you're unsure, it's always better to have a mole checked out to ensure early detection.
Learn more about SurvivorNet's rigorous medical review process.
---