Moving Forward After Losing a Loved One
Actor Rick Moranis lost his wife, Ann, to breast cancer in 1991 and decided to take a break from acting to raise their two kids.
He talked about going from a working actor to a single dad, saying he had a "wonderful" life at home with his kids.
As he celebrates his 70th birthday, his hiatus from the big screen may soon end with a reboot of his cherished film "Honey, I Shrunk the Kids."
Losing a spouse to cancer can cause immeasurable pain, but it's important to try to have uncomfortable conversations with your loved one – if they're open to it – during their cancer battle.
After losing his beloved wife to cancer, Rick Moranis, 69, took a big pause on his career to take care of his kids at home as a newly single parent. Now, as the iconic actor turns 70, he's working to make a long-anticipated return to the big screen.
Moranis married his beloved late wife, makeup artist Ann Belsky, in 1986. Sadly, she died of breast cancer in 1991 at the young age of 35. The couple had twins together, Mitchell and Rachel, who are now both 34.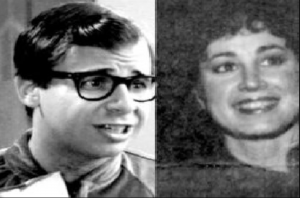 Read More
But after his wife's death, the "Ghostbusters" star decided to step away from acting and focus on his children. "I pulled out of making movies in about '96 or '97," 
Moranis told USA Today in 2005
. "I'm a single parent, and I just found that it was too difficult to manage raising my kids and doing the traveling involved in making movies. "So I took a little bit of a break. And the little bit of a break turned into a longer break, and then I found that I really didn't miss it."
In 2015, he spoke about his hiatus again and described his transition from red carpets to stay-at-home father.
"I was working with really interesting people, wonderful people," Moranis said of his Hollywood career before losing his wife.
"I went from that to being at home with a couple of little kids, which is a very different lifestyle. But it was important to me. I have absolutely no regrets whatsoever. My life is wonderful."
Rick Moranis' Upcoming Project
He's been pretty much out of the spotlight since, but fans of the "Spaceballs" actor can relish in the fact that Moranis is set to return to the big screen in the near future.
He's currently working on a reboot of one his most cherished films, "Honey, I Shrunk the Kids."
Moranis will reprise his role as scientist Wayne Szalinski, but the movie will center around his character's now grown-up son, played by Josh Gad, 41. The project, to be titled Shrunk, seems to be well underway.
In an Instagram post, Gad teased fans with a still of Moranis from the original 1989 film.
View this post on Instagram
"Homework," Gad captioned the post.
It's unclear when the film will be released, but with Gad studying for the role since at least January, we're hoping to see Moranis back in theaters soon.
Losing a Loved One to Cancer
Losing a loved one to cancer can cause immeasurable pain – as Moranis can surely attest to.
And while it's difficult to imagine life without someone like your significant other, it can be important to have hard conversations with your loved one if both parties are willing to talk.
No one knows this better than John Duberstein, who lost his wife, writer Nina Riggs, to metastatic triple-negative breast cancer.
He previously told SurvivorNet that all he wished for while she was suffering was for things to go back to the way they were – but Nina had already accepted her new normal.
The Toughest Conversations: Losing a Spouse to Cancer
"I really wanted things to go back to normal, whatever that meant," John said.
"She was not for that. She wanted to embrace the existence that she had, even before she knew she was going to die imminently. I did not want to talk about what was going to happen with me after Nina died. Nina is the one that really brought it up, she brought it up a number of times. She wanted to make sure that I knew that it was OK … she really wanted me to have another relationship after she was gone."
RELATED: Folk Legend John Prine's Widow Shares the Story behind the Musician's Clairvoyant Song 'When I Get to Heaven'; Musician Battled Cancer Twice, but Passed from COVID
John said that even with the pain of losing Nina, and even though he didn't want to talk about it at the time, he's so glad that his wife started those seemingly uncomfortable conversations.
"In retrospect, I can't even explain how glad I am that I had that," John said. "And I think, across the board, the people who have had those conversations who I know who have lost a spouse are immeasurably glad that they did."
Remembering all the wonderful ways the person you've lost enriched your life can also help you move forward. For Fiona, one of the lovely memories she keeps of her husband is singing with him.
"I was much better singing at home than I ever was on stage, and we loved to listen to music and sing in the car," she said.
"We did that for sure. And, you know, we started that from the first month we met. We had the exact same taste in music. I knew all the country songs, and then he loved Van Morrison."
Caleb Farley also knows what it's like to remember the impact a loved one had on your life. In a previous interview with SurvivorNet, Farley talked about his mother's battle with breast cancer.
He also discussed how he opted out of his position as a cornerback for the Virginia Tech Hokies due to COVID-19 concerns. Having lost his mom to breast cancer in 2018, he knew he wanted to be extra careful during the pandemic.
Farley announced the news of his opt-out in an Instagram video saying, in part, "I cannot afford to lose another parent or loved one… Though the competitor in me badly wants to play this season, I cannot ignore what's going on in my heart, and I must make the decision that brings me the most peace."
2021 NFL Draft Prospect Caleb Farley Tells SurvivorNet His "Mom Was Like a Superhero" Before She Lost Her Battle with Breast Cancer; Here's What Got Him Through
Farley trained for the NFL draft instead of playing for Virginia Tech, and his efforts paid off. He was selected by the Tennessee Titans as the number 22 overall pick in the first round of the 2021 NFL draft.
Farley's mother fought two battles with cancer. He watched as she went through multiple rounds of chemotherapy while still working and taking care of her family.
Although his "superhero" mother did not get to see him play in the NFL, Farley will take many lessons he learned from her and apply them to whatever challenges he faces in life moving forward.
"My mother raised me to be very religious, very God-conscious. That's been everything to me, and my life. That's like the building blocks of my, of my life," Farley told SurvivorNet.
"Anything that's happened to me, any adversity, any good times, any bad times, I've always kind of stood on that rock of faith. I can't thank her enough for how she raised me and because it was her who gave me all of that, um, spiritually, she, she just filled my heart with love and joy. I've had a happy life because of her."
Learn more about SurvivorNet's rigorous medical review process.