Jen Says: Wear Sunscreen!
Actress Jennifer Garner, 48, says on her Instagram stories that sunscreen and skin protection is so important.
Skin cancer is the most commonly diagnosed type of cancer in the U.S.
Protect your skin by wearing sunscreen, avoiding peak sunlight hours, covering your skin, and avoiding tanning beds.
Actress Jennifer Garner is riding high with her hit Netflix film, 
Yes Day, 
but she's not resting on her laurels just yet: She's encouraging people to protect their skin.
Related: 'Yes Day' Actress Jennifer Garner, 48, Says 'Thank You for Sharing Your Yes Days' to Little Girl Lula on Her 'Cancerversary'
Read More
Skin cancer is the most prevalent type of cancer in the U.S., and Garner knows the importance of taking care of your skin. In a new Instagram story featuring the actress sans makeup, Garner says: "After 15 years of talking about sunscreen, it's safe to say that I believe in the importance of sun protection."
Related: Jennifer Garner Shares Footage Of Her Mammogram Screening For Breast Cancer Awareness Month
The cancer awareness advocate and actress writes, "Let's all work together to protect ourselves and the ones we love."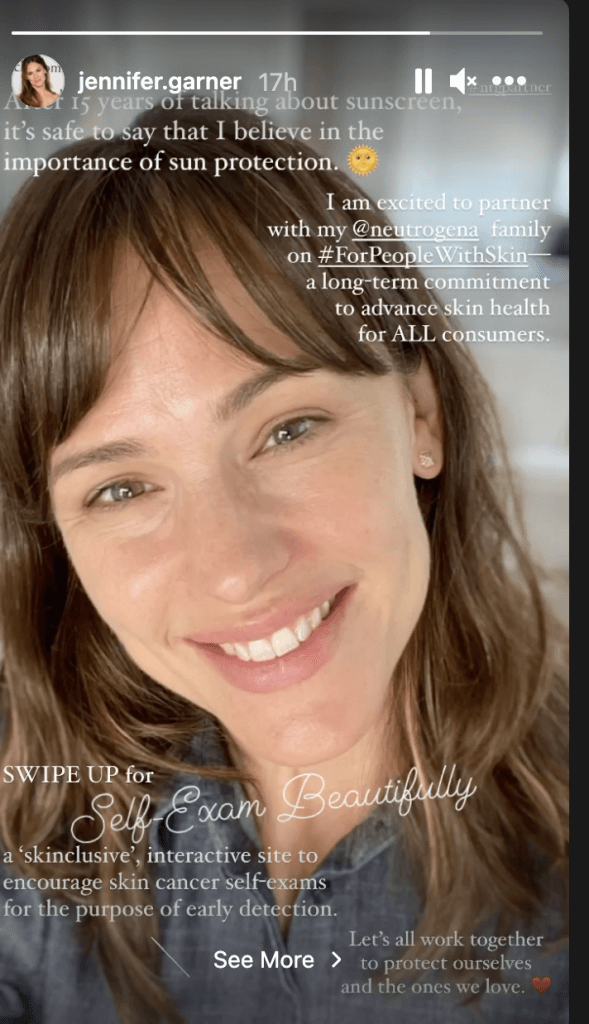 How to Protect Your Skin
As Garner noted, wearing sunscreen daily is an excellent way to protect your skin from harmful UV rays, which can cause skin cancer. Dermatologist Dr. Dendy Engleman outlines in an earlier interview the top five ways to protect your skin. She says:
Avoid the sun during peak hours – This means from 10 a.m. to 2 p.m. It doesn't mean you should never go outside during the middle of the day, but make sure you're protected when you do venture outdoors.
Cover your skin and eyes – A wide brim hat and sunglasses will protect your face, the top of your head, your ears, and the delicate skin around your eyes.
Wear an SPF of 30 or higher – Plenty of facial moisturizers have SPF built into them. Reapply every few hours.
Get an annual skin check – You can check your own skin for anything that looks out of the ordinary, but you should still get a yearly check to make sure you didn't miss anything. If you do happen to notice anything out of the ordinary in between checks, schedule an appointment to talk to your doctor about it ASAP — it is always worth it to make sure.
Avoid tanning beds – This one is obvious … but just a reminder, tanning beds can significantly increase your risk of developing melanoma.
Top 5 Ways to Protect Your Skin From Skin Cancer
How to Chose the Best Sunscreen
When it comes to choosing sunscreen, there are a few factors you should be aware of, so that you're able to choose the one that is best for you.
Related: Melanoma Awareness: Yes, You Still Need to Protect Your Skin In The Winter
Dermatologic surgeon Dr. Snehal Amin offers tips in an earlier interview about how to pick a sunscreen.  "My recommendation is really focus on the ingredients rather than the brands," he says. "If you like the way the brand feels on your skin, if you like the purpose of the brand– for instance, sport versus daily use or daytime use versus a short burst of activity use– I think those are more important factors than actual brands."
Related: Choose the Right Sunscreen and Use it Often
"When I'm using sunscreens on my younger kids, I recommend Neutrogena Free and Clear Stick, which is a zinc and titanium-based sunscreen. It doesn't have chemical sunscreens," says Dr. Amin. "It's a little greasier, but my kids tend not to mind that particular aspect of the sunscreen. If I'm doing a sports activity outside– for instance, surfing or kite surfing– I make sure that I use a sports-based sunscreen, and there's a lot of sports-based sunscreens that I could mention."
Which Sunscreen Should I Choose To Prevent Cancer?
Learn more about SurvivorNet's rigorous medical review process.