Nobody is Perfect
The Morning Show star Reese Witherspoon reminds us that no one is invincible to hardships, no matter how perfect they seem, and it's all in the way you pick yourself up again. "Every single person you see as invincible has cried themselves to sleep, broken down, felt weak and unable to get up," the actress shares on her Instagram. "The reason why you see them as invincible now is because they picked themselves up again."
Cancer survivors often say that it's important not to let go of your passions and find a way to lift yourself up every day, whether it's through an artistic endeavor, getting some exercise, or putting on lipstick. Most importantly, we can't judge someone else's life, as we are all going through our own personal battles, whether we are living with cancer or not.
Three-time cancer survivor Marianne Duquette Cuozzo tells SurvivorNet how her artistic passions carried her through her battles, while makeup artist Rami Gafney chose to stop pitying himself one day while going through chemotherapy with the inspiration of strength from a handicapped man.
Actress
Reese Witherspoon
, 44, is someone we may see as invincible … with a seemingly perfect life, but she suggests that no one is invincible to hardships, and it's all in the way we handle those toough times, by picking ourselves up again.
The Tennessee-raised star has won a couple of Golden Globes, an Oscar, an Emmy. She has a good-looking talent agent husband, three beautiful children. She owns a successful clothing company Draper James, runs a book club, is friends with Oprah, and appears to have an ever-so-cheery demeanor just like her head-to-toe-pink-wearing character 'Elle Woods' in the Legally Blonde film series. However, Witherspoon reminds us that nobody is flawless, and all we can do is keep picking ourselves back up again.
Read More
Related: 7 Cancer Survivors and Thrivers Tell Us How They Keep a Positive Attitude
Witherspoon shares this helpful reminder that we should all put in perspective. "Every single person you see as invincible has cried themselves to sleep, broken down, felt weak and unable to get up," the quote on her Instagram stories reads. "The reason why you see them as invincible now is because they picked themselves up again. No matter how many time they fell, they picked themselves up again."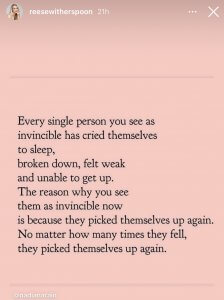 The most humanizing event in Witherspoon's life, at least in the public eye, is when she was arrested for disorderly conduct while intoxicated, arguing with police while her husband Jim Toth, 51, was getting arrested for driving under the influence. The police dash-cam video leaked. It was in that moment that we realized that the Big Little Lies star is not perfect, and has issues like the rest of us. (That was actually when I started liking her more, although I don't condone drinking and driving.)
View this post on Instagram
View this post on Instagram
That is why it is so important to not emulate others, as we have no idea what they may be going through privately. With social media, celebrities—and everyday people—are getting more confident with sharing their vulnerable sides, as we realize more and more that some of these public personas or social media profiles are just that … personas. But what the people who look the most "put together" share in common, is the ability to pick themselves back up again.
Picking Yourself Up
When you are feeling low, sometimes all it takes is a walk outside, eating a healthy meal, taking a bath, putting on lipstick, that can help give you a little pick-me-up. We must remember not to compare lives. That wealthy neighbor may be crying herself to sleep over the loss of her mother as a little girl. The fit woman running down the street at 6am may have had a lifetime of eating disorders. The beauty queen posting kissy faces on Instagram may have had her heart broken and unable to get up from bed for months.
Related: Actress Olivia Munn Says 'I Don't Think People Realize How Much Strength It Takes to Pull Your Own Self Out of a Dark Place'
For people living with cancer, it is essential to keep picking yourself up again and not feel threatened by people who seem to "have it all."  On some days, you may look or feel weak, but every day you get up and fight this disease is so courageous and inspiring to so many around you. While most of those around you may not be battling cancer, they could be battling their form of cancer; an abusive relationship, an addiction, losing a best friend to suicide. So instead of judging or feeling sorry for ourselves, let's keep lifting ourselves up. Because that is the most heroic thing that we can do. Easier said than done, but we can try.
Living Your Passion
When going through a cancer journey, it is imperative to not let go of your passion. Whether it's art, music, poetry, you need those hobbies and passions more than ever. Pick up a book, or listen to music. Don't let the disease take over your spirit. Here's how one survivor pushed through.
Related: Music Helped Melissa Etheridge, Breast Cancer Survivor, Heal After Son's Death; Art Therapy Is A Powerful Tool
Three-time cancer survivor Marianne Duquette Cuozzo is a mother, an artist, and a self-titled dreamer "because that's what I do most of the time," she tells SurvivorNet, expressing that she's dealt with it very differently in different times. She put her anger into her art. "When I was first diagnosed when I was 28, I had a little studio at my house. And I'd go in the studio, and I had these huge pieces of charcoal. And I would do these really angry charcoal drawings, and I'd roll them up and stuff them under the couch. No one was meant to see them because it was just for me and, my cathartic getting out my anger."
Related: America's Got Talent' Host Terry Crews Says His Wife's Double Mastectomy During COVID-19 Was Their Biggest Challenge Yet
After dealing with breast cancer and having her breasts removed, she allowed herself to still feel sexual. "My artwork is very reflective of my cancer journey. To be sexual—it's in my head. It's not in the body. It's in the mind. It's here," she says, pointing to her head. "And to feel beautiful is in here. And through cancer, you find your beauty."
"One of the things I'm working on, and I think it's a work in progress for me for a long time– I had these breasts for so long, and they were beautiful … I didn't know the strength I had in how to deal with any of this. There's courage in you that you never knew you had."
How I Made It Through Cancer Painting & Dreaming
Finding the Strength
Makeup artist and survivor Rami Gafney reflects on feeling too taxed to walk back home from his New York warehouse one day. He was in the middle of chemotherapy treatment. "I was living on East 38th Street way east on 1st avenue and my warehouse was on 11th Avenue," he tells SurvivorNet. "By the time I got to the warehouse, I realized I'm not sure I can walk back. He started walking back, stubbornly, he says. "It was very taxing physically and I was exhausted."
Related: 6 Cancer Survivors Share with SurvivorNet Where They Find Strength & How They Keep Perspective
As he was feeling pity for himself, he saw a handicapped man walk by. "I don't know what his affliction was, he was very handicapped. And just as he was passing me, his face lit up … his face lit up in this amazing triumphant smile," Gafney explains through tears. "And I don't know what he'd been through. Maybe this was a triumph for him, maybe this was the first time he'd walked in who knows how long, but he was thrilled to be able to do the little bit that he was able to do."
Related: Olympian Shannon Miller Reveals The Mindset That Helped Her Get Through Ovarian Cancer: 'You Fall Nine Times, You Get Up Ten'
The man's immense strength struck Gafney. "And in that moment I said to myself, I will never feel sorry for myself again. And that was it and that got me through the rest of treatment."
How I Found the Strength to Keep Going During Cancer
Learn more about SurvivorNet's rigorous medical review process.