Pet Therapy For Cancer Patients
Actress Shannen Doherty, 51, shared a touching post dedicated to her dog, Ms. Bowie, and how she has helped her through her stage four breast cancer battle.
Doherty was first diagnosed with breast cancer in 2015 after finding a lump in her breast which turned out to be cancerous. Her cancer later returned and spread to her lymph nodes.
Cancer patients don't have to own pets to get the benefits of pet therapy. A number of chemotherapy centers and major cancer centers have trained therapy dogs come and give patients a furry distraction from chemotherapy and the tedium of treatments.
Actress Shannen Doherty, 51, sits on the floor with her face against her dog Bowie, in a new emotional post showing the intense relationship she has developed with her dog, as she continues to battle stage four breast cancer.
"It's amazing what dogs can get you thru. Heart wrenching shit becomes bearable," says Doherty, in a heartwarming Instagram post.
Read More
Doherty, who is known for playing Brenda Walsh on
Beverly Hills, 90210
, was first diagnosed with breast cancer in 2015 after finding a lump in her breast which turned out to be cancerous. She had hormone therapy to fight her cancer, but it was ineffective and the cancer had spread to her lymph nodes.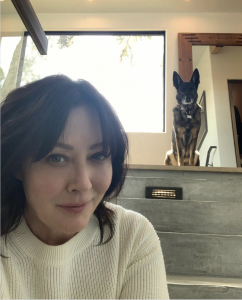 The actress is active on Instagram, sharing the ups and downs of her cancer journey with her 1.9 million followers. This isn't the first time we've seen photos of Ms. Bowie, but one of the more heartfelt and moving posts about the dog in recent months. She is a big animal advocate and has previously been outspoken on animal cruelty issues.
RELATED: Beloved '90210' Star Shannen Doherty, 51, Stands Up For Fallen NYC Horse: 'Please Stop Participating In This!'
Doherty's Cancer Diagnosis
Doherty underwent a single mastectomy and also had chemotherapy and radiation for her breast cancer. After going into remission, she announced in February 2020 that her cancer returned, and this time it had spread to other parts of her body.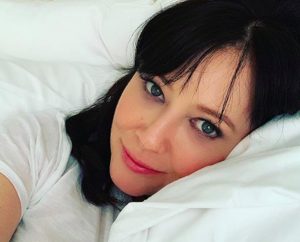 Surgery, like the kind Doherty had (a single mastectomy), is a common treatment path for many people fighting breast cancer. Dr. Ann Partridge, an oncologist at Dana-Farber Cancer Institute and the founder and director of the Program for Young Women with Breast Cancer explains the path to surgery.
Dr. Partridge said: "So when I talk to a woman who comes to me and she has breast cancer, I evaluate what the standard options for treatment for her are, which typically include cutting out the cancer — which is either a lumpectomy if you can get it all with just a little scooping around of the area that's abnormal — or a mastectomy for some women, meaning taking the full breast because sometimes these lesions can be very extensive in the breast."
When Should You Consider a Mastectomy?
Understanding Metastatic Breast Cancer
Doherty has proven that an advanced cancer diagnosis does not require that you stop living. Metastatic breast cancer — also called "stage four" breast cancer — means that the cancer has spread, or metastasized, beyond the breasts to other parts of the body. It most commonly spreads to the bones, liver and lungs, but it may also spread to the brain or other organs.
When Breast Cancer Spreads to the Bones
The outlook for metastatic breast cancer can seem dim since it technically has no cure, but a wide range of treatment options used to battle the disease can be used. These include hormone therapy, chemotherapy, targeted drugs, immunotherapy and a combination of various treatments.
RELATED: Flat, Fit & Thriving – 33-Year-Old TikTok Star Bares Her Post-Mastectomy Chest with Pride As She Battles Metastatic Breast Cancer
In a previous interview with SurvivorNet, Dr. Elizabeth Comen, an oncologist with Memorial Sloan Kettering Cancer Center, explained how she tries to manage breast cancer when it has progressed to a later stage.
"With advanced disease, the goal of treatment is to keep you as stable as possible, slow the tumor growth and improve your quality of life," said Dr. Comen.
The American Cancer Society reports that there were more than 3.8 million U.S. women with a history of breast cancer alive at the start of 2019. Some of the women were cancer-free, and others still had evidence of the disease, but they also reported that more than 150,000 breast cancer survivors were living with metastatic disease, three-fourths of whom were originally diagnosed with stage I-III. And with ongoing advancements in treatments and options out there today that can dramatically reduce symptoms, there are many reasons to be hopeful.
Pet Therapy
For those without dogs at home, more and more often we are seeing chemotherapy centers and hospitals bringing dogs in to meet with patients and to brighten their day with a wagging tail and a slobbery kiss.
For instance, at New York's Memorial Sloan Kettering Cancer Center, the Caring Canine teams make regularly scheduled bedside and lounge visits, even turning up on holidays, which can be the loneliest times for patients.
What Are the Benefits of Pet Therapy?
Separately, Alison Snow, who works in cancer support services at Mount Sinai, previously told SurvivorNet that there's research to show that animal visits to hospitals can be extremely beneficial to people battling cancer, as well as other ailments.
"You can hear the excitement in the air when the dog is around and there is research to show that having animal-assisted visits is helpful to patients going through cancer in terms of lowering blood pressure, reducing anxiety, decreasing depression, and overall, helping patients feel less isolated," said Snow.
Contributing: SurvivorNet Staff
Learn more about SurvivorNet's rigorous medical review process.
---